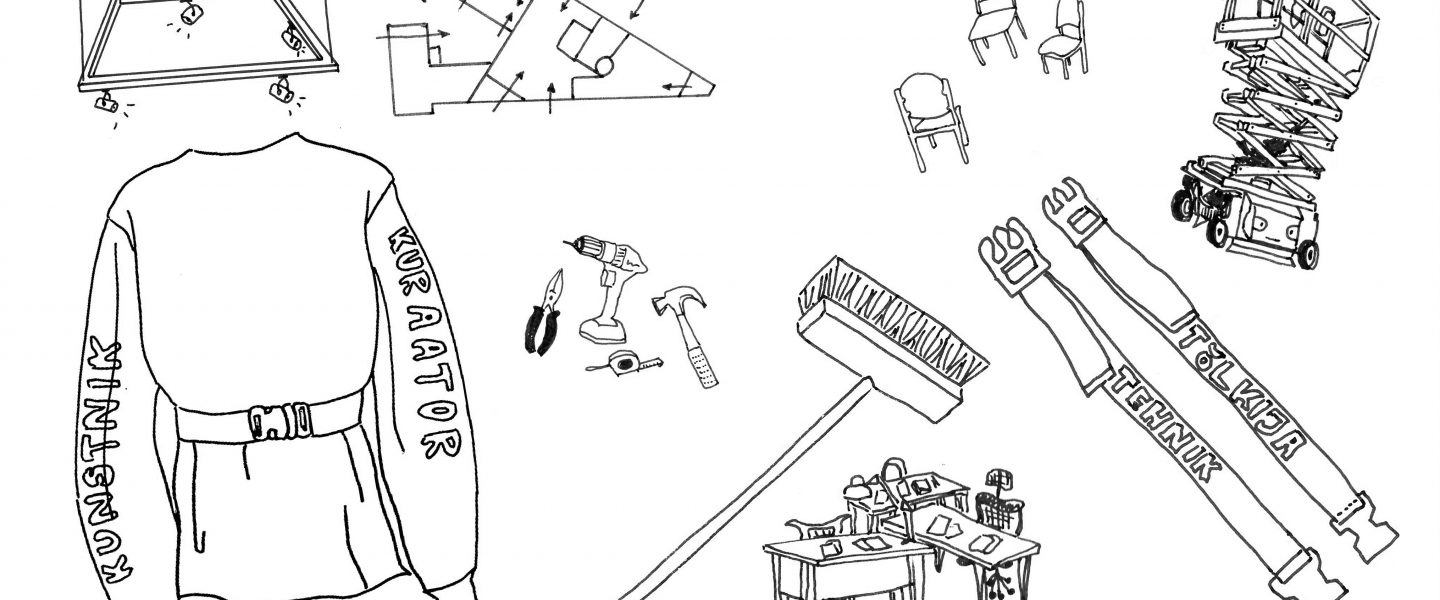 Kaisa Maasik, sketches (2019–2020)
Location:
EKA Galerii
Start Date:
28.01.2020
Start Time:
18:00
End Date:
08.02.2020
Join us for the opening of the exhibition "Maintenance Is a Drag (It Takes All the Fucking Time)" on Friday, 3 January at 6 pm. The exhibition will remain open until 8 February, Tue-Sat 12-6 pm.
"Something was left hanging after establishing Vent Space Project Space and organising the programme of exhibitions for the first season: what are or what should be the values and approaches we take with us from EKA? What sort of institutions are the exhibition spaces that are affiliated to art universities and what questions and contradictions are apparent in our understanding of them? During our two-week period at EKA Gallery, we will present the structural and principal liberties and limitations, the distribution of roles and the lack thereof and the invisible labour inherent in exhibitions."
Vent Space is a student-run project space organised by students of curatorial studies and fine art at the Estonian Academy of Arts. The team for the first year comprised Katrin Enni, Aksel Haagensen, Hanna-Liisa Lavonen, Saskia Lillepuu, Kaisa Maasik, Kati Ots, Olesja Semenkova, Silvia Sosaar and Annika Üprus. Our initial aims when establishing Vent Space were the ability to react fast, openness and a focus on experimentation, which would offer students an alternative public platform to compliment the more official function, stricter form and more rigid structure of EKA Gallery.
The public programme will include:
• "7 Ways to Access EKA Gallery", guided tour (every day at 1 pm)
• "Vertical Perspectives", guided tour (Saturdays at 2 pm, whenever upon request)
• "Artists Anonymous" support group facilitated by Xenia Ramm (Wed 29.01 and Thu 6.02 at 6 pm)
• "Thea Cleaner Cleans" performances by Ulvi Haagensen (Wed 5.02 at 4.30 pm and Sat 8.02 at 5.30 pm)
• A discussion between the EKA gallerist Pire Sova and Maarin Ektermann (Wed 5.02 at 5 pm)
Artist-curators: Katrin Enni, Aksel Haagensen, Kaisa Maasik, Kati Ots
Katrin Enni (1976), Aksel Haagensen (1993), Kaisa Maasik (1994) and Kati Ots (1993) are master's students at the Estonian Academy of Arts: Katrin, Aksel and Kaisa are students in the contemporary art programme while Kati studies curatorial studies at the Institute for Art History and Visual Culture. Katrin recently started her exchange studies at the sculpture department of the Academy of Fine Arts at the University of the Arts Helsinki. Kaisa and Kati attended the Praxis programme at the same school last year. Katrin, Aksel as well as Kati have all previously been bachelor's students at the installation and sculpture department and Kaisa has a bachelor's degree from the photography department at EKA.
In 2018, they all participated in the establishment of Vent Space project space and were team members for the first season. In summer 2019, they organised an exhibition at Vent Space of works by members from the Vent Space team titled "At the End of the Workday" and in autumn 2019, Aksel and Kati curated the group show "I can't be fucked" at Vent Space. Katrin, Aksel and Kaisa applied for the Eduard Wiiralt Scholarship last year and Aksel was one of the recipients.
Title of the exhibition borrowed from Maintenance Art Manifesto 1969! Proposal for an Exhibition "CARE" (1969) by Mierle Laderman Ukeles.
Image: Kaisa Maasik, sketches (2019–2020)
Supported by the Cultural Endowment of Estonia, the Student Council of the Estonian Academy of Arts, A. Le Coq
Thanks: Maarin Ektermann, Anders Härm, Hilja Koplimets, Karel Koplimets, Marko Nautras, Anna-Kaisa Rastenberger, Pire Sova, Airi Triisberg