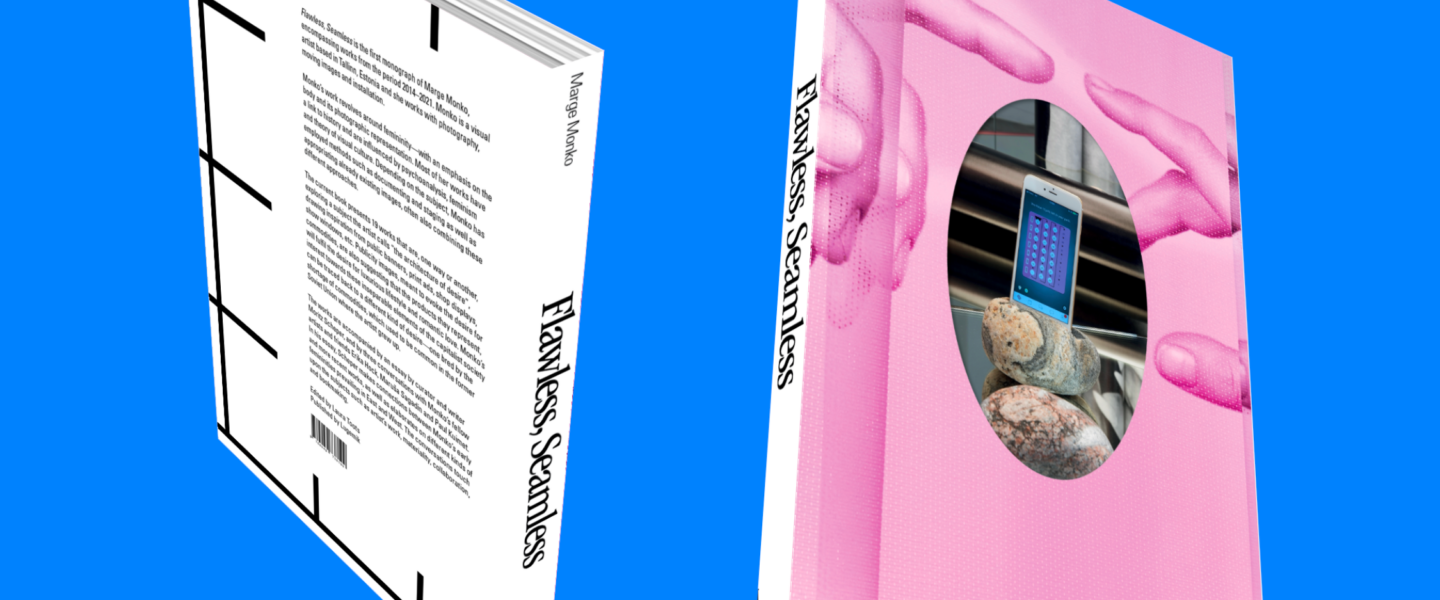 Marge Monko Book Launch at Kai
Location:
Kai kunstikeskus, Tallinn
Start Date:
23.09.2022
Start Time:
18:00
End Date:
23.09.2022
Please join us for the launch of Flawless, Seamless – a new monograph by Marge Monko – on Friday, September 23 at 6 pm at Kai Art Center in Tallinn. At the launch Marge Monko will premiere her film Window on the Visible World, which is followed by a conversation with Maarin Ektermann. The film and book are in English, discussion is held in Estonian. During the launch the publication will be sold at a special price of 25 euros. 
Flawless, Seamless is the first monograph of Marge Monko, encompassing works from 2014 to 2021. The book presents nineteen works that explore what the artist calls "the architecture of desire," drawing inspiration from public banners, print advertisements, shop displays, show windows, etc. These ubiquitous promotional strategies, designed to evoke an abiding, aspirational desire, suggest that the products they represent will fulfill the promise of luxury, romance, and happiness. Monko's interest in these inseparable elements of capitalist society can be traced back to her childhood in the 1980s, which in the context of the Soviet Union was marked by the shortage of commodities.
The works are accompanied by an essay by curator and writer Moritz Scheper and three conversations with Monko's fellow artists and friends, Erika Hock, Maruša Sagadin, and Paul Kuimet. In his text, Scheper makes connections between Monko's earlier and more recent works, and elaborates on different femininities prevailing in East and West. The conversations touch upon the subjects such as artist's work, materiality, collaboration, and bookmaking. The publication is edited by Laura Toots, designed by Indrek Sirkel, and published by Lugemik. The publication was supported by Cultural Endowment of Estonia and the Estonian Union of Photography Artists (Foku). 
The conversation with Maarin Ektermann is preceded by the premiere of Marge Monko's film Window to the Visible World at 6.15 pm. The 21-minute film made in 2021 reflects upon the role of the window in architecture and visual culture. It is accompanied by a voice over written and read by the artist. A view from one's window has been a recurrent motif in the history of visual art. Focusing on the legacy of the modernist architecture, the film draws parallels between the views from windows recorded in São Paulo and Tallinn. It follows different modes of images that equally serve as metaphors for the window – from engravings and paintings to virtual images on our computer and cell phone screens. The film was commissioned by Videobrasil in Context and Estonian Contemporary Art Development Center.
Marge Monko is a visual artist who lives and works in Tallinn. She has studied at the Estonian Academy of Arts, University of Applied Arts Vienna, and Higher Institute for Contemporary Art (HISK) in Ghent. Monko works with photography, video, and installation. Her works are inspired by historical images and theories of psycho-analysis, feminism, and visual culture. She works as a professor in the Department of Photography at the Estonian Academy of Arts.
Maarin Ektermann is an art worker who deals with creating points of contact between contemporary art, more and less experimental education, art criticism, etc. In addition to managing several projects in the field of art, her focus has also been mediating what is happening in the field of art – both through writing art criticism and organising public debates. She has been one of the initiators and leaders of the art criticism blog Artishok, and hosted the show Kultuuriministeerium in Klassikaraadio (with I. Grigor). She has taught several different courses at the Estonian Academy of Arts, where she also works as the head of Centre for General Theory Subjects.