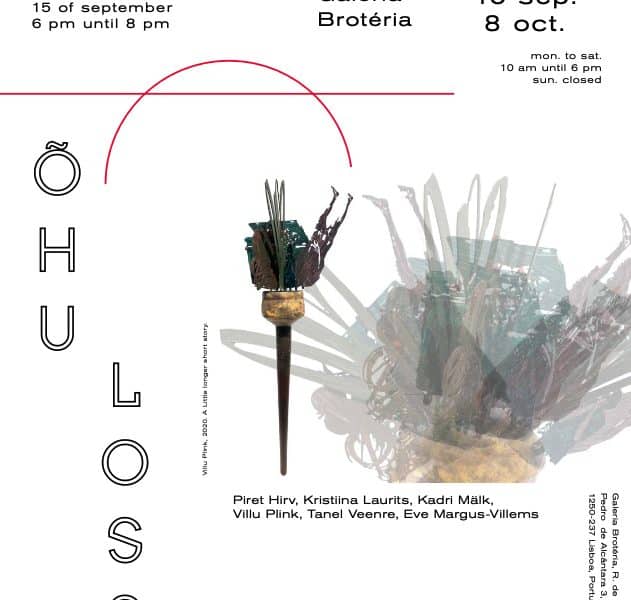 õhuLoss' group show at SOUR FRIO Biennial, Lisbon
Location:
Brotéria Kunstikeskus Lissabonis
Start Date:
15.09.2021
Start Time:
18:00
End Date:
08.10.2021
õhuLoss' group show at the 1st Lisbon Contemporary Jewellery Biennial SOUR FRIO / COLD SWEAT, Galeria Brotéria, Portugal
õhuLoss (Castle in the Air) is a group of six Estonian jewellery artists – Piret Hirv, Kristiina Laurits, Eve Margus-Villems, Kadri Mälk, Villu Plink and Tanel Veenre. Formed in 1999, õhuLoss is one of the internationally most recognized groups of Estonian jewellery. Artists have been exhibiting together for more than 20 years their works in Estonia, the Netherlands, Spain, Germany, Denmark, Portugal, Italy, Israel, Hungary, France, Latvia and China.
Art critics have described the art of õhuLoss group as a slightly confusing phenomenon, hovering and playing in spacetime. The materials used are often unconventional. They make use of many organic materials in the creating of objects which are on the border between applied and visual arts. The value of the works consists in their persuasiveness, which wakes in the spectator's alertness. The new jewellery of the õhuLoss group probes itself, the world and life.
õhuLoss in Brotéria Art Centre is part of the Contemporary Jewellery Biennial in Lisbon 'Cold Sweat'.