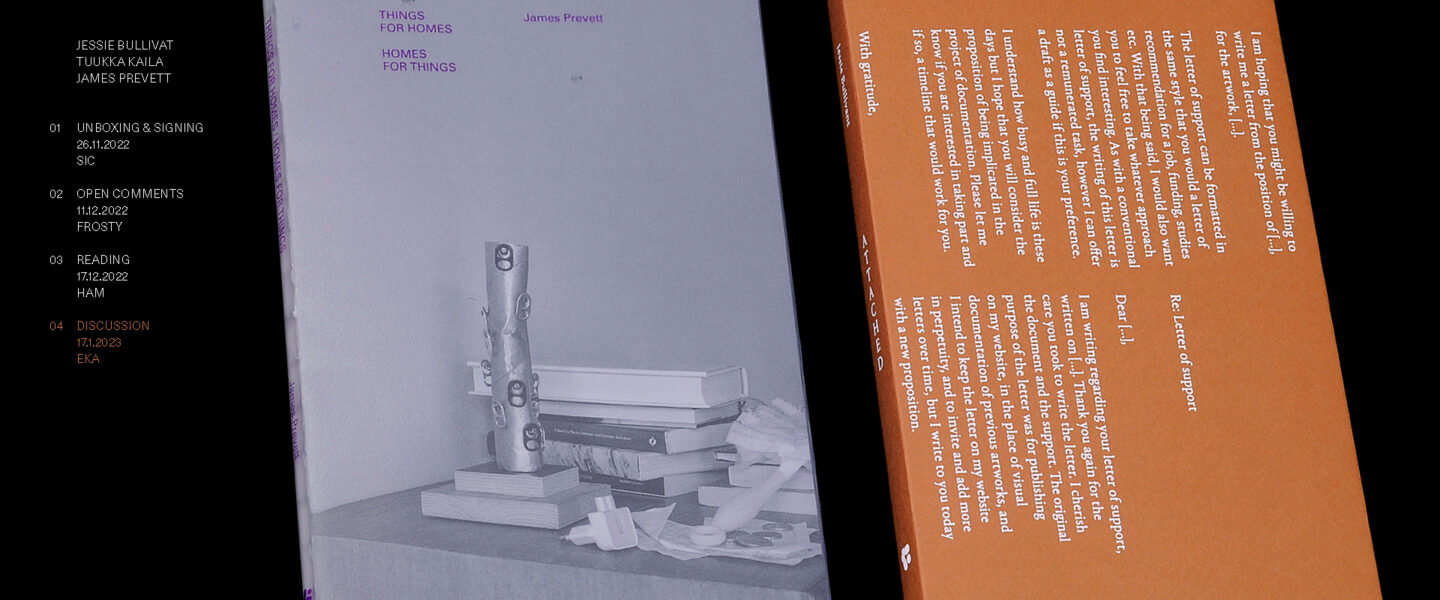 Visual: Tuukka Kaila
Location:
A-501
Start Date:
17.01.2023
Start Time:
17:00
End Date:
12.01.2023
Welcome to the presentation of two newly released Rooftop Press artists' books with Jessie Bullivant and James Prevett. Please join us at the Estonian Academy of Arts, room A-501, on Tuesday 17.1. at 5-6.30pm for a conversation with the artists and publisher, Tuukka Kaila about the books and the processes behind them. The discussion will be in English, followed by a reading.
NB! Both books are available for purchase at the presentation ("Attached" 18 eur ja "Things for Homes/Homes for Things" 27 eur – cash only).
Attached by Jessie Bullivant
Attached is a collection of texts that document a diverse range of artworks made by Jessie Bullivant (AU/FI) over the past decade. By replacing the default photographic documentation with written accounts, the artist raises questions about how immaterial artworks are preserved, accessed and ultimately remembered, allowing space for nuances often lost in photographic documentation. As an incomplete survey of the artists' work, the book blurs the boundaries between art and its documentation, between a conventional monograph and an experimental artist's book. It gives an exciting glimpse into a committed artistic practice tackling a variety of issues from representation, power and access to subtle social interactions.
Contributing writers: Brendan Barnett, Yvonne Billimore, David Bullivant, Freja Bäckman, Christo Crocker, Mitchel Cumming, Eric Demetriou, Paul Doornbusch, Beau Emmet, Mark Friedlander, Max Hannus, Tim Holmes, Lou Hubbard, Anthony Johnson, Mikko Kuorinki, Katie Lenanton, Minna Miettilä, Even Minn, Paul Moses, Anna Parlane, James Prevett, Georgia Robenstone, Geoff Robinson, Ainslie Templeton.
Things for Homes / Homes for Things by James Prevett, co-published with TACO!
Can a sculpture survive in the home without being domesticated into just another object—a door stop or something you hang your hat on? What are the civic duties we assign to sculpture today, in comparison to the post-war nation-building and reassertion of civilisation? At the heart of Things for Homes / Homes for Things are conversations about our social relationship to objects and the spatial relations these depend on. Prevett's enquiry is intimate and gentle, occurring as it does on a domestic scale in the homes of people who don't own art, and perhaps have never cared for it that much before. Without the expectations and politics that grand publicness entails, it embraces instead the potential for social connection through making and giving of sculpture to strangers.
Contributors: Annie May Demozay, Mat Jenner, Jennifer Powell, Vidha Saumya, Eetu Viren, Vilma Pimenoff, Henni Alava, Sven Claes, Deborah Frimpong, Michael Pleasance, Paul Seymour, Dani Tagen, Riordan Tyson, Karstein Volle, Leena Ylä-Lyly
Jessie Bullivant (they/them) is a Helsinki-based artist, writer and cultural worker originally from so-called Australia. They make work with and about institutions and relationships. They completed a Master of Fine Arts at the Academy of Fine Arts, Helsinki in 2020, where their Master's thesis work was a durational series of 26 emails, sent from their mother, excusing Jessie from presenting work in their graduate exhibition that day. Their current artistic research is funded by the Kone Foundation (2022-25).
Tuukka Kaila is a Helsinki-based artist operating in the expanded fields of photography and publishing. He is a co-founder of the artist-run publishing initiative Rooftop Press and founder of the nomadic artist's book gathering Bookies. His works have been exhibited in museums and galleries across Europe, USA and China and belong to the public collections of the Finnish Museum of Contemporary Art (Kiasma), the National Libraries of Finland and Estonia and the Helsinki Art Museum (HAM) among others.
James Prevett makes things to gather around – objects, events, text, video, often combined together as sculpture. He is interested in sculpture as a means to explore the limits of minds and bodies, both personal and collective. He has exhibited widely, including in the UK, Finland, Thailand, USA, Austria and Brazil, and was part of a team that represented Great Britain at the Venice Biennale of Architecture 2006. In 2021 he was awarded the inaugural Linnamo Prize, by the Olga and Vilho Linnamo Foundation. His works are in the Kiasma Finnish National Gallery collection as well as numerous private collections. James lives and works in Helsinki, Finland, where he is a Sculpture Lecturer at the Academy of Fine Arts of Uniarts Helsinki.