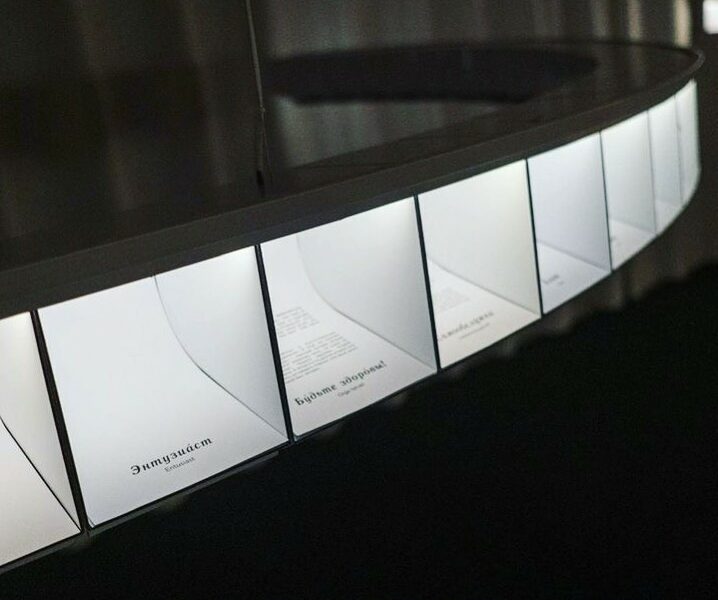 Location:
Narva kunstiresidentuur, Joala 18
Start Date:
04.09.2023
End Date:
29.10.2023
Tanja Muravskaja's exhibition "The Vernacular" represents an atlas of the words of Russian-speaking Estonian people, which reflects several processes that have taken place in the past and are still emerging in the local society.
This unique trace of the times and culture is recorded in the mother tongue of the Estonian Russian community and is a very expressive verbalization of the Esto-Russian identity. The set of words has been collected in close cooperation with the above-mentioned community and the Tallinn Russian Museum.
Tanja Muravskaja's work proceeds from an analytic approach and psychological observation. In her artworks, she tackles such topics as identity and memory, as well as the relationships between society and its members. While focusing on photography, she creates installations, which evolve into total environments. Murasvkaja's works are represented in the collections of the Art Museum of Estonia and the Tartu Art Museum. In 2018, Muravskaja was awarded the Köler Prize Grand Prix by the Contemporary Art Museum of Estonia. In 2019, Order of the White Star Fifth Class was bestowed on her. She was the recipient of the national artist's salary in 2018-2021.
"The Vernacular" was part of the "Museum Laboratory" project of the Tallinn Russian Museum. In the Narva Art Residency, the work continues to develop and together with the visitors, the collection is expanded further.
Exhibition design concept by Raul Kalvo
Graphic design by Vladimir Loginov
Technical implementation by Johannes Säre and Denes Farkas
Translator: Ilona Martson
Special thanks to : Cultural Endowment of Estonial, Tallinn Russian Museum of the Tallinn City Museum 
Exhibition is open until October 29th 2023
Thu – Fri 15 – 19, Sat – Sun 13 – 19