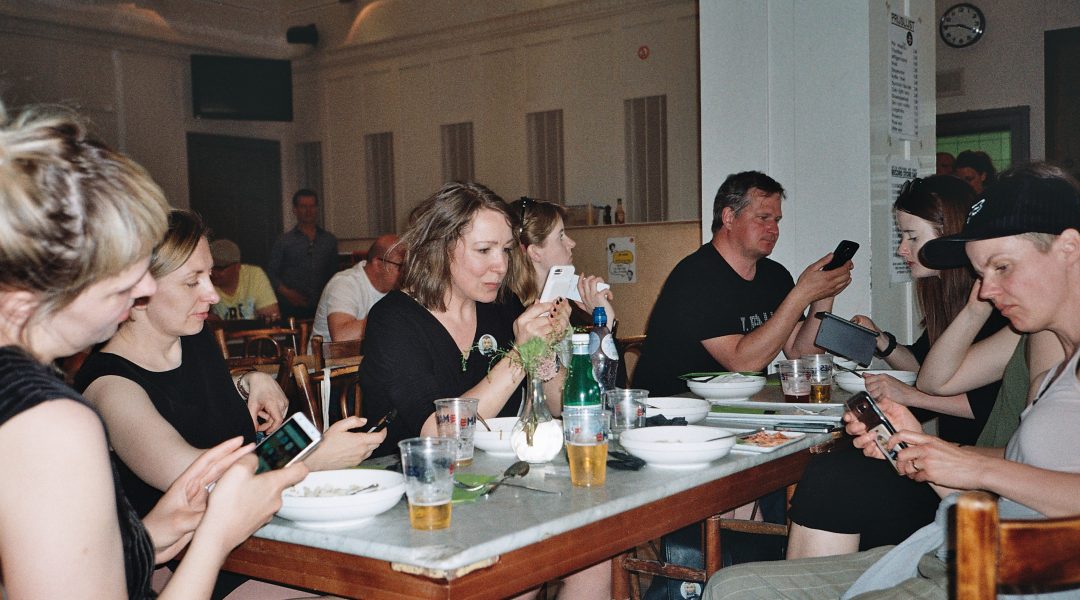 Master students' trip to Belgium, spring 2018. From left: Triin Kerge, Marge Monko, Silvia Sosaar, Kaisa Maasik, Andrus Lauringson, Keiu Maasik, Maris Karjatse. Photographer: Marta Vaarik
Location:
EKKMi kohvik (Põhja pst 35)
Start Date:
06.12.2019
Start Time:
18:00
End Date:
06.12.2019
The fourth club event of EAA PHOTO 20 will be held in EKKM Cafe in order to celebrate the 20thanniversary of the department of photography at the Estonian Academy of Arts. The event will start at 6pm on October 24thand the central theme of the discussion is "Photography on the Open Field". The discussion will be held in English.
Perhaps the term "photography" – that literally means "drawing with light" – is too humble for covering the diversity of contemporary cultural, social, scientific and military practices it signifies today.The rigidity of a singular image is suspended in tension against the incessant circulation of data streams, organising space and power in ways that, more often than not, remain invisible to the human eye. What are the processes and disciplines beyond art theory that artists follow in order to make interesting things with photography and pay attention to what photography does to the world?
The discussion is moderated by Kristel Raesaar; participants are Marge Monko, Maija Rudovska, Hirohisa Koike and Paul Paper.
Ice cream will be served by Chicks on Icecream; music by DJ Marta Vaarik
Visual identity of EAA PHOTO 20 by Mai Bauvald and Ran-Re Reimann, students of the graphic design department of the Estonian Academy of Arts. The website of EAA PHOTO 20 including the history of the department of photography is being updated during the year and can be found here: https://www.foto.artun.ee/
Thanks to: Mai Bauvald, Ran-Re Reimann and Anneli Kripsaar, Eve Kiiler, Marco Laimre, Cultural Endowment of Estonia, Contemporary Art Museum of Estonia (EKKM).
Programme of all events can be reached:
More information:
Laura Kuusk
Department of Photography
Estonian Academy of Arts
laura.kuusk@artun.ee
+372 55 584 609
Laura Toots
Contemporary Art Museum of Estonia (EKKM)
laura@ekkm.ee
+372 511 7886