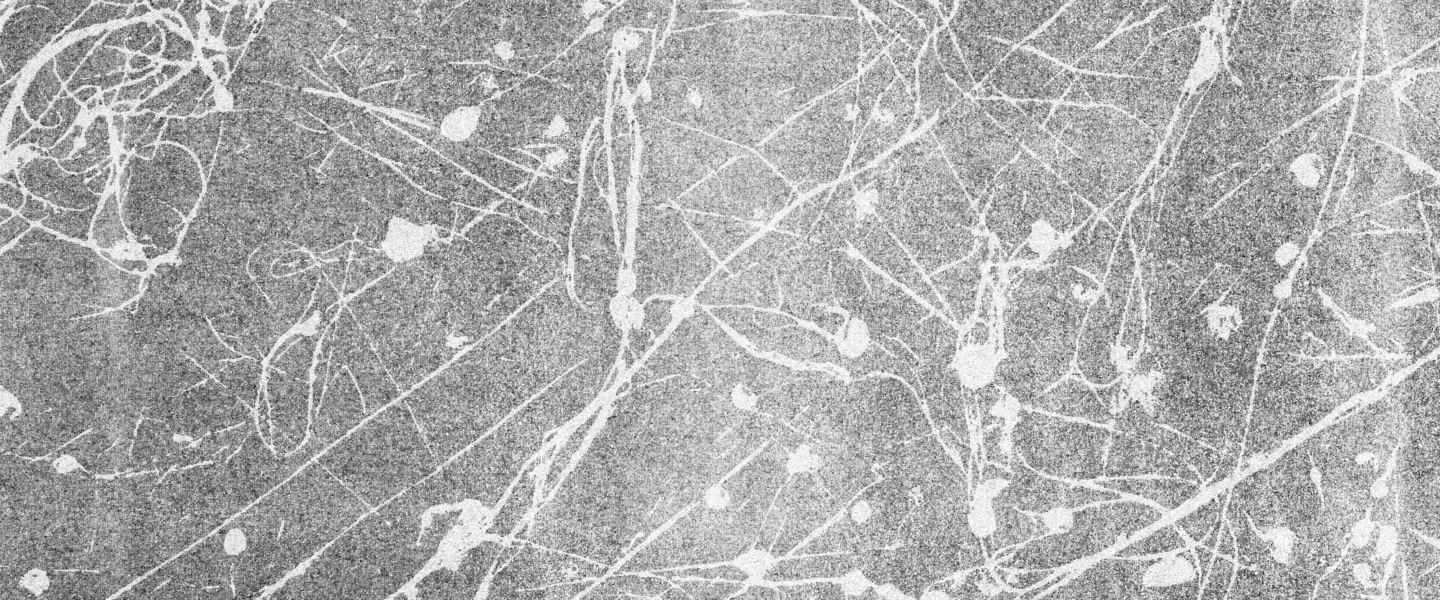 Start Date:
07.11.2023
Start Time:
18:00
End Date:
30.11.2023
The Story of Nanomaterial No. 399
08.11—30.11.2023
Opening: 07.11. at 6 pm
Author of the exhibition: Kärt Ojavee
Material development team: 
Anna Jõgi, Katarina Kruus, Kärt Ojavee, Madis Kaasik
in collaboration with Exponential Technologies Ltd. and Gelatex Technologies OÜ
with contributions from Marie Vihmar (University of Tartu)
Exhibition design: Annika Kaldoja
Graphic Design: Pierre Satoshi Benoit
Exhibition text: Haeun Kim and AI
Sound design: Artjom Astrov
Small particles that can only be seen in nano scale are the biggest magic in the unseen. Those tiny little specks dance like fireflies, creating its own symphony in darkness.
Being small does not diminish their grandeur. But being small offers them freedom.
They can slip through cracks, join each other, and make universes.
The universe humans can't even fathom.
For what though? To whisper secrets.
The secrets of life's intricate tapestry.
The tiny things are hidden under veils of everyday sight.
Though it is not visible, they work in harmony, shaping destiny. *
The  breakthrough in knowledge and technology that allows us to work with materials on a nanometer scale is interesting because many life processes take place at that scale. Designing at the molecular level will allow us to create materials like nature does. 
The exhibition presents the results of a project that focused on developing new nanomaterials at the Estonian Academy of Arts. The exposition is opening up the material creation and manufacturing processes. Materials that we normally see in a laboratory environment are placed in the gallery space for observation through different scales. 
The entire space opens up a creative research work that has brought together materials science, machine construction, creative processes, as well as failure and final outcomes of the project. 
Kärt Ojavee (b. 1982) is an artist and designer who combines new technologies with traditional craft. Her approach to textiles is conceptual, exploring their historical meaning and possibilities for future development. Ojavee's interactive textiles and installations often feature electronic components that speculate on future possibilities, characterised by their ability to change during their life cycle. She is interested in the transformation of materials over time, and ways in which the materials are in symbiosis with their environment. Ojavee creates experimental materials and has recently been working with various surplus materials and seaweed biomass, focusing on the value of matter.
Katarina Kruus (b. 1995) studies, observes and mediates the transformation of materials from one state to another. She is focusing on biomaterials and natural pigments, while thinking about desirable future landscapes.
At the moment, Kruus is studying at the Estonian Academy of Arts' master's programme in the textile department. Previously, she obtained a bachelor's degree in the same department and has studied at the Shenkar College of Engineering, Design and Art.
Madis Kaasik (b. 1989) is currently working at Estonian Academy of Arts as a Digital Manufacturing and Mechatronics Lab Manager. He's also the founder of engineering and mechanical design studio Protoinvent OÜ. Madis's main interests are designing and manufacturing custom electromechanical devices for startups, artists and researchers. He enjoys machine design processes largely because it is the artistic side of mechanical engineering that facilitates creative pursuits.
Gelatex Technologies OÜ is a materials technology company that develops and produces nanofibrous materials. These consist of fibers that are up to 100 times smaller than a human hair. Gelatex focuses specifically on areas related to biotechnology, especially in vitro 3D cell culture and tissue engineering. There are also ongoing projects in the direction of drug development, wound treatment, and cultivated meat. Gelatex has an international team of enthusiasts and solution-oriented people with backgrounds in materials technology, mechanics, biochemistry, microbiology, marketing, sales and business development.