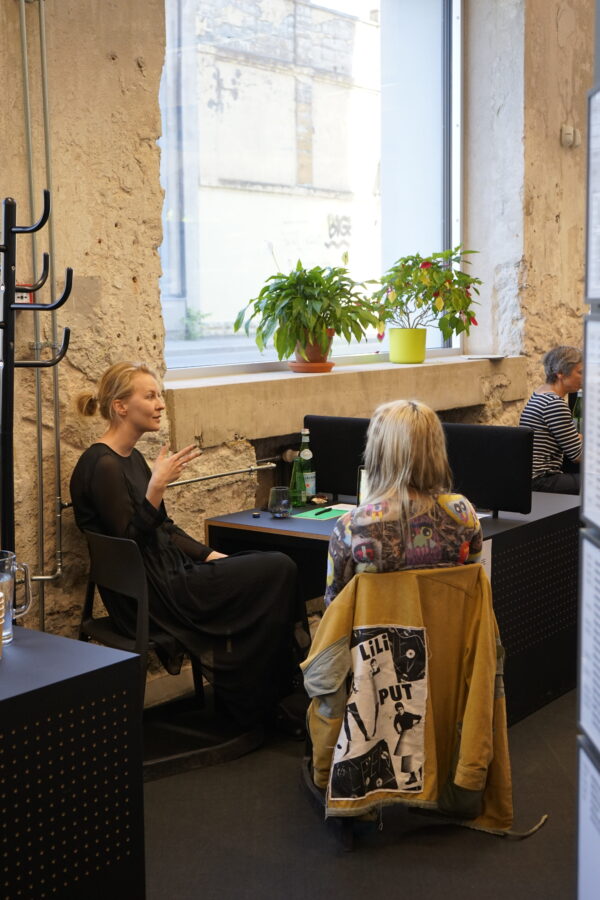 Lilian Hiob, Zody Burke. Portfolio Cafe 2022
Asukoht:
EKA Library
Algus k.p.:
08.06.2023
Algusaeg:
10:00
Lõpp k.p.:
08.06.2023
June 8 at EKA Library
Portfolio Café is an event that takes place each spring semester as a satellite event to EKA graduation show TASE. It is structured around one-on-one meetings between invited fine arts field professionals and EKA BA and MA level students. Each meeting takes place about 30 minutes. During Portfolio Café sessions students introduce themselves and their work and experts share their observations, provide recommendations, ask questions etc.
All Portfolio Café meetings are in English.
Registration: Portfolio Café invites all fine art students from the BA and MA level to participate. The spots are limited and participants will be chosen according to the provided portfolios.
To apply, please fill out this registration form lates on June 5.
EXPERTS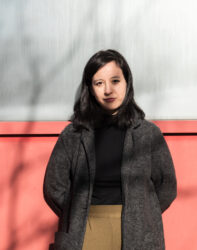 Paola Jalili(she / her) is an artist-publisher and cultural worker currently based in Helsinki. In 2021, she started Ei Mainoksia, Kiitos!, an independent art publishing initiative that aims to prioritize care and highlight the time and labor behind the act of publishing. She is part of Feminist Culture House, a curatorial and editorial platform that works with and for underrepresented artists, and produces tools for more equitable collaborations within the arts. In her visual arts practice, Paola reflects on the intersections between labor, gender, and the contemporary workplace. You can read more about her work at paolajalili.xyz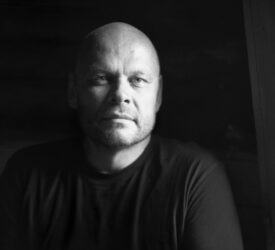 Kurt Vanbelleghem (Belgium, 1968) is a curator, critic and publisher specialized in the field of contemporary art and design. He received a MA in Psychological Sciences and an MA in Art History at the University of Ghent (B) and a Master in Visual Arts Administration at the Royal College of Art, London (UK).
Through his organization PresentFuture, he focuses on the artistic & professional development of contemporary artistic practices. He is specialized in the development of new curatorial, strategic and digital trajectories. In doing, he provides perspectives to navigate the opportunities and challenges ahead. An ongoing goal is to create synergies between different artistic disciplines as well as between artistic and technological & scientific innovations. He is alumni coach at St Lucas Antwerp and artistic advisor at several art organizations and higher art education institutions. He has been a contributing editor to a number of art & design magazines and has published several monographs and artist's books.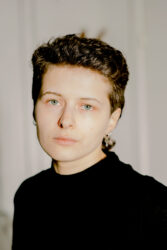 Agnė Jokšė (b. 1993, Vilnius) is an artist and writer working between Vilnius and Copenhagen. In films, written pieces and performances Jokšė investigates questions concerning queerness, non-normative language, parallel histories and entangled relations.
Recently, Jokšė's works has been shown at E-flux Screening Room (New York), Kogo Gallery (Tartu), Cell Project Space (London), Editorial (Vilnius), Kunsthal Charlottenborg, Copenhagen (2022), Artists' Film International, Whitechapel Gallery, London (2021); Baltic Triennial 14 (2021). The artist's work Dear Friend was granted the JCDecaux Award in 2019.