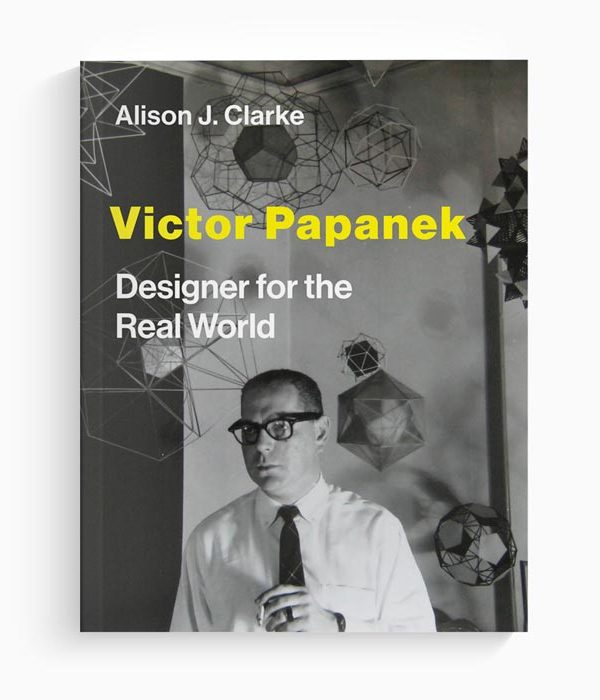 Cover of the book Victor Papanek: Designer for the Real World (MIT Press 2021).
Location:
EKA aula, ruum A101
Start Date:
19.10.2021
Start Time:
09:30
End Date:
19.10.2021
As part of the design theory course at the Faculty of Design, professor Alison J. Clarke will give a public lecture The Politics of Design on Tuesday, 19 October at 9:30AM at the EKA hall.
This lecture draws on the themes of the speaker's recent publication Victor Papanek: Designer for the Real World (MIT Press 2021) and the co-curated exhibition The Politics of Design (with Vitra Design Museum, Germany) exploring the origins of the social design movement and its attempts to consciously decolonise design. Unpicking the contradictions of designers' gestures to transform the material and social worlds of the 'excluded' and 'under-represented' – the talk casts a critical eye on how attempts have been made, with varying degrees of success, to build cultural difference into design practice and theory.
The lecture will be held at the EKA hall. EKA students and staff are asked to follow the general EKA COVID-19 safety rules. Guests are kindly asked to follow all COVID-19 rules and prove their infection safety. There is no on-site testing. The lecture will be held in English, and it will be streamed on EKA TV platform live, however, the lecture will not be recorded.
Professor Alison J. Clarke, author of Victor Papanek: The Politics of Design (MIT Press 2021) and Design Anthropology: Object Cultures in Transition (Bloomsbury 2018), explores the intersection of design, material culture and anthropology. A design historian (Royal College of Art London) and trained social anthropologist (University College London), she joined the University of Applied Arts Vienna from the Royal College of Art, London to become chair of the department of Design History and Theory and founding director of the Papanek Foundation: she is convener of the biennial Papanek Symposium exploring the ethics and futures of contemporary design. Recipient of major international grants and fellowships (including the Smithsonian; Arts and Humanities Research Council; Austrian Science Fund; Graham Foundation), she acts as an expert advisor and jury member for numerous academic bodies including the Danish Independent Research Council and the German Research Foundation (DfG) program, Clusters of Excellence.
Clarke is a regular media broadcaster, curator and international speaker in the field of design; her monograph Tupperware: The Promise of Plastic in 1950s American was optioned for an Emmy-nominated documentary. She is co-editor of the anthology Émigré Cultures in Design and Architecture and co-founder of the leading academic journal Home Cultures: The Journal of Architecture, Design and Domestic Space. She has recently curated, with Vitra Design Museum, Germany, the international travelling exhibition Victor Papanek: The Politics of Design (2017-2020). Her latest book project, for MIT Press, explores the historical origins and legacies of the intertwining of social science and industrial design.