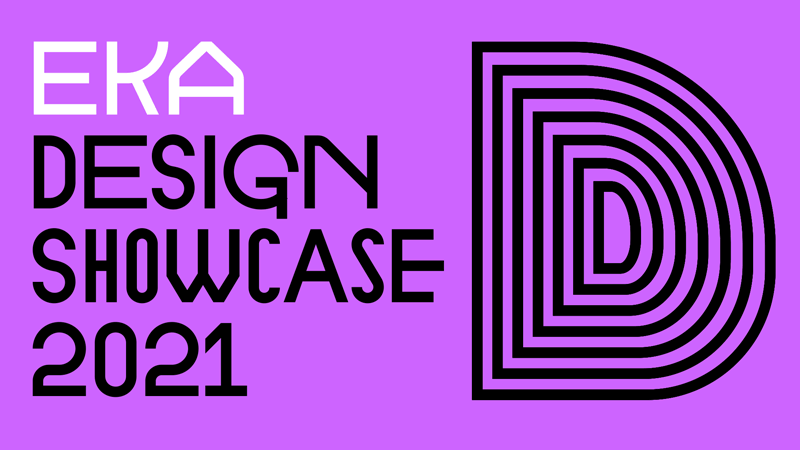 EKA Design Showcase 2021
Location:
EKA TV / Facebook live
Start Date:
14.01.2021
Start Time:
14:00
End Date:
14.01.2021
For the fourth year in a row the EKA Design Showcase will once again present the best cooperation projects of EKA's students with companies and public sector organizations. An event introducing 16 innovative designs resulting from the cooperation projects will take place on January 14th.
The concepts, prototypes and ready-made solutions of innovative products and services created by students of the Faculty of Design and Architecture of EKA and Design & Technology Futures (TalTech and EKA joint curriculum) for companies and organizations such as PERH, Tuul, Naturewear, Harmet, moomoo, Kidsmed and others will be presented.
A total of 16 recent cooperation projects from medicine to modular houses and from footwear to bicycle clothing will be presented. The winner of the Viru x EKA Young Design Export Program prize will also be announced.
We look forward to hearing from all current and future cooperation partners of EKA and those interested in future design!
PROGRAMME
14.00 Opening remarks, Mart Kalm, Rector of EKA
14.05 Inspirational speaker – "Healthcare and design", Siiri Heinaru, Research and Development Service Specialist, North Estonia Medical Centre.
14.15 – 15.45 Presentations of EKA collaboration projects, moderator Kristjan Mändmaa:
Naturewear OÜ and EKA accessory design – Product development and material research for brand KIRA;
Comodule OÜ and EKA product design with accessory design – During the hackathon, students created ideas for the electric scooter Tuul;
Disaintekstiil OÜ and EKA graphic design – Cycling clothing designs for the local cycling clothing brand moomoo;
Rasman OÜ, Harmet OÜ and EKA architecture and urban planning – 5) Modular houses: Etnika modular bungalow, modular Estonian country house and modular apartment building.
EKA interaction design – (Eng);
Interaction design of North Estonia Medical Centre and EKA – Social innovation design (Eng);
Kidsmed OÜ and EKA industrial product – Mesh technology based inhaler for children;
EKA Industrial Product, Henri-Kaarel Luht – The concept of reusable packaging.
15.45 – 15.50 Winner of Viru x EKA Young Design Export Program will be announced.
Kristel Sooaru, Head of Marketing and Communication at Viru Center, and Piret Puppart, Head of Fashion Design at EKA.
15.50 – 16.00 Break
16.00 – 17.10 Project presentations of the joint curriculum of EKA and TalTech Future of Design and Technology, moderator Martin Pärn:
North Estonia Medical Centre, Bariatrics
North Estonia Medical Centre, Orthopedics. KOOS – Arthritis Patient Support Network. KOOS is a network for arthritis patients that helps them explore the best strategies to treat their symptoms.
North Estonia Medical Centre, Pulmonology. BRIIS
North Estonia Medical Centre, Cardiology
17.10 – 17.20 Break
17.20 – 18.30 Project presentations of the joint curriculum of EKA and TalTech Future of Design and Technology, moderator Martin Pärn:
Unoloop: is a system that promotes package free consumption while supporting minimalist lifestyle. It helps to create a cleaner home and a cleaner planet.
Peridot: Companies provide not only necessities like toilet paper, but also coffee and food for their employees. Why not period products?
Teaching the habit of giving and receiving: Every pupil at school has insecurities, be it the loner or the popular one. We are proposing a game for schools that teaches kids to empower their individuality through doing good to others and receiving good done by others.
Team Hub: The nature of today's office work is collaborative and based on shared open space principles. Team Hub will address how to support teamwork in the office, when employees require more flexibility and quicker adaptation to work flow in co-creating spaces.