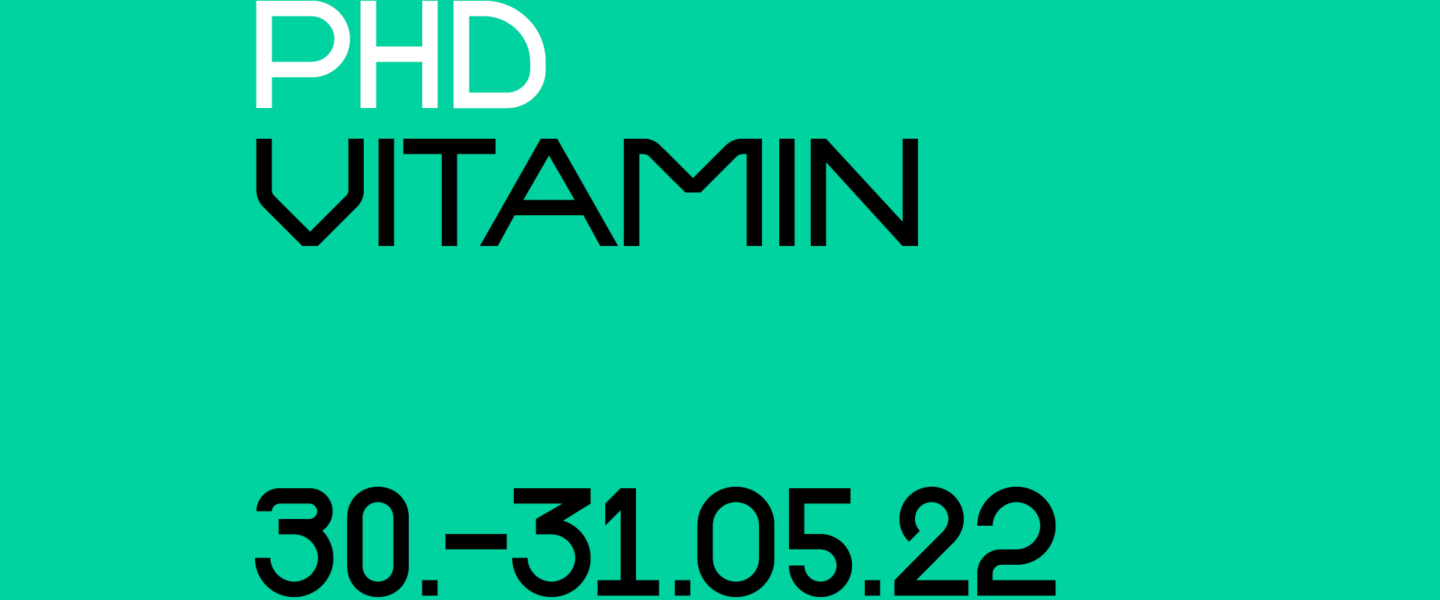 Location:
EKA, A205
Start Date:
30.05.2022
Start Time:
09:15
End Date:
31.05.2022
PhD Vitamin 2022 is taking place on 30-31 May 2022 in room A205 at the Estonian Academy of Arts.
PhD Vitamin is an event that brings together experts and aspiring MA students, artists and designers, who want to pursue a PhD or engage in artistic research in their professional career. The aim is both to introduce creative research and to advise potential doctoral candidates on their doctoral thesis project. The format of the event consists of open lectures by keynote speakers and EKA doctorants and one-on-one consultations.
To take part of the open lectures and consultations, register HERE.
We encourage artists and designers, alumni, and graduates of the Estonian Academy of Arts and other universities working with creative research methods to register. Registration is open until 26.05.2022. The exact consultation times will be sent directly to the provided e-mail addresses. Be quick – the number of free spots for the consultations is limited!
PhD Vitamin was first initiated in 2020 by the Faculty of Fine Arts. In 2021 it was organized as a collaboration between the faculties of fine art, design and the EKA doctoral school.
PhD Vitamin is supported by the European Regional Development Fund EKA LOOVKÄRG minigrant (2014-2020.4.01.20-0288).
If you have any questions, please contact kati.saarits@artun.ee
SCHEDULE
30.-31.05, Estonian Academy of Arts, room A205
30.01, Monday
09:15-10:00 Coffee and registration
10:00-11:00 Vytautas Michelkevicius

"Everything you wanted to ask about doctoral studies but there was no chance or why you should (not) do artistic research?"

– keynote
11:00-11:45 Marco Laimre "About analytical gaming, seriously"
11:45-13:00 Lunch break
13:00-13:45 Darja Popolitova "Two artistic research methods you haven't heard about"
13:45-14:45 Panel discussion: Vytautas Michelkevicius, Marco Laimre, Darja Popolitova – moderator Raivo Kelomees
14:45-15:30 Break
15:30 Consultations with Vytautas Michelkevicius
31.05, Tuesday
09:15-10:00 Coffee and registration
10:00-11:00 Teemu Mäki "What is artistic research and why should you do it?" – keynote
11:00-12:00 Elen Lotman "Insights on artistic research from a PhD journey" – keynote
12:00-12:45 Mattias-Jakob Sildnik "Registers of Disinhibition: A presentation of artistic research practice"
12:45-13:30 Break
13:30-14:30 Panel discussion: Teemu Mäki, Elen Lotman, Mattias-Jakob Sildnik – moderator Raivo Kelomees
15:30 Consultations with Teemu Mäki
Assoc. Prof. Dr. Vytautas Michelkevičius (Lithuania) is a curator, writer and researcher whose focus was gradually shifting from photography in expanded field to media art & theory and lately to artistic research in academia and beyond. He is teaching art practice & theory BA, MA and DA/PhD students in Vilnius Academy of Arts and served as artistic director of Nida Art Colony (2010-2019). Since 2019 he is the head of Photography and Media Art Department and Doctoral Programme in the Arts in the same academy. Since 2016 he is actively working with DA/PhD students, supervising them, running courses, curating expositions and also doing research on "artistic research" (recent books "Mapping Artistic Research. Towards Diagrammatic Knowledge" (2018) and "Atlas of Diagrammatic Imagination" (together with Lina Michelkevičė, 2019). He has curated numerous symposiums and exhibitions, among them Lithuanian Pavilion in Venice Biennale (Dainius Liškevičius project "Museum"). He has edited and authored more than 10 books on art, media, artistic research and residencies.
https://vilnius.academia.edu/VytautasMichelkevicius
Teemu Mäki (Finland) is an artist, writer, theatre/opera/film director and theorist (Doctor of Fine Arts, Finnish Academy of Fine Arts 2005). Since 1990 he has been an independent, freelancing artist, except for the years 2008–2013, when he was the Professor of Fine Arts in Aalto University. He is also the chairman of The Artists' Association of Finland. Mäki has had 59 solo exhibitions, participated in about 200 group shows, written nine books and directed and written numerous theater plays, films and operas.
www.teemumaki.com
Cinematographer Elen Lotman has shot numerous documentaries, short and feature films in Estonia, Finland, Japan, Tibet, China, Thailand, India, Nicaragua, Costa Rica, Lapland and Russian Arctic. Her films have been selected and awarded at A-class film festivals like IDFA, Tampere, PÖFF, Moscow etc. She is an Associate Professor and head of artistic research in BFM. She has researched cinematography and empathy and defended her PhD "Experiential Heuristics in Feature Film Cinematography" with laudatur in 2021. Recent success of her films includes: 'Dear Mother' was nominated for Best Cinematography and won Best Feature Documentary at the Reel Heart FF, 'Good Bye Soviet Union' won the BNFF audience award, 'Sleeping Beast' won the BNFF Just Film Works in Progress award, screenplay 'Container' was a quarterfinalist at the American Film Academy Nicholl competition. Her virtual exhibition for Tallinn Art Hall was selected among 10 world's best in New York Times and Wallpaper Magazine.
Marco Laimre (Marko Laimre before 2004) is an artist whose work includes photography, installation, sculpture, painting, performance sound art, intervention, curation and text. Laimre's work is not stylistically coherent, nor does he have a signature style; his artistic output is concept not media based. In his art, Laimre looks at common everyday phenomena, approaching them from the perspective of the humanities. In Laimre's work, a strategy critically targeting the textual and pictorial regime of representation is prioritised. He is fascinated by the constricting and ideological nature of photography. Laimre views language as a political, repressive and constricting phenomenon that's inevitable and insurmountable at the same time. In 2018 Marco Laimre began his PhD studies at the Faculty of Fine Arts at the Estonian Academy of Arts, where his research is titled "Dystopian Digital Games and Contemporary Art. How to use Analytical Digital Gaming in Contemporary Art", thesis advisor: PhD Jaak Tomberg).
Darja Popolitova is a jewellery artist and PhD student at the Estonian Academy of Arts. She uses jewellery, digital techniques and video medium in her creative work. Popolitova is interested in topics such as haptic visuality (or how an audiovisual image of jewellery affects the viewer), social phenomena and digital culture. Popolitova was recently awarded the annual prize of the Cultural Endowment of Estonia for her provocative digital shamanic fictional exhibition.
Matthias Sildnik has graduated from the Installation and Sculpture department BA (2010) and MA (2014) at the Estonian Academy of Arts. He has also studied philosophy, semiotics and painting in the University of Tartu. His work has been exhibited in Estonia and abroad in solo and group shows. Sildnik studies the impact of networked media technology to everyday life. He uses mediums such as digital graphics, data analysis and installation as a dissociative synthesis environment. He recycles and reappropriate technologies that the information industry uses to construct digital representations of individuals and mediate subjective experiences. In this way parallel reflective systems are formed which are means of artistic research. He is currently pursuing a PhD in Art and Design at the Estonian Academy of Arts.