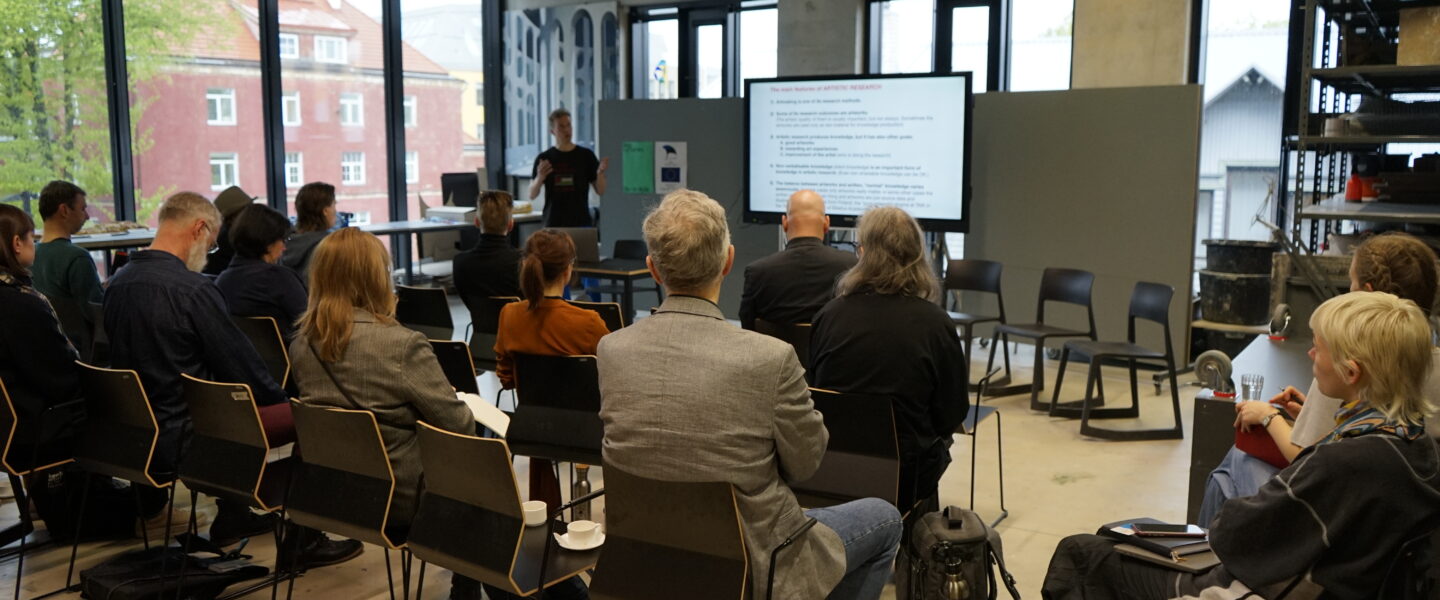 Location:
EKA, A501
Start Date:
10.03.2023
Start Time:
11:30
End Date:
10.03.2023
PhD VITAMIN 2023 – OPEN LECTURES AND CONSULTATIONS FOR DOCTORAL ASPIRANTS
On March 10,  PhD Vitamin will take place at the Estonian Academy of Arts, room A501.
PhD Vitamin aims to support and pave the way – and inspire artists with a research approach on their way to doctoral studies. The goal is to introduce artistic research and advise potential candidates for postgraduate studies in planning a doctoral thesis project. In a program consisting of public lectures and one-on-one consultations, artists and experts discuss their approach to artistic research and share individual advice.
Artists, designers, alumni of EKA and other creative universities, and graduate students interested in artistic research methods are invited to participate.
The event will be held in English.
To participate in a one-on-one consultation, please fill out the FORM.
A detailed consultation schedule will be sent to your email after registration. Be quick – the number of participants in consultations is limited!
In case of additional questions, please write to kati.saarits@artun.ee
PROGRAMME
10.03, Friday, room A501
11:30-12:00 Coffee and welcome
12:00-12:45 Jaana Kokko "
Ideals and Practices
"
12:45-13:30 Daniel Peltz "Rural Contextual Practice: Long-term, place-based research in a centre for Peripheral Study"
13:30-14.00 Taavet Jansen "Directing a hybrid event as practice-based research"
14:00-15:00 Moderated discussion: Daniel Peltz, Jaana Kokko, Taavet Jansen, Maarin Ektermann
15:00-15:30 break
15:30-18.15 Consultations with Daniel Peltz and Jaana Kokko
SPEAKERS:
Daniel Peltz is an artist and Professor of Time and Space Arts at the Finnish Academy of Fine Arts, Uniarts Helsinki. Prior to his professorship in Helsinki, Peltz served as Professor of Film/Animation/Video at the Rhode Island School of Design and co-founded the long-term, place-based, artistic-research project Rejmyre Art Lab's Centre for Peripheral Studies, in Rejmyre, Sweden.
In his presentation "Rural Contextual Practice: Long-term, place-based research in a centre for Peripheral Study", Peltz will provide an introduction to some of the strategies he has developed over the past 20 years of making works that emanate from engagements with specific communities and socio-cultural situations. The works intertwine multiple planes of existence from the ecological, to the social, to the financial, to the spiritual. There will be a particular focus on his epic, long-term engagement (going on 15 years) with the rural, glass-factory town of Rejmyre, Sweden. 
Jaana Kokko is an artist, filmmaker, educator and occasional curator based in Helsinki. In her artistic practice she is now in the search of the common: the emergent need for the change that is starting from our practices of art making, learning and being together. Her practice-based Phd project for the Aalto University is thinking the political together with Hannah Arendt and others.
She is and has been teaching and lecturing f.ex. at the Academy of Fine Arts, Helsinki, Turku Art Academy, Estonian Academy of Arts in Tallinn, Latvian Academy of Arts, Riga and Akademie der Bildende Künste, Nürnberg. Her work has been exhibited f.ex. at the Lithuanian National Gallery in Vilnius, Latvian National Museum of Art in Riga, Tallinn Art Hall, Helsinki Art Hall, Moderna Museet in Stockholm, Joensuu Art Museum in Finland, Bucharest International Experimental Film Festival, Tampere Film Festival and Tokyo Media Art Festival. 
Taavet Jansen is a multidisciplinary artist specializing in dance, choreography, sound, and video. His current research focuses on creating immersive experiences for online art events. He is pursuing his doctoral degree at EKA and working on enhancing the elektron.art platform for online art events. His project promises to bring fresh perspectives to the digital creative sphere and contribute to the performing arts community.
Maarin Ektermann is an art worker, based in Tallinn, Estonia, who is working on intersections between contemporary art and more-or-less experimental education. Recent projects have included "Artists in Collections" (w M-A Talvistu, 2017 – ), re-imagining social rituals of the cultural field under RESKRIPT (w H. Hütt, 2019 – ), proposal for fair fee system for Estonian art scene (w A. Triisberg, 2019 – ) and since 2020 running a new educational platform proloogkool ("school of prologues"). On a daily basis she works  as a Head of Center for General Theory Subjects at Estonian Art Academy and teaches there courses on art history of 20th century, self-organized practices and on art criticism.