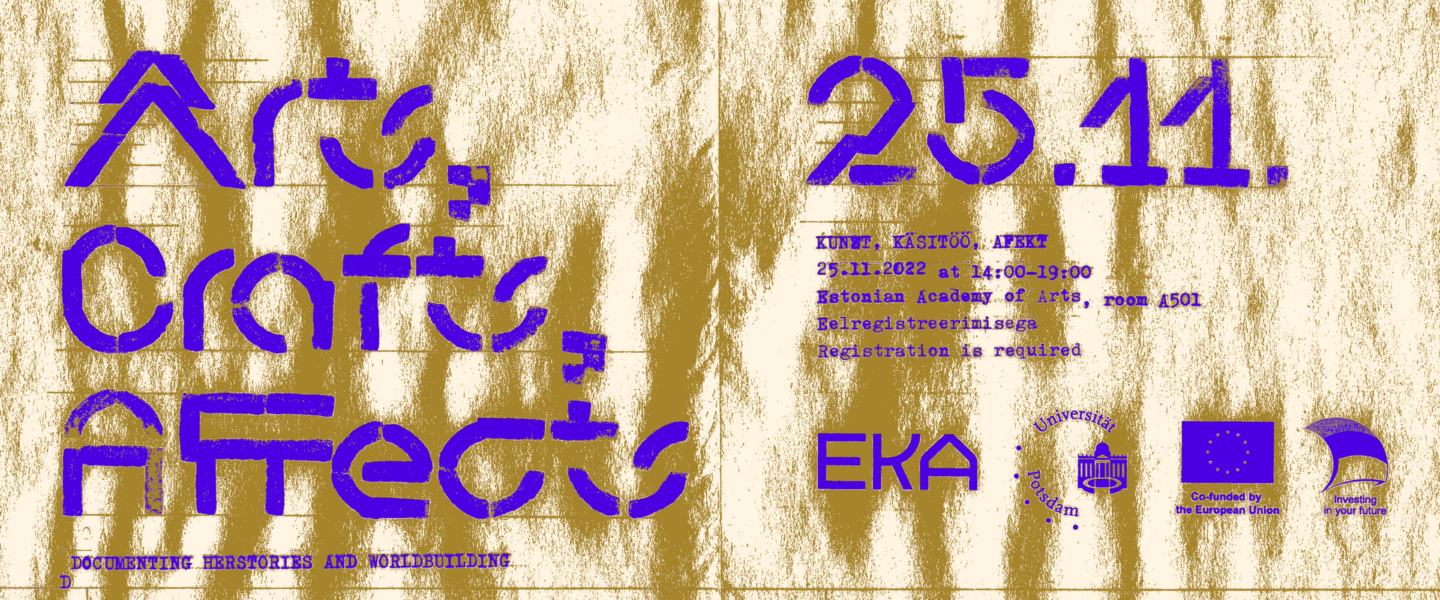 Seminar "Arts, Crafts, Affects: Documenting HerStories and Worldbuilding"
Location:
EKA, ruum A-501
Start Date:
25.11.2022
Start Time:
14:00
End Date:
25.11.2022
Public seminar Arts, Crafts, Affects: Documenting HerStories and Worldbuilding at Estonian Academy of Arts and workshop by #FramedinBelarus
Participants: #FramedinBelarus (Rufina Bazlova and Sofia Tocar), Katrin Mayer, Mare Tralla
Discussant: Katrin Kivimaa
Organized by Margaret Tali (Estonian Academy of Arts) & Ulrike Gerhardt (University of Potsdam)
Pre-registration is required. Please register here
Introduction
Handi/crafts have made a visible and present return in contemporary art. Many artists have found their tools of expression in traditional media which require special training and skills that are often passed down through generations. Yet these manual ancestral techniques have complex connotations which can be pinned down to their specific purposes; these range from spiritual to communicative, ecological to existential, and last but not least, economic needs.
The area of handi/craft and textile studies has long been neglected and marginalized in art history writing. Yet textile art often has a strong conceptual and epistemic grounding and the use of crafts and old techniques brings to the fore new possibilities of resistance and alternative worldbuilding. In various Eastern European countries between the late 1960s and mid-1980s, many communities were formed around textile art, transforming the genre into an experimental, progressive, and community-feeding way of art making (Hock 2013). More recently, over the last decade, textile, quilting and embroidery techniques have seen a renaissance that urges us to rethink this research field as an increasingly intertwined and interdisciplinary terrain of art, design, material culture and handi/craft.
Feminist art historians have suggested that embroidery and related media have provided women with weapons of resistance, offering a potential challenge to the boundaries between high and low, gender and class relations, and their intersections with identity, race and diasporic memories (Parker 1984, Smith 2014, Plummer 2022). In this context, embodied herstory can be understood as women's history embedded and encrypted in gendered techniques, textures and patterns, through which this historical knowledge is being carried, lived and transformed through generations, continents and local contexts.
This public seminar will bring together the experiences and research strategies of two artists, Mare Tralla (London / Tallinn) and Katrin Mayer (Düsseldorf / Berlin), as well as one collaborative craftivist project, #FramedinBelarus (Rufina Bazlova and Sofia Tocar, Prague). They will articulate relationships between embodied herstories and their chosen material forms. Furthermore, they will consider handi/craft as a channel of alternative communication that has long been used for transmitting women's struggles and hardships in patriarchally structured and capitalist societies. Central questions of the public seminar are: How can we explain this return of traditional and transgenerational body-related techniques in art in the age of surveillance capitalism and diaspora? What kinds of affects do these techniques and materials channel and carry? How do they allow us to document and connect different feminist struggles, and bring together contemporary and historical resistances? In the context of this public seminar, art historians Margaret Tali (Tallinn) and Ulrike Gerhardt (Potsdam) are specifically interested in handi/craft as a newly interpreted tradition and as material labor and a means to express and communicate the unspeakable, including its capacity to raise new questions about international solidarity, acts of resistance and mental health, and to offer alternative worldbuilding practices.
On November 26th a workshop by #FramedinBelarus will take place in collaboration with the Vabamu Museum of Occupations and Freedom in the framework of the seminar.
Mare Tralla is an Estonian queer-feminist interdisciplinary artist and activist living in London.
Katrin Mayer is an artist based in Berlin. Her approach is a type of archeology of knowledge, she takes up gender political histories of a place and translates them into spatial-material formulations.
Rufina Bazlova is a Belarusian artist who works with the traditional folk embroidery as a medium to depict socio-political issues.
Sofia Tocar is a curator and cultural manager who works on artivist collaborative projects and documentary films in the region of Central and Eastern Europe.
#FramedinBelarus is a social art project by Stitchit dedicated to political prisoners and organized by Stitchit art group. Stitchit was created in 2021 in Prague by Rufina Bazlova and Sofia Tocar, who invite different communities and individuals to join their creative process.
Katrin Kivimaa is an art historian, whose main areas of research are feminist art history, Estonian modern and contemporary art, historiography of Estonian art history, representation of women in art and visual culture.
Ulrike Gerhardt is a visual studies scholar with a focus on cultural memory practices in post-socialist art and artistic co-directress of the feminist video art platform D'EST.
Margaret Tali is an art historian and cultural theorist whose work deals with memory politics, art museums and curation of difficult histories in the Baltic context. She co-curates the project "Communicating Difficult Pasts".
The event is supported by European Regional Development Fund, Estonian Academy of Arts and University of Potsdam.