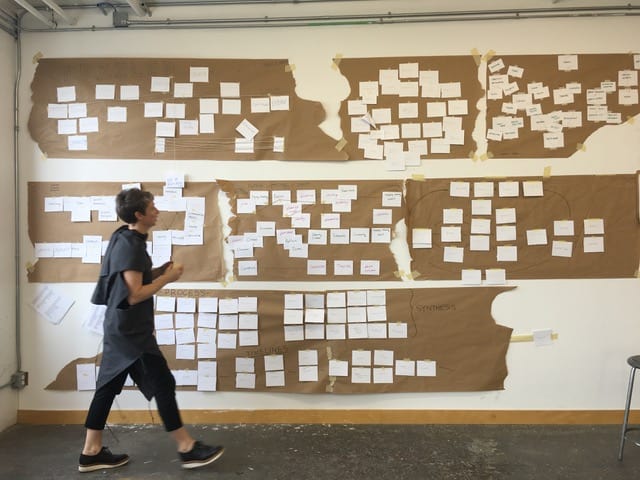 Asukoht:
EKA room A501
Algus k.p.:
20.05.2019
Algusaeg:
16:00
Lõpp k.p.:
20.05.2019
May 20th at 16:00 at EKA room A501 Hélène Day Fraser will give an open lecture"Decoloniality? Locating Inadvertent Parallels".
The Associate Dean at Emily Carr University of Art and Design will share work done with many others on a project called clothing(s) as Conversation. She will speak to material practice in relation to the social and questions she is currently posing of her own work in relation to decoloniality.
She asks how do we locate ourselves? What does it mean to find new routes forward? What are the tropes that trap us? Is it possible to identify, reroute, delink, move away from mainstream assumptions of design/in design?
Hélène Day Fraser is a first generation Canadian, of Welsh and English descent, born in North-Eastern Quebec. She has been formed by life in a small town on the Canadian Prairies, an island in the Philippines, downtown Toronto, Strasbourg, the outskirts of Paris, France and most recently Vancouver and the North Shore. She is the Associate Dean, Master of Design, Jake Kerr Faculty of Graduate Studies, Emily Carr University of Art + Design.
Hélène was the Principle Investigator of a SSHRC Insight funded research initiative: cloTHING(s) as Conversation. ( 2013 – 2018). Recently, she received CFI funding to help support and develop a Textile Adaptation Research Program (TARP) based out of Emily Carr University. She is also a founding member and Co-Director of the ECU Material Matters research center, and an active member of Emily Carr's DESIS lab (DESIS is an international design research network for sustainability and social innovation). In her role as Emily Carr University's Academic Co-ordinator for Sustainability (2012 – 2015) she established Creatives with Intent, a group that promoted agency and communication pertaining to sustainability.
Hélène's textile and garment-based research addresses concerns and developments in the areas of: sustainability, new digital technologies, craft and legacy practices of making and generative systems. Her work explores modes of social engagement, identity construction and clothing consumption habits.
It is informed by a design education, and a past professional career in fashion, design, and manufacturing. Day Fraser holds a Masters of Applied Arts in Design and a Bachelor of Applied Arts in Fashion.