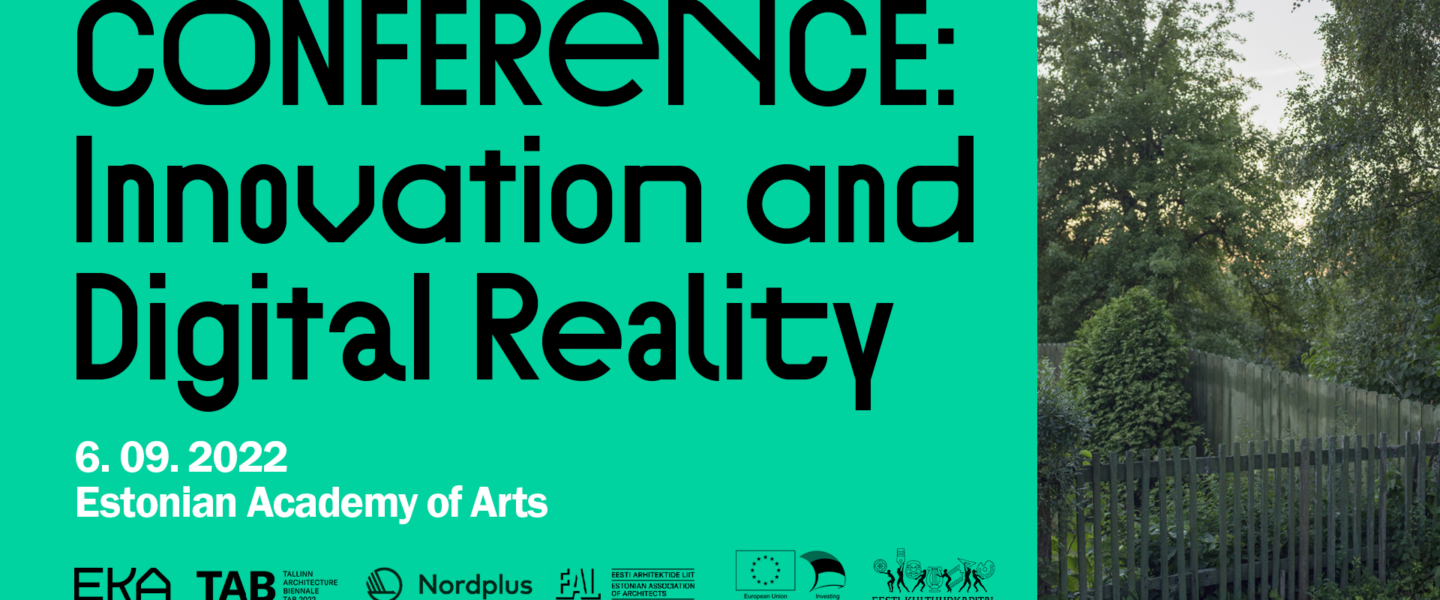 Location:
EKA suur auditoorium A-101
Start Date:
06.09.2022
Start Time:
09:00
End Date:
06.09.2022
On September 6, 2022, the Estonian Academy of Arts will organize a conference analyzing the vast scope of possibilities for innovation in the era of digital reality, looking more specifically into the fields of architecture, spatial design, creativity, innovation, and design education in relation to the possibilities offered by the means of digital reality.
There is no fee for the conference, but you are kindly asked to sign up in advance.
The previous conference of the Estonian Academy of Arts Faculty of Architecture dissecting digital reality took place in 2019. In the years since, the world around us has changed – many say, irreversibly.
The pandemic hit the global economy and culture with unprecedented force, forcing all to restructure our lives, businesses and leisure habits. The global wave of lockdowns catalyzed e-commerce, distance learning and work-from-home, as well as all digital platforms. Innovations in digital reality have gained momentum and have now become a source of completely new possibilities.
The concept of innovation radiates throughout the economy and culture today. It has been argued that for innovation to be radical, it must be design-based. We can trace logical steps from creativity and invention to design and innovation in our lives. It can be assumed that the design thinking that was highly promoted in recent decades was a bit premature. Only now, with the emergence of digital reality, has it become fully meaningful – through digital platforms, most human labor is being pre-designed.
At the conference, we will speculate on the future of space, architecture, creation, innovation and design education in the age of digital reality. Dr. Roberto Verganti will dissect innovation as the keynote speaker at the conference with his lecture titled "Design-Driven Innovation and Radical Invention of Arts". Speakers include Emil Adamec (Brno University of Technology, Charles University), Gao Xu (Taiyuan University of Technology), Cheng Lu(Cardiff University), Max Eschenbach and Prof. Dr. Oliver Tessmann(Darmstadt University of Technology), Prof. Roemer van Toorn (UMA School of Architecture), Dr. Siim Tuksam (Estonian Academy of Arts) and Martin Melioranski (Estonian Academy of Arts). The sessions are moderated by Professor Toomas Tammis and Professor Dr. Andres Kurg. The panel discussion will be moderated by Dr. Jüri Soolep.
The conference takes place within the TAB Tallinn Architecture Biennale, always aimed at looking boldly into the future.
More about the conference.
The conference is supported by the Estonian Academy of Arts, the Estonian Association of Architects, the Estonian Cultural Endowment, the Estonian Ministry of Culture, and the European Regional Development Fund.