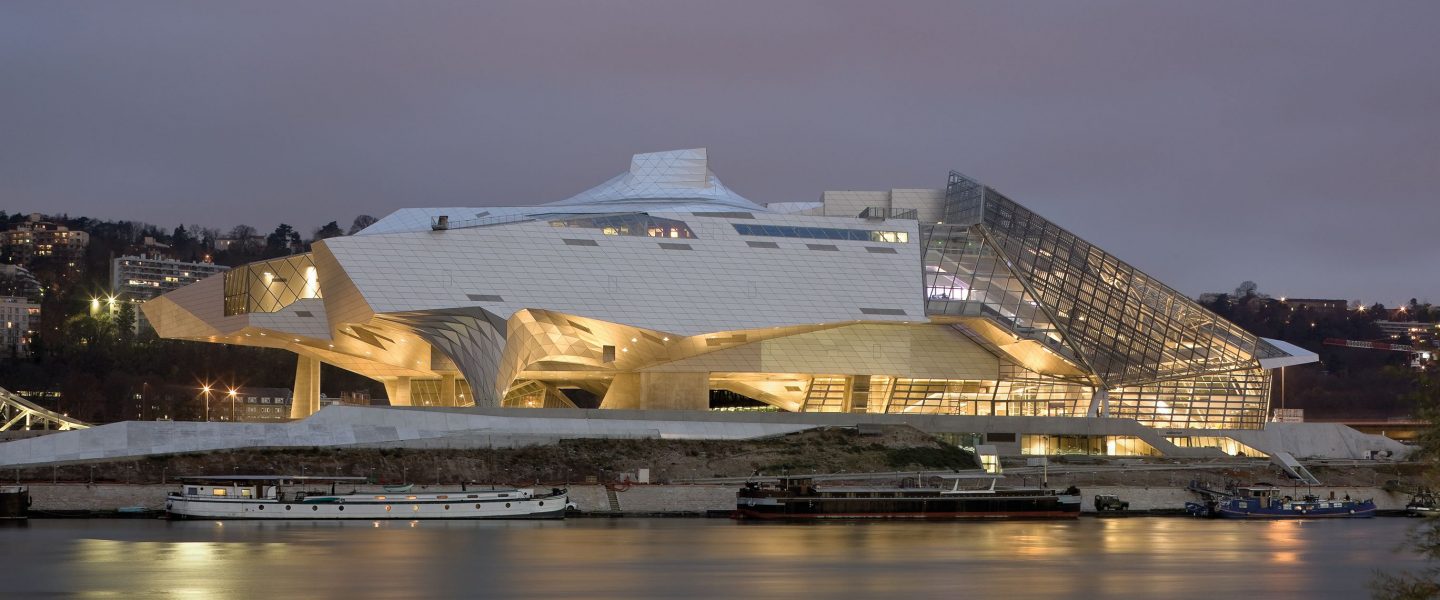 COOP HIMMELB(L)AU. Musée des Confluences, Lyon, France (2001/2010-2014). Photo: © Duccio Malagamba
Location:
EKA suur auditoorium A101/EKA main hall A101
Start Date:
12.03.2020
Start Time:
18:00
End Date:
12.03.2020
NB! The lecture is CANCELED!
HIMMELB(L)AU 68 Revisited: We will not allow Art to be exiled from Architecture. Open Lecture by Wolf D. Prix
Arriving to Tallinn on 12 March is the co-founder, Design Principal and CEO of Vienna-based international architecture practice COOP HIMMELB(L)AU Wolf D. Prix, according to whom COOP HIMMELB(L)AU does not so much as fight gravity with their buildings which often seem to float or sway, but rather tries to ignore gravity in the first place. Prix's lecture is titled "HIMMELB(L)AU 68 Revisited. We will not allow Art to be exiled from Architecture" and is part of the Estonian Academy of Arts architecture open lecture series. All lectures are free and open for all.
Wolf D. Prix studied architecture at the Vienna University of Technology, the Architectural Association of London as well as at the Southern California Institute of Architecture (SCI-Arc) in Los Angeles. Amongst others, Wolf D. Prix is a member of the Österreichische Bundeskammer der Architekten und Ingenieurkonsulenten, the Bund Deutscher Architekten, Germany (BDA), the Royal Institute of British Architects (RIBA), the Architectural Association Santa Clara, Cuba, and Fellow of the American Institute of Architecture (FAIA). Prix has received numerous award, including the Great Austrian State Award and the Austrian Decoration of Honor for Science and Art.
COOP HIMMELB(L)AU was founded in Vienna in 1968 and has since then been operating in the fields of art, architecture, urban planning, and design. Another branch of the firm was opened in Los Angeles in 1988. In numerous countries the firm has realized museums, concert halls, science and office buildings as well as residential buildings. Presently COOP HIMMELB(L)AU is working on various projects in Europe, Asia and the Middle East.
The company's most well-known international projects include the Rooftop Remodeling Falkestraße attic conversion in Vienna, the multifunctional UFA Cinema Center in Dresden, the BMW Welt in Munich, the Akron Art Museum in Ohio, the Central Los Angeles Area High School #9 for the Visual and Performing Arts, the Busan Cinema Center in Korea and the Dalian International Conference Center in China and the House of Music in Aalborg, Denmark.
The Faculty of Architecture of the Estonian Academy of Arts has curated the Open Lectures on Architecture series since 2012 – each year, a dozen architects, urbanists, both practicing as well as academics, introduce their work and field of research to the audience in Tallinn. All lectures are in English, free and open to everyone.
The series is funded by the Estonian Cultural Endowment.
Curators: Sille Pihlak, Johan Tali
www.avatudloengud.ee
www.facebook.com/EKAarhitektuur/
More info:
E-mail: arhitektuur@artun.ee
Tel. +372 642 0071