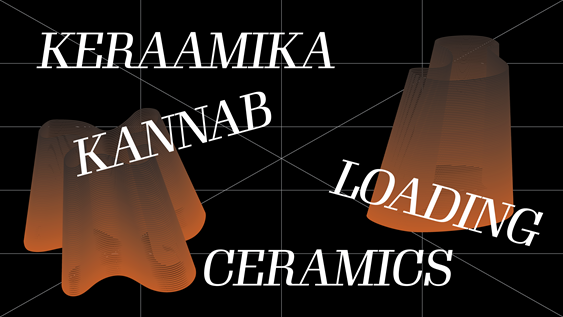 Location:
Eesti Arhitektuurimuuseum
Start Date:
12.09.2023
Start Time:
14:00
End Date:
12.09.2023
The symposium "Loading Ceramics" takes place on Tuesday, September 12th at 14:00 on the 1st Floor and the subsequent exhibition opens at 16:00 on the 3rd Floor of Estonian Architecture Museum.
The opening of
the exhibition
"Loading Ceramics"
will be accompanied by a thematic symposium highlighting the observations of the participating architects, designers, and artists. It will present the results of an international short-term residency of 3DL | Faculty of Architecture and Ceramics Department of the Estonian Academy of Arts, synthesizing critical spatial thinking with material and parametric layering technologies. The symposium will be chaired by Andres Kurg.
The symposium is in English.
Curators: Martin Melioranski, Lauri Kilusk
Co-curator: Varvara Guljajeva
Graphic Design: Cristopher Siniväli
Participants: Varvara Guljajeva and Mar Canet Solà, Raul Kalvo, Lauri Kilusk, Kaiko Kivi, Martin Melioranski, Sasha Serber, Paco Ernest Ulman, Markus Wikar
The exhibition and symposium is supported by the Estonian Academy of Arts and the Cultural Endowment of Estonia