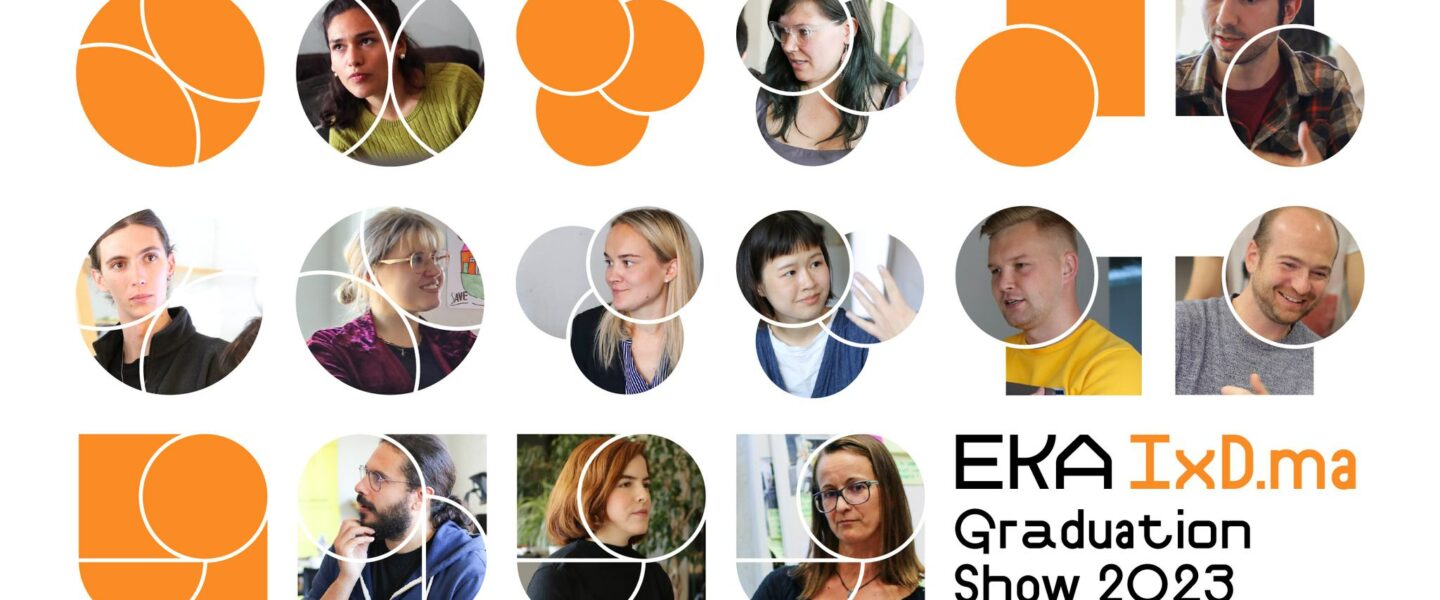 Location:
Yanu Robot Bar, Rotermanni 14 
Start Date:
07.06.2023
Start Time:
19:00
End Date:
10.06.2023
Human-centred design alone is no longer enough. To deal with the wicked problems of the 21st century and beyond, we need to explore new ways of building empathy and igniting creativity. 
Join us for our graduation project showcase and witness the outcomes of twelve designers' half-a-year journeys as they explored various challenges and addressed sustainable development goals by pushing the limits of what interaction design can be.
SHOWCASE
At Yanu Robot Bar, Rotermanni 14
Open daily 7–10 June
Opening party 7. June at 19:00
Join the talented students behind the work and their mentors, play around with the prototypes and enjoy drinks, music and a night full of inspiration!
PROJECT PRESENTATIONS
At EKA Main Auditorium, Põhja pst 7
Thursday, 8 June
Interactions within Ourselves
9:10 Alma Yareny Duriez Urías: Fiction of our dreams as a tool for collective imaginarium
10:00 Katrin Kirsikka Janelle Koskela: Wear my anger
10:50 Pietro Ercolino Vizzadelli Barcucci: A monkey in a spaceship
Interactions with People and Services
12:30 Natsumi Nonaka: Discursive Design for Critically Embodying Gendered Experiences in Japan's New Graduate Recruitment Practices
13:20 Quinn Darby Feller: Mending Relationships: Repairing garments through playfulness and collaboration
14:10 Helen Staak: Supporting cardiology patients to be active participants in their communication and treatment process at the II Cardiology Department in North Estonia Medical Centre
Friday, 9 June
Interactions with Products
9:10 Görkem Bozkurt: Trinteract—an Open-source 3D Input Device for Navigating Digital Spaces
10:00 Thomas Hartnell: HempCentric—From Hemp Fields to Green Builds
10:50 Jakob Päll: Ordinary drives in extraordinary ways—How to enhance the experience of a daily commute drive with a smart scenario for a Volvo car?
Interactions with Systems
12:30 Külliki Kesa: Estonian Packaging Design Guide—Creating Meaningful Interventions with the Help of Systemic Design
13:20 Paulina Juárez Badillo Chávez: The paradox of online identity verification
14:10 Sigmund Abou Chrouch: Uncovering biases in design research through Experiential Narratives
Come, join us in Yanu Robot Bar for the showcase, and in EKA for two days of inspiring presentations and discussions and learn about the latest trends in interaction design. 
FB: 
https://fb.me/e/3HzHy6lcp