Arhitektuur on pidevas uuenemises ja pakub sellisena Eesti ühiskonnale ja majandusele võimalusi eneserefleksiooniks ja innovaatilisteks protsessideks.
Erialased süvauuringud on vajalikud nii arhitektuurihariduse edasiviimiseks kui ka eriala enda arenguks, mis toimub rööbiti ühiskonna tehnoloogilise ja kultuurilise võimekuse muutumisega ning seda koostöös teiste valdkondadega.
Eesti Kunstiakadeemia doktorikooli arhitektuuri ja linnaplaneerimise õppekavale oodatakse kandidaate, kellel on magistrikraad arhitektuuri, linnaplaneerimise, urbanistika, sisearhitektuuri või maastikuarhitektuuri erialal.
Doktoriõpingud on suunatud eelpoolnimetatud valdkondade loomingu, ajaloo, teooria ja filosoofia arendamisele ja reflekteerimisele, jagunedes kaheks õppesuunaks:
1) traditsiooniline arhitektuuriajaloo ja –teooriapõhine uurimistöö ning
2) eksperimentaalne loomepõhine uurimistöö.
Viimane omakorda jaguneb praktikal põhinevaks uurimissuunaks ja kavandamisprotsessil endal põhinevaks uurimissuunaks.
Doktoriõppe eesmärgid on:
– Luua uusi professionaalseid teadmisi, mis ühendavad ruumi valdkonna laiemalt ühiskonna kaasaegsete probleemidega;
– Arendada ja tutvustada uusi teadmisi, oskusi ja professionaalset kogemust säästva elukeskkonna säästvaks arendamiseks;
– Luua uusi professionaalseid teadmisi ja oskusi koostöös teiste uurimisvaldkondadega;
– Arendada olemasolevaid ja luua uusi meetodeid ja strateegijaid ruumi valdkonna uurimistegevuses;
– Osaleda oma valdkonna uurijate ja loovisikute rahvusvahelises koostöös.
EKA doktorikooli arhitektuuri ja linnaplaneerimise õppekava juht on arhitekt ja professor Jüri Soolep, PhD.
Doktorandid:
DAMIANO CERRONE
DAMIANO CERRONE (ETIS)
"Urban meta-morphology: new principles of urban structure"
The PhD is about developing a new method to map and reveal the invisible image of the city using social media data and activity patterns. It is believed that spatial accessibility is the main attractor of social interactions (activities) and economic transaction (businesses) but in my case studies I present how the shape of the city is no longer related to activity patterns and use of certain space. This means that the practice of planning has to be updated and upgraded with this new understanding of urban phenomenology. Through the work of SPIN Unit I have used this new methodology (urban-metamorphology) to influence the planning and education practice in the US, Europe and Russia.
MICHAEL CORR
MICHAEL CORR
"The brief. A negotiation: a dialogue to craft outcomes for architecture"
Looking at the body of work of my creative practice, one of the consistencies that binds the work together is the act or process of negotiating. I use the notion of negotiation as a lens to look at the completed projects and discuss the work in terms of public behaviours. For an architect, a brief is a transformative trigger. The brief is a point of departure, to examine the range of forces that shape the 'public' brief in particular, prior to it coming to the attention of the architect. Looking specifically at the context of Northern Ireland, I will attempt to unravel the complex political, social and spatial conditions that give rise to the birth of the brief, and suggest how the architect might intervene in this process to alter its DNA.
EIK HERMANN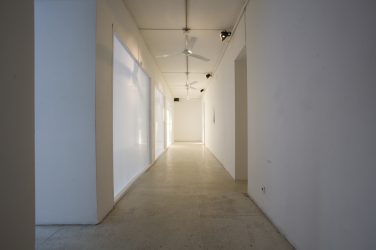 EIK HERMANN (ETIS)
"Dünaamiline kontekstualism"
Planeeritav doktoritöö otsib arhitektuuripraktika laiematest ümbrustest uusi ruumiideid. Eesmärgiks on jõuda heuristilise tööriistani, mis aitaks (nt klimaatilisse, geograafilisse, majanduslikku, poliitilisse, psühholoogilisse, poeetilisse) ümbrusesse kätketud ruumiideedel paremini tegelikesse arhitektuuriprojektidesse jõuda. Samuti tõstatatakse küsimus, mida võiks tähendada Eesti oludele vastav (kontekstitundlik) arhitektuur.
Foto: Krista Mölder and Neeme Külm "Being Present", 2012
KARLI LUIK
KARLI LUIK (ETIS)
"Disturbing Landscapes"
We are all victims of the architect – architecture is the only art that you cannot help but feel. Every architect is a dictator stimulating some sensations and hindering others. Architecture is a form of politics performed directly at bodies. By deforming landscapes, building obstacles and creating spaces we always deform and change the identities of the users. In this way architecture is never "nice" nor "beautiful" but rather an obscure matter striving to fulfil someones obsessions. My creative practice research ventures into the impossibility of control in architecture, impossibility of direct communication, impossibility of sufficient understanding, impossibility of being completely honest, often impossibility of addressing the relevant issues that actually matter.
TOOMAS PAAVER
TOOMAS PAAVER (ETIS)
"Arhitekt ühiskondlikes rollides"
Kavatsen oma doktoritöös enda praktika põhjal avada arhitektide töö olemust avalikus ja kolmandas sektoris, avaliku ruumi kavandamisel, planeerimisel ja ülesannete püstitamisel. Kirjeldan nende tööde erinevusi, sarnasusi, kattuvusi ja seoseid traditsioonilise arhitekti tööpraktikaga, kus arhitekt kavandab kellegi tellimusel midagi, mis on mõeldud otseselt ehitamiseks. Praktika ajalise ja ruumilise raamistiku annab Eesti Vabariik alates taasiseseisvumisest 1991. Asetan enda praktika laiemasse konteksti oma erinevate rollide kaudu ning neid rolle läbivate ja ühendavate teemade kaudu.
Esialgse kava järgi sisaldab doktoritöö väljund minu praktika põhjal järeldusi ja visiooni, mis võivad anda senisest selgema mõtestuse ühiskondlikes rollides tegutsevate arhitektide tööle laiemalt. Lisaks võib töö luua selgust, kuidas anda hariduse kaudu ettevalmistust arhitektidele avaliku sektori tööks ja muudeks ühiskondlikeks rollideks.
CLAUDIA PASQUERO
CLAUDIA PASQUERO (ETIS)
"Bio-city: on the relevance of bio-computation in architecture and urban design"
My work and research operates at the convergence of discipline such as biology, computation and urban design. I am looking at the city from a non-anthropocentric point of view, realising that in our contemporary global world it is impossible to trace a clear distinction between nature and artifice, between landscape and city and ultimately between the biosphere and the urbansphere. From a satellite view it is quite difficult to define the boundaries between natural and artificial, contemporary global cities despite being large artificial systems often develop patterns that seem to recall natural formations of a radically different kind. From this perspective cities and their morphologies are mostly determined by the flows of matter, information and energy that fuel their metabolisms. Urbansphere, the global apparatus of contemporary urbanity, is a dense network of informational, material and energetic infrastructures that sustain our demanding metabolism while offsetting the fluctuations of the natural Biosphere. I propose a model to articulate the behaviour of the Urbansphere and define new terms for its sustainable co-evolution with the Biosphere. This responds to principles of biologic self-organisation, and operates by embedding a numerical/computational engines onto spatial/morphological substrata.
SILLE PIHLAK
SILLE PIHLAK (ETIS)
"Between the idea, tool and real(ization): Algorithmic processes in timber architecture and design"
Administration of digital design tools and technology to raise the construction potential of anisotropic materials. Introducing the terms idea, tool and real to describe the current design processes in my practise. Previously dominating linear dialog (idea to real, idea to tool, tool to real) have made its way to systematic re-appearing loops. Those loopholes have activated variability in scales (from high voltage pylon to urban city stages to accessories), integration of material characteristics (timber, plywood, glu-lam), machine limitations/ possibilities (timber manufacturers CNC mills) and sustainability (form human energy to environmental exhaustion).
JOHAN TALI
JOHAN TALI (ETIS)
"Animating future scenarios for public space"
Public space has become a widespread agenda for architects. The "space between the architecture" has become subject to political correctness. Yet the notion of public space goes far beyond generous gestures in the built environments. In a global market economy, the public extends to geopolitics in planetary scale, yet very few spatial factors have been subject to environmental thinking as a public domain. With policies like the Paris Agreement, the first steps have been made in understanding the potential of a global public space, yet spatial practitioners stand far from being at the core of these debates, while their tools of projecting scenarios can potentially be the most effective in animating future developments.
JAAN TIIDEMANN
JAAN TIIDEMANN (ETIS)
"Cartography by design: achieving precision in architectural design"
My thesis builds on projects completed by my architectural studio, tutoring at the Estonian Academy of Arts and conducting research on spatial structures of Estonian non-urban landscapes. For ten years I have organised and tutored the "Shelter" construction workshops for the first year architecture students, used 'cartography by design' as my tool of research and worked with a variety of clients. I have studied non-urban landscapes of Estonian villages alongside running a studio. My research into historic maps in urban context intertwine with architectural interventions. Through the PhD process I highlight transformative triggers of such practice and ask what are the constraints for achieving precision in architectural design.
SIIM TUKSAM
SIIM TUKSAM (ETIS)
"Automated aesthetics"
Analysed, simulated, optimised, data driven, crowd sourced, automated… aesthetics? What is the role of the designer in a data driven algorithmic process of creating architecture? Designer, researcher, educator, curator? Looking at computational design and fabrication and how it influences (or rather if we can make it influence) the building industry, the architectural discourse and the society on a cultural level. What is the role of the architect-author in a collaborative or even democratic, optimised and automated design process? How can we influence the way we construct our built environment in terms of new methods and materials in one of the most stagnate of industries? Not merely speculate but practice.