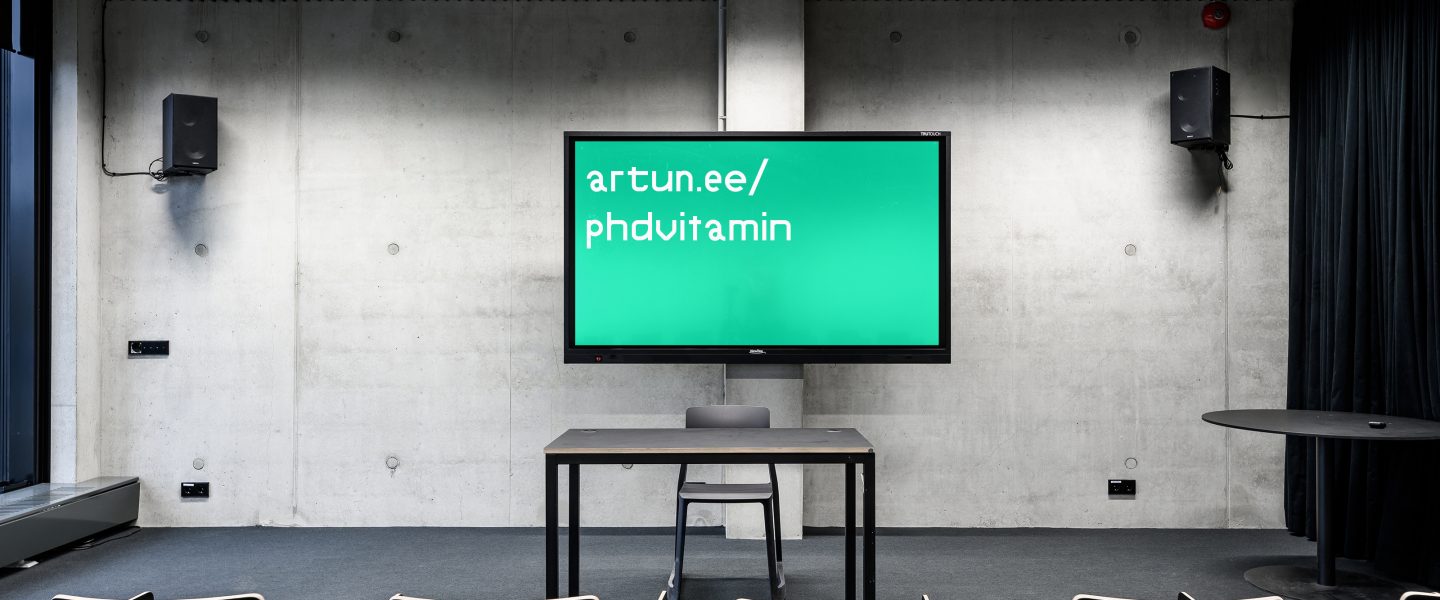 Start Date:
04.05.2020
End Date:
08.05.2020
PhD Vitamin is a first-time event at the Estonian Academy of Arts that consists of public lectures and individual consultations. Our goal is to bring together experts in artistic research with prospective PhD students with the intent of introducing the latter to the field of artistic research and to advise them in developing their own PhD research proposals.
1. Join the lectures: (please register beforehand)
Monday, 04.05. 4:00 pm – 5:00 pm
Liina Siib works mainly in photography, video and installation. The most prominent and recurring themes in Siib's work include social spaces, marginalised groups and overlooked experiences. In her work Siib looks into how history gets written and the role of memory in shaping various groups in society, often using interviews, observation or archival materials as her method of working. (CCA)
Monday, 04.05. 5:30 pm – 6:30 pm
Dr. Varvara Guljajeva is an artist and researcher. Varvara holds a PhD from Estonian Academy of Arts, and M.Sc in digital media from University of Luebeck, and a bachelor's degree in Information Technology from IT Collage (Tallinn University of Technology). Her practice-based doctoral thesis "From interaction to postparticipation: the disappearing role of the active participant" analyses and contextualises passive audience interaction through the lens of post-participation.
Tuesday, 05.05. 5:00 pm – 6:00 pm
Dr. Michael Schwab is a London-based artist and artistic researcher who investigates postconceptual uses of technology in a variety of media including photography, drawing, printmaking, and installation art. He holds a M.A. in philosophy (Hamburg University) and a PhD in photography (Royal College of Art, London) that focuses on post-conceptual post-photography and artistic research methodology. He is the founding Editor-in-Chief of the Journal for Artistic Research (JAR).
Wednesday, 06.05. 5:30 pm – 6:30 pm
Dr. Chris Hales has exhibited a variety of interactive film installations dating back to ARTEC'95 in Japan via Future Cinema at ZKM in 2003 to the Glucksman Gallery in Cork in 2019. Part of his enquiry is the use of novel or unusual interface technology including facial emotion recognition and brain-computer interfaces.
2. Join the consultations: (please also register beforehand)
In addition to the lectures, individual consultations take place within the framework of the PhD Vitamin from 6th to 8th of May. They offer the opportunity to talk about your artistic work and ideas for a doctoral thesis with an expert of your choice.
In addition to the experts who will give lectures in the first half of the event, it is possible to register for a consultation with artist Kristina Norman.
Kristina Norman is a freelance artist whose interdisciplinary work is characterized by an interest in the relationship between identity, memory and public space. One of her most internationally known works is the intervention in public space at the 10th Manifesta Biennale in St. Petersburg, when she installed a 14-meter iron Christmas tree frame – which has become a symbol of Euromaidan – in front of the Winter Palace. The action linked the tragic events in Kiev to the repressed memory of demonstrations at the Palace Square at various times. Norman's newer research-based creation experiments with performative expressions.
To participate in the consultations, register HERE.
We encourage artists, alumni and graduates of the Estonian Academy of Arts and other universities working with creative research methods to register. Registration is open until 03.05.2020. The exact consultation times will be sent directly to the provided e-mail addresses. Be quick – the number of free spots for the consultations is limited!
The lectures and consultations will take place in digital environments. The event is funded by the European Regional Development Fund
Questions? Please contact madis.luik@artun.ee