Print studio. Photo: Liina Siib
The Department of Graphic Art deals with graphic arts on a broad scale from classical printmaking techniques and contemporary digital technologies to visual communication and contextual approach – from art books to artistic research.
The Department of Graphic Art at EKA is the only academic department in Estonia where graphic art is taught at a degree level. What makes the speciality unique is the print workshop for practising classical printmaking techniques in contemporary art.
The concept of "graphics" has several meanings: tight connections to the development of information technologies, reproduction, distribution, copy culture, visual storytelling, information and data visualisation, topics of art books, graphic narrative, and illustration. The range of interests encompasses everything relevant to contemporary visual art and culture from field work and archival materials to contemporary concepts in visual art and society. Graphic art is like a bridge between image and text.

Exhibition "Things and Unthings", Haapsalu City Gallery, 3rd year BA students,  2021. Photo: Liina Siib
Selected student works

Liisa Tammert "Secret Weapon" 2020

Liis-Marleen Verilaskja "Cielle" 2019. Photo: Diana Tamane

Maria-Izabella Lehtsaar "The Devil Is In thr Details (Letters to Myself")2020. Photo: Diana Tamane

"Expedited Procedure", EKA Gallery 2020. Photo: Paul Klooren

"This is not a labyrinth", EKA Gallery 2020. Photo: Liina Siib
Collaboration with TYPA Printing and Paper Art Centre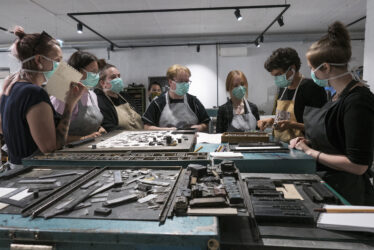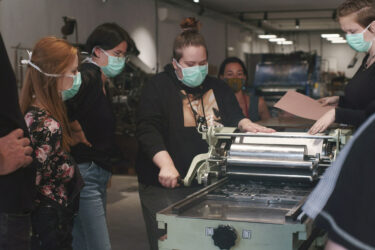 Summer studies at TYPA, 2019. Photos: Liina Siib