Olga Orlova. 4D Fractal Roof System for Pirita Convent. 3DL – Problematics of Contemporary Architecture. Tutor: Martin Melioranski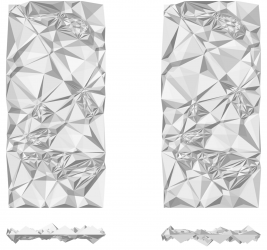 The Estonian Academy of Arts Faculty of Architecture's 3D Lab (3DL) was created to test experimental architectural solutions and details and to apply contemporary technical solutions in academics and research projects.
The activities of 3DL can be divided into the following interconnected basic areas:
● Linking parametric architecture and design with physical prototyping.
● 3D mapping and modelling large-scale objects.
● Linking architectural and construction parameters with databases.
● Analysis of cities and regions in connection with spatial processes and the environment.
● Mass adaptation of buildings in connection with analysis of their functioning and efficacy
SERVICES
3D Lab offers the following services:
Research projects related to architecture, city planning and technologies

Advanced 3D modelling, digital and physical prototyping

Organising workshops and lectures on technologies in architecture

3D printing and laser cutting

Photogrammetry and 3D scanning 
EQUIPMENT
Expert Software for CAD, BIM and Generative Modelling:
McNeel Rhinoceros Grasshopper Lab Licenses for Windows & Mac(floating licences)
Bentley Academic Network – Microstation, AECOsim Designer (floating licences)
Autodesk Education Master Suite – Revit, Dynamo, AutoCAD (floating licences)
Esri CityEngine (floating licences)
SideFX Houdini (floating licence)
Expert Software for GIS Analysis & Simulation:
Esri ArcGIS for Desktop (floating licences)
Bentley Map, Descartes (floating licences)
MapInfo Professional
QGIS
UCL Depthmap
NetLogo
Expert Software for Structural and Environmental Analysis:
Autodesk – Ecotect (floating licence)
Bentley – RAM, STAAD, AECOsim Energy Simulator, TAS(floating licences)
Energy+
Digital Fabrication & Prototyping:
Laser Cutter 100W with work area 600x900mm (accessible after intro workshop)
Stratasys Dimension SST 768 ABS plastic 3D printer + WaterStation
FormLabs Form 1 translucent resin SLS 3D printer
Ultimaker 3+ Extended FDM 3D printer (accessible after intro workshop)
Universal Robots UR10 6-Axis Cobot (Collaborative Robot)
2D/3D/4D Digitation and Measurement:
Microscribe G2L 3D digitizer (accessible after intro workshop)
Leica Disto S910 3D Laser Distance Measusrer
Leica Disto laser distance meters (accessible after intro workshop)
Flir E5 Thermal Camera (accessible after intro workshop)
Epson A3 scannner
HP A4 scanners
Xerox A3 colour MFP (with account)
Computation, Simulation and Storage:
Dell Alienware Area 51 VR Center

Oculus Rift VR Headset System
HTC Vive VR Headset System
Sun Fire Enterprice x4150 8-way server (Xeon)
Sun Ultra 40M2 3D workstations (Opteron)
HP Mobile workstation
Lenovo Compact Computers
Apple Mac mini
Raspberry Pi, Arduino etc
Synology DiskStation NAS