Workshops for high schools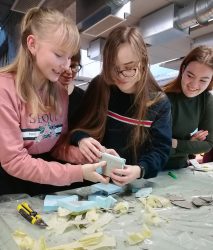 Architecture and urban planning workshops for high schools
If you are planning to enter the field of architecture and urban planning and would like to learn a little more about what architecture is, what problems architects deal with and hear how architecture is taught at EKA, you can invite us to your school or come to EKA with a group. We have put together three practical workshop programs that show the different aspects of the work of a modern architect and urban planner, letting you also do some creative tasks of your own.
The first two workshops take place at the EKA building where we can use the many tools in our laboratories and workshops. The third workshop can be organized in schools. Each workshop lasts 2-3 hours and if you come to EKA we can also organize an excursion for you in the new building. To make sure you find the right time for your group, book a workshop here. Workshops:
1. 3D modeling workshop
How can you create a model using the latest technological tools? Using 3D modeling, the Arduino prototyping platform and sensors, we combine technology and our environment to try to create a new design language. During the workshop, we move from the digital version to a physical model and try to find the context and scale for the creation. The 3D workshop group can accommodate 12-15 people.
Keywords: digital modeling, Arduino, sensors, models
Location: EKA
2. Workshop "From plaster to virtual space"
Workshop "From plaster to virtual space"
In this workout you can try your hand at creating plaster molds. Through physical experiments we discuss architectural issues such as materiality, form and scale. In the second half of the workshop each participant can place a real model made by themselves in a virtual space and test what the created model could look like as a real building. The plaster and virtual room workshop group can accommodate 12-15 people.
Keywords: plaster, photogrammetry, materiality, architectural form, spatial scale
3. Workshop "How to develop a city?"
In this workshop you can try out what it's like to be an urban planner. Through discussions, sketching and modeling, we play through typical work situations for urban planners, where each client has their own wishes and needs. We put ourselves in the role of multiple different interest groups and talk about how contrasting ideas could be represented in our common urban space. We discuss how cars, cyclists and pedestrians with different needs can fit on the street at the same time and how local people could also participate in urban planning. The urban planning workshop is suitable for a larger group (up to 25 people). We use printed city plans as well as drawing and modeling tools.
Keywords: urban planning, interest groups, civic involvement
Location: EKA or your school