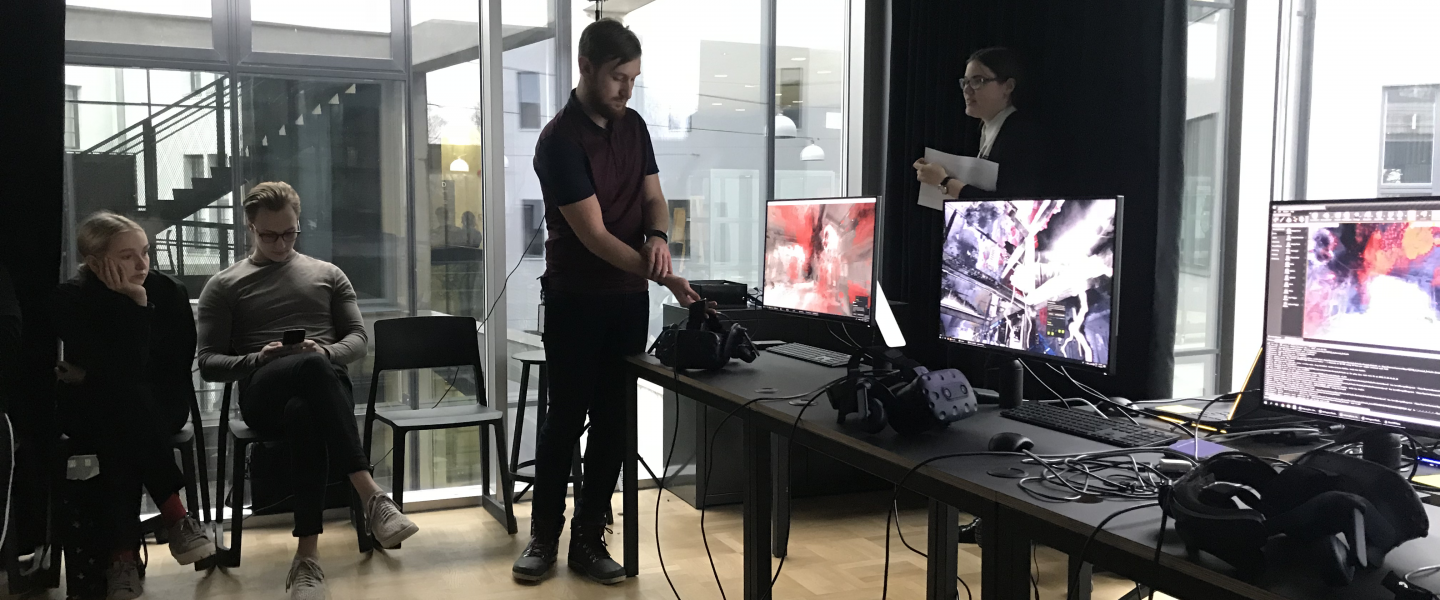 Finals of the first study course "Experience-oriented interaction" - examining Boriss Melesov's work (Photo: Artur Staškevitš 2018)
In 2018 the Estonian Academy of Arts opened the virtual reality lab to bring together the expertise on the application of virtual reality techniques in design process.
Virtual reality applications allow to design space from first persion view and pay more focus on users' spatial experience than in case of conventional design methods. They also allow to display and experience layers of reality that are not otherwise visible, and thus expand our perceptual amplitudes. In virtual reality lab we focus on these and other qualities virtual reality techniques hold for architects and designers. Each semester we offer one intense study course that gives students an overview of immersive design and representation techniques from hand-drafted VR images to interactive VR environments. Over the course the students acquire the skillset to use game engines and other virtual reality applications as a creative medium.
Head of the VR Lab:
Henry Artur Rikk
henry.rikk@artun.ee
Specialists:
Mike Ramos
Supervisors of the study courses:
Artur Staškevitš
Johanna Jõekalda
Paco Ulman
Mike Ramos
Technical support:
Mikk Meelak (Platvorm)
Mikk Pärast (Platvorm)
Kristjan Männigo (Spin Unit)