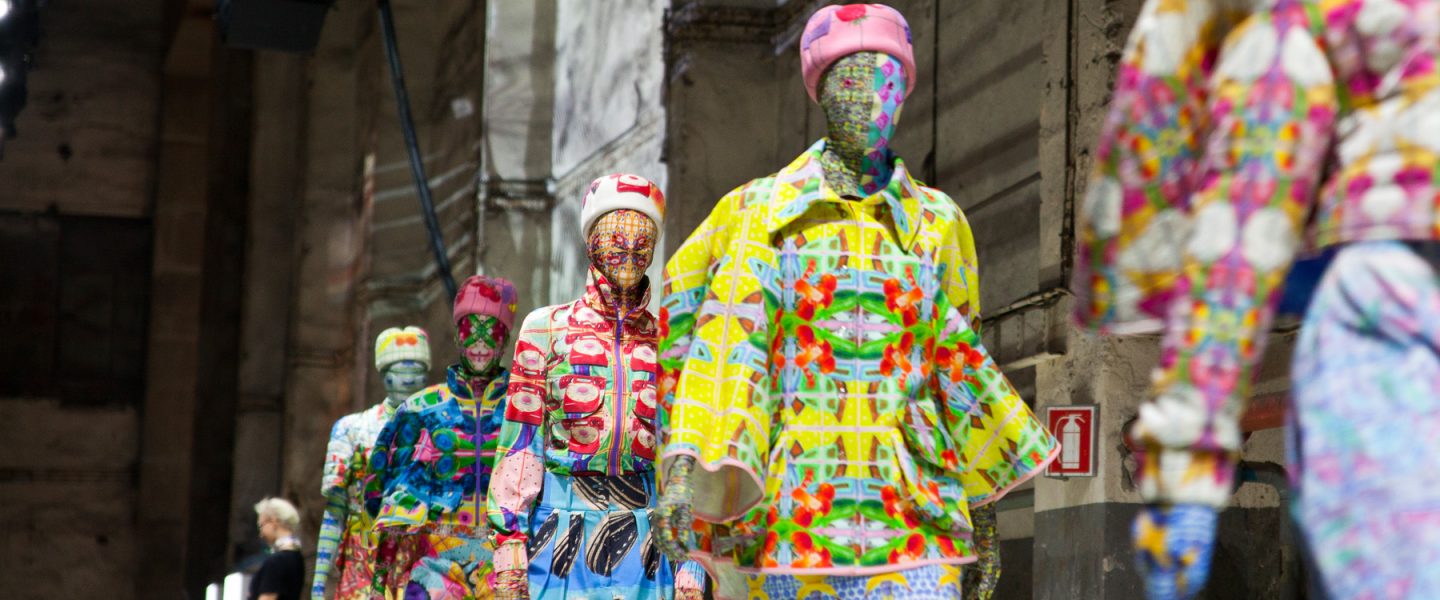 On May 25 the fashion event with the longest history in Estonia will return home – to the Estonian Academy of Arts.  In the new building fashion designers and audience, ambitious design and a critical jury, bubbling energy and playful fashion will reunite. You are welcome to take part in the powerful synergy of the reunited EKA and experience a show the like of which has never been seen before!
Roots of the ERKI Moeshow go back to the early 1980s, when art students organized first theatrical fashionshow to shock the audience.
Since then the event has continously grown, being today a jumping-board for future Estonian fashion creators and also bringing each year to the podium some guest designers from abroad. Our goals are to invest into Estonian talent and its reaching international arena and also with our passionate activities to develop specific fields and society as a whole.
Get a ticket from Ticketer.ee
Follow ERKI on Facebook & Instagram
Facebookis event: ERKI Moeshow 2019

#ERKIMoeshow

ERKI team
Team contact

erki.moeshow@artun.ee
EKA Disainiteaduskond
Põhja Puiestee 7
Tallinn
Main organizers

Karin Kiigemägi
Main Organizer
karin.kiigemagi@artun.ee
5035096
Kelli Turmann
Advisor
kelli.turmann@artun.ee
509 2208
General organizers

Marie-Helene Jäger marie-helene.jager@artun.ee
Marten Sion marten.sion@artun.ee
Press

Jane Treima jane.treima@artun.ee
Janette Roopa janette.roopa@artun.ee
Diana Drobot diana.drobot@artun.ee
Sponsor relations

Marie-Helene Jäger marie-helene.jager@artun.ee
Liisa Põldoja liisa.poldoja@artun.ee
Diana Drobot diana.drobot@artun.ee
Graphic Design

Cristopher Rogotovski cristopher.rogotovski@artun.ee
Johannes Veike johannes.veike@artun.ee
Ingel-Kristen Veevo ingel-kristen.veevo@artun.ee
Birgita Siim birgita.siim@artun.ee
Eliisabet Kuslap eliisabet.kuslap@artun.ee
Aaro Veiderpass aaro.veiderpass@artun.ee
Martin Kipper martin.kipper@artun.ee
Stage

Evelin Kruus evelin.kruus@gmail.com
Daana-Loreen Kägra daana-loreen.kagra@artun.ee
Andrea Ainjärv andrea.ainjarv@artun.ee
Skaidrite Mäesalu skaidrite.maesalu@artun.ee
Silvia Ilves silvia.ilves@artun.ee
Backstage

Liisa Põldoja liisa.poldoja@artun.ee
Carmen Sibbul carmen.sibbul@artun.ee
Erle Ellermaa erle.ellermaa@artun.ee
Ellen Hasselbach ellen.hasselbach@artun.ee
Rachele Nagel rachelenagel@gmail.com
Marit Oja oja.marit@gmail.com
ERKI satellite projects

Marilin Assafrei marilin.assafrei@gmail.com

References
08.03 На подачу заявки участника показа мод ERKI осталась всего пара дней @ Delfi
04.03 ERKI Moeshow'le kandideerimiseks on jäänud viimane nädal @ Anne & Stiil
12.02 ERKI Moeshow'le kandideerimiseks on jäänud neli nädalat @ Portail.ee
12.02 ERKI Moeshow'le kandideerimiseks on jäänud neli nädalat Anne & Stiil
12.02 Заявки претендентов на участие в показе мод ERKI принимаются еще четыре недели @ Delfi
21.01 ERKI Moeshow uus konkurss on avatud @ artun.ee
17.01 "Снова вместе". Стартовал конкурс молодых дизайнеров ERKI Moeshow 2019 @ Delfi
16.01. Tähelepanu noored moedisainerid! ERKI moeshow ootab osalejaid @ Postimees
15.01 Noorte moedisainerite konkurss on välja kuulutatud @ Anne & Stiil