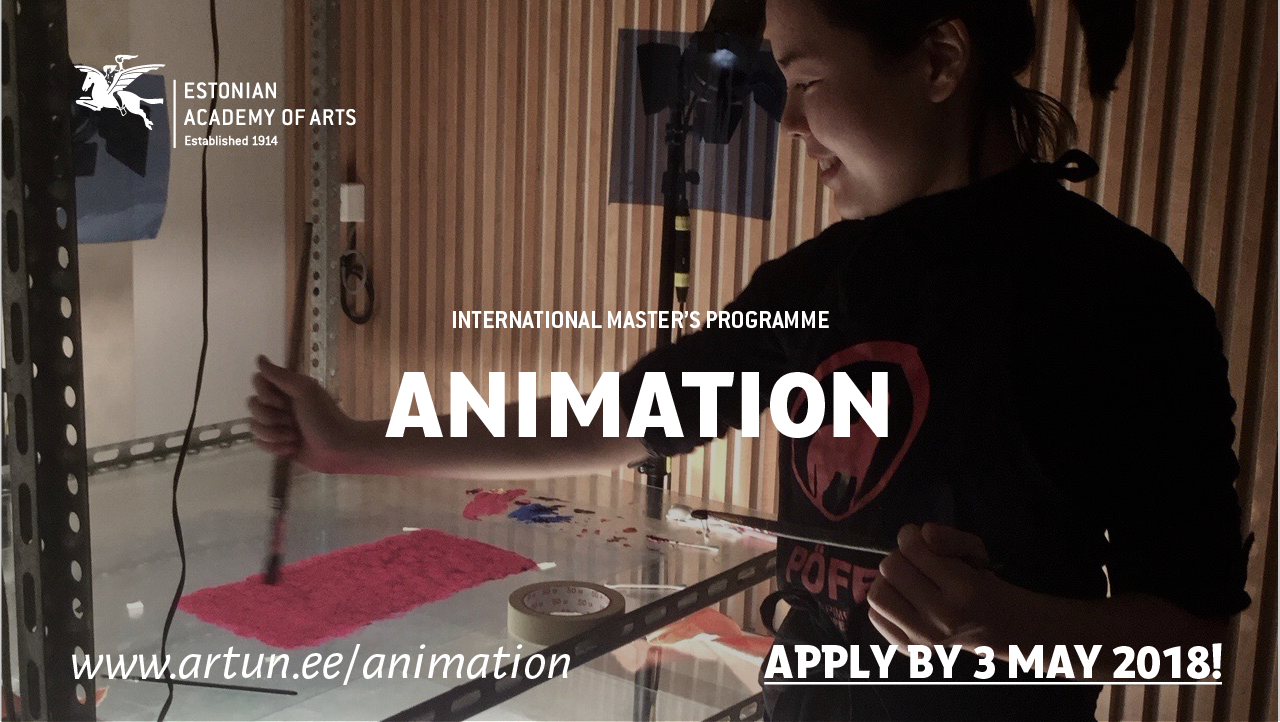 The Department of Animation was established at the Estonian Academy of Arts in 2006 and since 2007 it has offered a two-year MA in Animation (taught in English). The Animation MA programme is taught by Professor Priit Pärn and Associate Professor Olga Pärn. The main goal of the programme is to successfully educate creators of animated films, providing them with theoretical knowledge and practical skills. The further aim is to contribute to the global development of animation as an art form.
Animation is a thriving medium and developing at a greater pace than ever before. It has become part of mass culture, as well as one of its principal forms. Animation can be seen in digital screen graphics, computer games, music videos, films, etc. The basis for any film – including animated film – is the story. The greatest problem in the film world is the lack of good stories. In most of the world's animation schools, students are not taught the art of good story writing. This is something that sets our programme apart. We place an emphasis on the story and teach Professor Pärn's unique methodology for creating film scripts.
This is an international programme and instruction is conducted in English. The studies are conducted as lectures, seminars and master classes, as well as individual and tutorial classes. Generally, tutorial classes make up 60% to 70% of the curriculum. Other classes are divided between practical and independent work. Studies are conducted in cooperation with almost all the schools of higher education in Tallinn, Estonia. The students actively participate in lectures at the Baltic Film and Media School (BFM) and Tallinn University. Cooperation also takes place with the Estonian Animation Union and Estonia's larger studios. The programme's instructors and lecturers are active artists and specialists whose work is regularly presented at international events.
Student films have won over 50 awards in international festivals. Former students of our MA programme include the internationally recognised filmmakers Kristjan Holm, Martinus Daane Klemet, Anu Laura Tuttelberg (Estonia), Edmunds Jansons, Zane Oborenko (Latvia), Michael Frey (Swizerland), Lucija Mrzljak (Croatia), Teemu Hotti and Heta Jäälinoja (Finland). The Animation department is the perfect melting pot for students from different countries. Our current students are from 15 countries.
Upon completion of the MA in Animation programme, students have acquired in-depth theoretical and practical animation skills. The students can specialise in specific animation techniques and create individual projects in the appropriate technique. After graduation, the students are qualified to realise themselves as animated film creators, professionals in creative industries or teachers in their field. Students who have completed the Master's programme are also qualified to continue their studies and pursue a doctoral degree.
---
---
"The classes were amazing. I learned how to tell stories, how to analyse films (not only animation), write scripts. I was fascinated by the teachers. They were professionals, not pedagogues. The programme made me an animation film director. My life has been tied to animation ever since. I also gained a huge circle of contacts, wonderful people I met during the course and after. I always tell people they should study animation in the Master's programme at EAA if they want to be animation directors."

Urte Oettinger
MA Animation '10
Co-founder of WIRED FLY
---
Tuition fee: 2,300 Euros per year
Admission requirements:
Application

For international students: submitted through Dream Apply by 3 May 2018
For Estonian students: submitted through SAIS by 3 May 2018

50€ application fee

Application documents will be processed only after the admission fee – 50 EUR – is received by the Estonian Academy of Arts. Please find further information here

Copy of your Bachelor's degree certificate or equivalent and its translation into Estonian, English or Russian (both, copies and translations have to be attested by notary)
Copy of your Transcript of records (and translation into Estonian, English or Russian; both copy and translation must be attested by notary)
Copy of the data page of your passport or ID-card
CV
Portfolio – The portfolio as PDF, some previously animated films or clips can be added as separate files or as an online working link (password included if necessary). The applicant should choose up to 5 best films/ clips and mention the choice in the PDF
Project of your Master's thesis or vision in the form of essay
Interview
---
---
For additional information regarding admission, please contact admissions@artun.ee. More information about the programme can be found: https://www.artun.ee/en/curricula/animation/