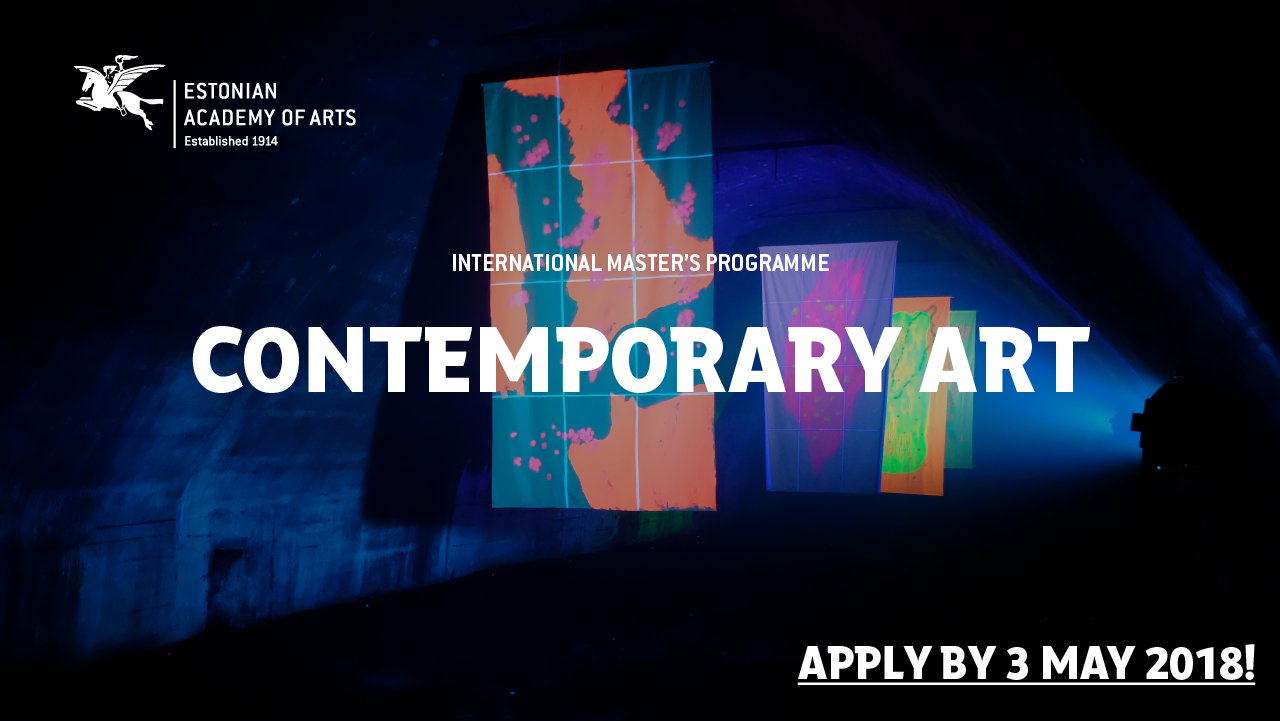 On the photo: painting installation by Carl-Robert Kagge during the Artbaza event at Astangu, 2017

The programme offers:
Author-focussed tutoring for contemporary artists
Local and visiting artists, curators, philosophers, theorists and gallerists working with students
Individual freedom to design one's own curriculum, within a diverse programme that offers theoretical tools and practical trainings
The option to develop one's art practice through the studios of sound art, lens-based art, installation and sculpture, graphic art and painting
Individual and group tutorials, cross-faculty group critique sessions
Commitment to developing and profounding conceptual and social ideas in an individual art practice
A critical discursive environment for discussions about making, displaying and thinking about contemporary art and contemporary society
Flexible studio spaces and workshops in a new building of the Academy
Access to technical workshops across the Academy, with specialists to assist all students projects: virtual prototyping and 3D printing studios, traditional and digital print workshops,  analogue and digital darkrooms, photo studio, sound recording and filming studios, wood and metal workshops, modern black box, and the monumental sculpture studio
A continuous programme of off-site events, study trips, exhibitions
Opportunities for exhibitions in galleries, museums, study trips and collaboration with different art institutions and universities and exchange programs (KUNO, DAMA, ERASMUS)
What makes EKA special?
EKA offers a well-rounded and multifaceted approach to learning. Contemporary art,  criticism and theory, author-based architecture, innovative and skill-based design, animation and stage art, curatorial practices are combined for thorough interdisciplinary studies. Here, you can be part of making something that really matters. Your artistic impact would be noticed and would make an impact.
Everything is close; everything is possible.
Estonia is small; all important connections and resources are within arm's length. We cooperate closely with Tallinn Technical University, Tallinn University, and the Estonian Music Academy. We arrange art events and exhibitions with the Estonian Contemporary Art Museum, Kumu Art Museum, Tallinn Art Hall and the Artists' Association's Galleries in the city centre. It is easy to access the different political, commercial, social, educational institutions.
(And it is even not too difficult to reach the President, if this would be important for your art.)
Do not hesitate to apply if:
The development of your individual artistic practice is important for you. If the processes in society matter to you and you are passionate about your surroundings. If you like to think, imagine, create and dream. If you are motivated and ambitious, dedicated and enthusiastic, have creative confidence and critical thinking.
Teaching staff:
Kirke Kangro, Dean of Fine Arts, Professor
Liina Siib, Professor
Raul Keller, Professor
Taavi Talve, Professor
Marge Monko, Professor
Jaan Toomik, Professor
Margit Säde, Associate Professor
Merike Estna, Associate Professor
Kristi Kongi, Associate Professor
Laura Kuusk, Associate Professor
Reimo Võsa-Tangsoo, Associate Professor
Oliver Laas, Associate Professor
Eve Kask, Associate Professor
---
Tuition fee:
1500 Euros per year (for citizens of EU, Iceland, Norway, Liechtenstein; Turkey, Georgia, Ukraine, Belarus, Moldova, Russia and Switzerland)
2500 Euros per year (for citizens of non EU countries)
NB! 2 full scholarships available

Faculty offers two scholarships to cover the full tuition fee during the 2 years MA programme. Scholarships are given by the admission committee, according the applicants portfolio, motivation letter and MA thesis proposal.
Admission requirements:
Application submitted through Dream Apply by 3 May 2018
50€ application fee

Application documents will be processed only after the admission fee – 50 EUR – is received by the Estonian Academy of Arts. Please find further information here

Copy of your Bachelor's degree certificate or equivalent and its translation into Estonian, English or Russian (both, copies and translations have to be attested by notary).
Copy of your Transcript of records (and translation into Estonian, English or Russian; both copy and translation must be attested by notary).
Copy of the data page of your passport or ID-card.
CV
Portfolio – digital (max 20 Mb – The portfolio must contain an artist statement, CV and documentation of at least five works)
Motivational letter
Project of your Master's thesis or vision in the form of short essay
Interview
---
---
---
For additional information regarding admission, please contact admissions@artun.ee. More information about the programme can be found: https://www.artun.ee/en/curricula/contemporary-art/.