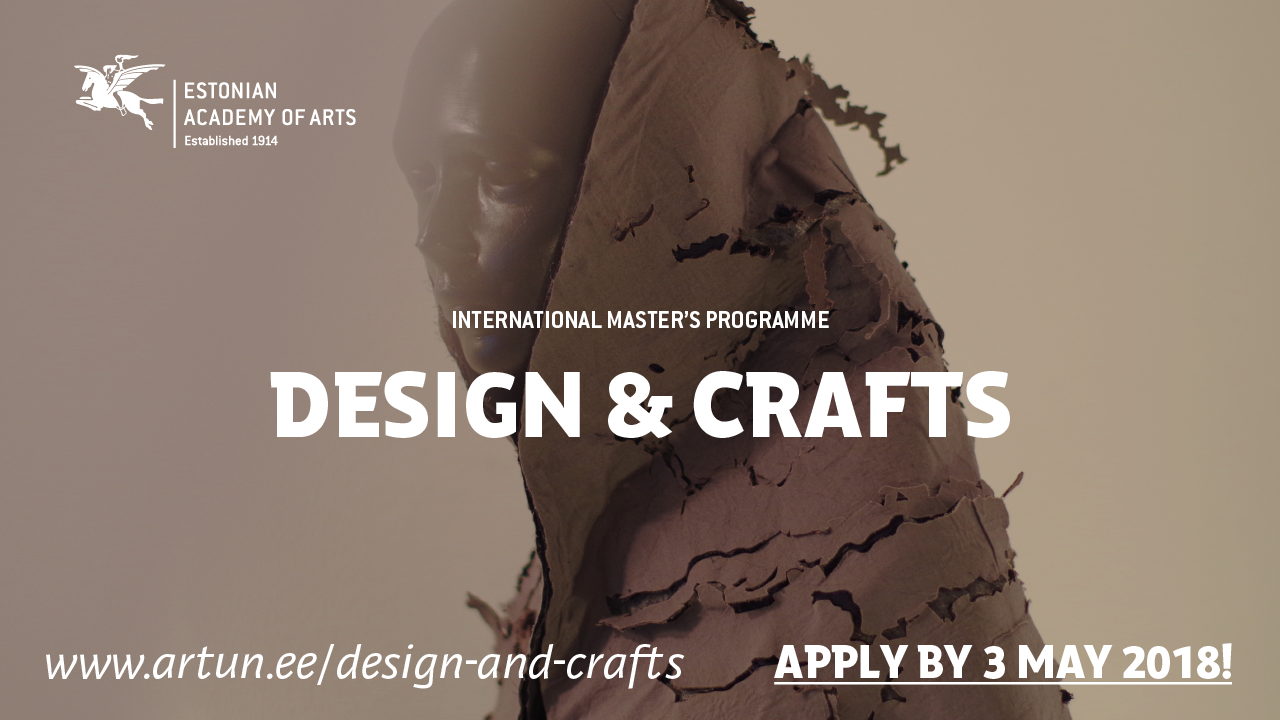 The two-year Design & Crafts MA programme prepares students for professional practice and helps them identify their own positions as artists — within their communities, society, design field, global economy, natural environment and other contexts. The programme provides students with as many real-world, hands-on situations as possible by giving them access to practising professionals and diverse opportunities. The programme also develops and changes with the students. With each new group, we start with roundtable discussions to find out what our students actually want. What experiences do they value? What is the focus of their interests? What are their professional dreams?
The students enter a common programme but also select a specialisation. Students who study in the Design & Crafts programme remain closely connected with their chosen discipline. Regardless of the specialisation, the MA programme focuses on collaboration. This includes group tasks that cross disciplines, so that students with different backgrounds and study experience work together.
Design & Crafts Specialisations:
ceramics
glass art and design
jewellery and blacksmithing
textile design
leather art and design
fashion design
More details about the programme and each specialisation can be found: https://www.artun.ee/en/curricula/design-and-crafts/
A significant part of the coursework takes place in the form of workshops (supervised by international lecturers), which aim to break routine and provide inspiration.
Material-based design and craft disciplines have a unique outlook and philosophy, and the Estonian Academy of Arts is one the few places in the world where it is possible to study in some of these fields at the MA level. Each MA graduate should be the best in the world in something — whether in producing an ingenious product, having a unique artistic position or demonstrating in-depth, materials-based research. The Design & Crafts MA programme is also an ideal entry point for international students wishing to continue their studies in the EAA doctoral programme.
Programme structure:
120 total credits:
24 ECTS specialist subjects
18 ECTS electives from the Faculty of Design
6 ECTS theory subjects from the Faculty of Design
15 ECTS general theory subjects
6 ECTS practice
6 ECTS optional subjects
15 ECTS MA projects and seminar
30 ECTS MA thesis
---
---
"In the Design & Crafts Master's programme, you learn to analyse and structure your thoughts, plus visualise them in a proper manner. You can experiment and polish your skills in your specific field, while also getting to know more about the practical sides of design, like branding and product development."

Maria Sidorenko
MA Design & Crafts '16
Designer and Co-owner of Upstairs Shop
---
Tuition fee:
1500 Euros per year (for citizens of EU, Iceland, Norway, Liechtenstein; Turkey, Georgia, Ukraine, Belarus, Moldova, Russia and Switzerland)
2500 Euros per year (for citizens of non EU countries)
ADMISSION REQUIREMENTS
Application

 submitted through Dream Apply by 3 May 2018
50€ application fee

Application documents will be processed only after the admission fee – 50 EUR – is received by the Estonian Academy of Arts. Please find further information here

Copy of your Bachelor's degree certificate or equivalent and its translation into Estonian, English or Russian (both, copies and translations have to be attested by notary)
Copy of your Transcript of records (and translation into Estonian, English or Russian; both copy and translation must be attested by notary)
Copy of the data page of your passport or ID-card
CV
Portfolio – Digital – in pdf format (max. 20 MB)
Answer to following questions (add to application in PDF file)

What are your expectations for our Design & Crafts program?
Please map your focus of interests and describe your possible subjects for MA research.
Where would you like to be professionally in 5 years? Where do you see yourself in the bigger picture of design & crafts
What was your impulse to choose Estonian Academy of Arts? How did you get information about us?
---
---
For additional information regarding admission, please contact admissions@artun.ee. More information about the programme can be found: https://www.artun.ee/en/curricula/design-and-crafts/