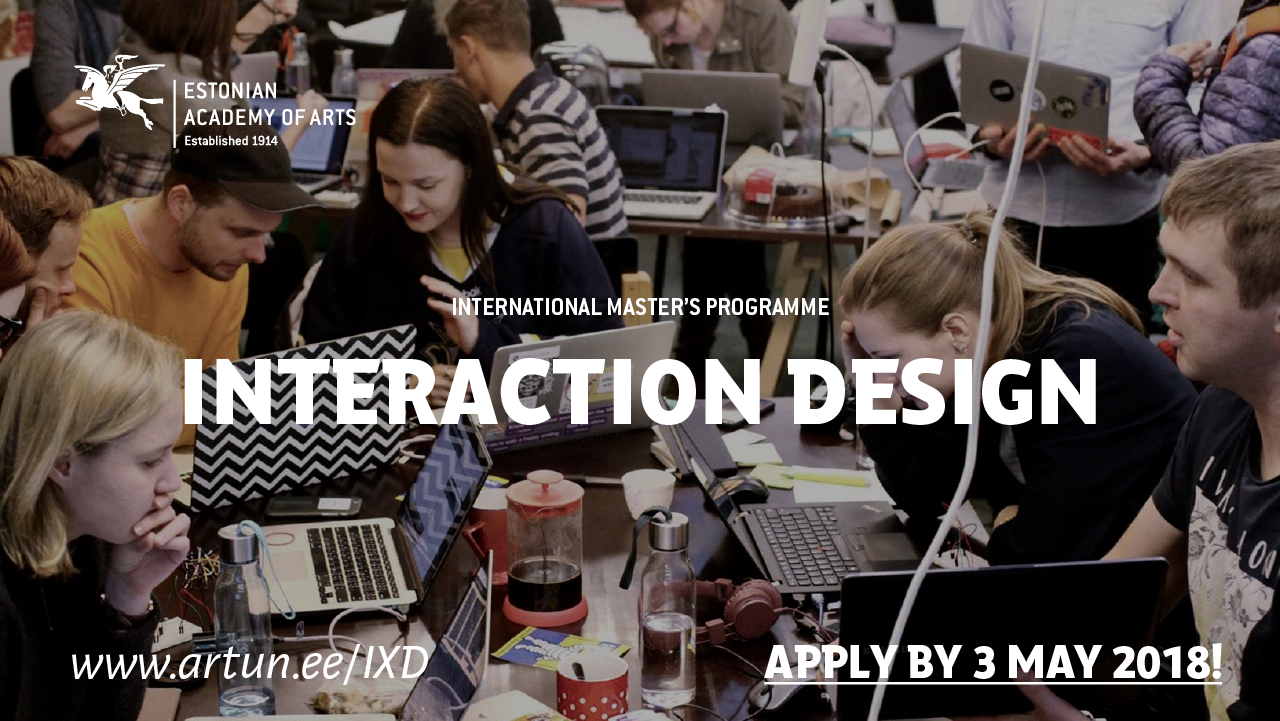 Interaction Design is one of the most rapidly developing creative fields today. The ongoing revolution of information technology has increased our need for new and enhanced experiences, systems and products. Interaction designers aim to create services and products that add value to people's lives by focusing on humans, their needs and their emotions.
What is Interaction Design?
Interaction Design (IxD) is a theme that has emerged to address the ongoing advancements in technology and the way it relates to people. Designers are constantly facing challenges that can be answered by developing products, services, and systems that have deeper connections and more dynamic relationships with humans. The behavioral qualities of products, services and environments have became more and more important in today's world, and Interaction Design is playing a key role in addressing this shift. We keep a broad view on Interaction Design and cover more areas than what is related to digital technology.
How do we teach design?
We learn design by doing! Our program is project-based and we will work on real projects together with our industry partners. In our projects, we involve the design community, industry professionals and general public. We will go out, do research, and develop concepts to design products, experiences, services, and environments.
More info at IxD.ma and facebook.com/IxD.ma
---
---
Program structure:
Semester 1:
Introduction to People-Centred Design
Visual Interaction Design
Digital Product Design
Design Storytelling
Semester 2:
Emotional Design
Tangible Design
Business Design
Service Design
Semester 3:
Immersive Experiences
Advanced Prototyping
Design for Social Innovation
Design for Emerging Themes
Semester 4:
---
---
"I wanted to study Interaction Design at an art school, not a university. There are only very few art schools in Europe that offer a Master's in that field, and Estonia seemed to offer a great heritage in art as a country, so I decided on EAA. Thanks to the programme, I've gained a very solid foundation in design thinking, prototyping and project-based design execution. All of the projects are hands-on; there is a real product at the end, which is very satisfying. Although most of the projects happen in collaboration with industry partners, you can still deliver more abstract and conceptual work, and sometimes for the industry partners this is even more inspiring. The programme has helped me to structure my projects from ideation to the final product — in a team and on my own."

Roland Arnoldt
MA Interaction Design '18
---
Still not quite sure what Interaction Design is? This video will help.
---
What will our graduates do?
You can shape the future. You will graduate with a portfolio, training and craftsmanship that industry is seeking. You will be an interaction designer focused on developing the next generation of products and services. You will be a User Experience Designer helping companies build meaningful products. You will join a startup team or an established company to help design the next big thing or to make the exciting experiences better. You may work as:
Employment profiles for IxD graduates:
Interaction designer
UI/UX designer
Service designer
Design manager
Design team leader
We focus both on Interaction Design Thinking and Skills. We believe interaction designers need to be strong Thinkers as well as skilful Doers. The design challenges in today's world can not only be addressed using craft, but rather need system thinking and an understating of the bigger picture.
Program leadership:
Kristjan Mändmaa, Dean of the EAA Faculty of Design and Head of curriculum of IxD program.
Amid Moradganjeh is the Lead Associate Professor of Interaction Design Program.  Previously a designer at IDEO, Google and Microsoft, Amis is primarily passionate about developing human-oriented approaches to advance design innovation. Amid has completed MA in Interaction Design program from Umea Institute of Design in Sweden.
Tanel Kärp's special interest lies in non-profit and community-oriented projects. He studied graphic design at the Estonian Academy of Arts, and received an MA (with honours) in Design and Development of Virtual Environments from the University of Tartu in Estonia. Tanel is one of the creators of Hooandja (an Estonian crowdfunding platform) and the Let's Do It global garbage cleanup project.
---
Tuition fee:
1900 Euros per year (for citizens of EU, Iceland, Norway, Liechtenstein; Turkey, Georgia, Ukraine, Belarus, Moldova, Russia and Switzerland)
5900 Euros per year (for citizens of non EU countries)
ADMISSION REQUIREMENTS
Application

For international students: submitted through Dream Apply by 3 May 2018
For Estonian students: submitted through SAIS by 3 May 2018

50€ application fee
Copy of your Bachelor's degree certificate or equivalent and its translation into Estonian, English or Russian (both, copies and translations have to be attested by notary).
Copy of your Transcript of records (and translation into Estonian, English or Russian; both copy and translation must be attested by notary).
Copy of the data page of your passport or ID card
CV (see below for additional details)
Display of previous experiences (see below)
Motivational letter (see below)
Admission assignment (see below)
Interview (see below)
---
CV
The applicant's CV should contain the following information:
Personal and contact information about the student candidate.
Overview of the candidate's education. The candidate's former college or university, field of study, degree earned and the theme of the graduation work/project should be highlighted.
Work experience, including name of employer(s), the job title(s) and description of the candidate's responsibilities at any listed job.
Language skills.
Computer and software skills.
Other general activities, hobbies and interests.
DISPLAY OF PREVIOUS EXPERIENCES
The applicant's digital portfolio should contain 5–20 samples of work, showing the applicant's past and present experience and professional capabilities. Design projects, web projects, articles, abstracts of scientific work, short descriptions of business and development projects, etc. may be included.
Each project should be briefly described (in 10–50 words). In case of team projects, the applicant's specific contribution should be clearly stated.
The portfolio should be presented as an active web portfolio or in PDF-format.
In case of PDF, the file size must not exceed 20 MB. Feel free to use any file download service (WeTransfer, DropBox, etc.) to send the portfolio.
If including web links in the portfolio (pointing to web projects, articles, etc.), please make sure the links work and point directly to the source (not just a homepage).
For an active web portfolio, please make sure to provide the correct web address.
To submit the portfolio, please send the web address or download link by 3 May 2018 to admissions@artun.ee.
The portfolio will be evaluated according to the following criteria:
Relevance of the applicant's works towards the content of the MA course (50%)
The extent and quality of the applicant's work experience (25%)
Presentation skills (25%)
MOTIVATIONAL LETTER
A short essay should be digitally presented (in English, maximum 4600 letters including spaces) on all of the following themes:
How do you see the present and future of interaction design, and how do you see your role in this?
What do you hope to learn during the Master's programme?
What would you like to do after the completion of your studies?
When evaluating the essay, the following criteria will be taken into account:
Relevance of the applicant's thoughts towards the content of the MA course (40%)
Analytical and argumentation skills (40%)
Written English language skills (20%)
ADMISSION ASSIGNMENT
Based on the applicant's portfolio, motivational letter and the required set of documents, the eligible candidates will receive an admission assignment. The assignment (a description of a problem) will be sent to the applicants via email by an agreed-upon date/time and is to be completed in one hour. The solution to the problem may be presented in the form of text and/or images. In case of images, an explanatory text must be included. Applicants who complete the assignment successfully will be invited to the interview.
When evaluating the admission assignment, the following criteria will be taken into account:
Relevance of the solution towards the content of the MA course (50%)
Novelty and innovation of the solution (25%)
Presentation skills (25%)
INTERVIEW
The interview will be conducted between 14 and 23 May 2018 in real time via Skype. The exact interview time for each applicant will be announced to him/her via email and SMS.
The exam board will ask additional questions of the applicant based on the presented documents, portfolio, motivation letter and admission assignment. The questions may also refer to the candidate's work experience, etc. The applicant's motivation and knowledge of the general matters of interaction design will be tested.
When evaluating the interview, the following criteria will be taken into account:
Relevance of the applicant's answers towards the content of the MA course (50%)
Knowledge of the field of interaction design (25%)
Verbal expression and argumentation skills (25%)
IMPORTANT DATES
The admission deadline: 3 May 2018
Application assignment via email: May 2018
Interviews: between 14 and 23 May 2018
Admissions for all students will be announced no later than 25 May 2018
Deadline for appeals: 1 July 2018
Declining or accepting studies must be stated no later than 8 June 2018
Signing and returning contracts: 8 June 2018
---
---
For additional information regarding admission, please contact admissions@artun.ee. For more information about the IxD programme, contact Kristjan Mändmaa at IxD@artun.ee or +372 52 51 954. More information about the programme can also be found: https://www.artun.ee/en/curricula/interaction-design/ and http://ixd.ma/