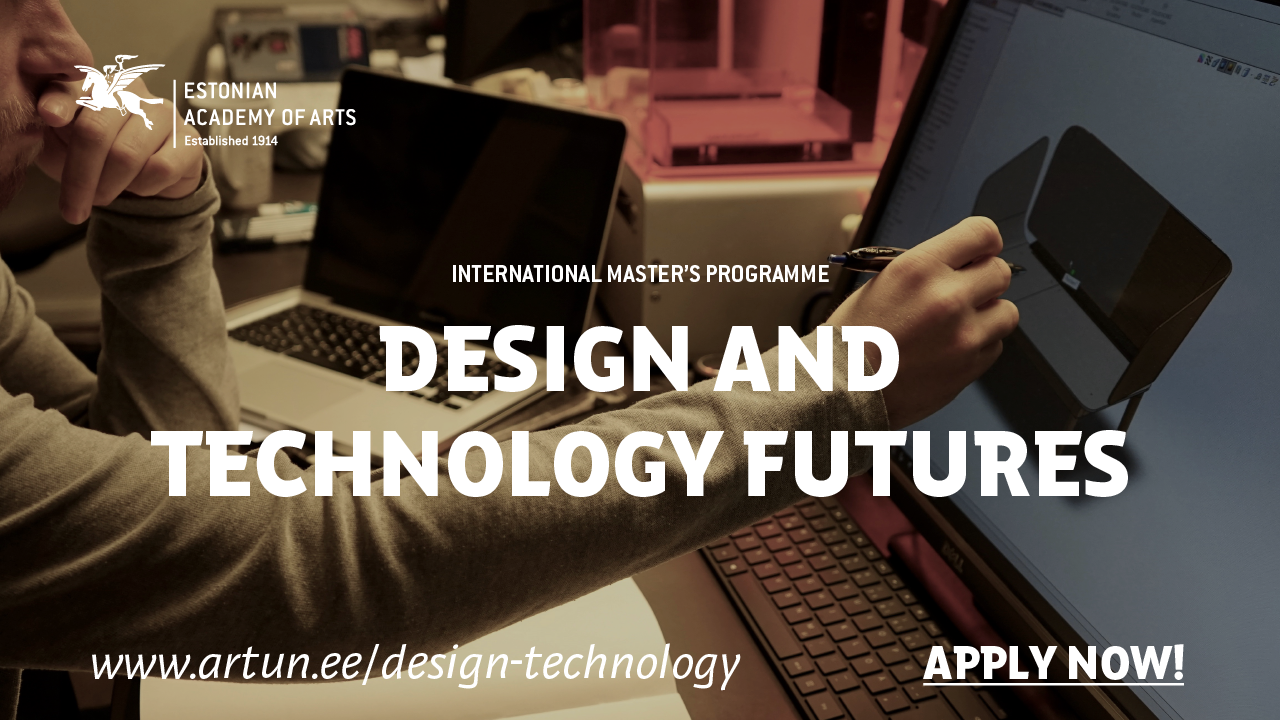 Design and Technology Futures is a two-year Master's programme offered jointly by the Estonian Academy of Arts and Tallinn University of Technology. It is aimed at young graduates of design and engineering disciplines who are eager to continue their education. Our cross-disciplinary programme merges technological competence with design skills. We look at engineering and design in very broad terms and are open to all enthusiastic students from a wide range of competences. The aim of the curriculum is to combine different disciplines and prepare students for design-led innovation, possible only through interdisciplinary cooperation. Our focus is on how to deal with complex problems and develop value-creating concepts.
The Design and Technology Futures curriculum draws from three fields: design, engineering and entrepreneurship. During the first year of study, students learn how to work as members of multi-disciplinary creative teams, how to mix and match their skills with people who have a very different understanding of the task at hand, how to bind together the findings, pin-point the opportunities, create clear concepts and communicate these to industry partners. By the second year, students practice leading small creative teams, learn how to run user-centred research, develop innovative concepts and communicate results in a tight timeframe with limited resources. Students learn how to use and combine methods from different fields of study and how to make coherent projects in a team with widely scattered skill sets.
As we seek students with very different backgrounds, they will also pursue various career paths. Students of engineering develop an understanding of the power of design skills so they may act as leaders of development, while students of design refine their skills and competence for running diverse creative teams. All Design and Technology Futures students are taught to have an entrepreneurial mindset. Whatever our students go on to do, they are valuable team members even during difficult projects with fuzzy goals.
---
---
"The design understanding of the northern European countries has always drawn my attention. In the Design and Technology Futures programme, you are in a foreign country with traditions and lifestyles that are completely different, while working on interesting projects with people from every corner of the world. The greatest benefit of the programme for me was this experience. I improved my social and cooperative skills with people, and studying abroad for your higher education is always a good credential for the private sector."

Taylan Acarsoy
MA Design and Technology Futures '15
---
STUDENTS ACQUIRE
knowledge of the professional product development process;

knowledge of the design process and the skills to unite design and technology in the development process;

the skills and knowledge to organise and lead a user-centric development process;

the skills and knowledge to develop new product concepts and prototype product solutions;

basic skills and a knowledge of entrepreneurship, marketing, brand building and their relationship to development;

the skills of presenting the results of work and communicating ideas;

an understanding of the technology factors which influence the development process and the ability to apply them;

an understanding of the role of design in the development process and how to apply it.
GRADUATE PROFILES
product development professionals who are able to work in a wide scope of creative integrated development teams, able to tie the technological possibilities of industry with possibilities found on the market, able to compose technology- design- and user-centred studies, create and develop new product solutions;

product development managers who are able to lead creative product development teams integrating design and technology with company visions and master skills to bring new products on the market;

entrepreneurs who are able to create, develop and bring to market innovative and technologically demanding product systems based on unnoticed possibilities on the market and unmet needs of the users;

individuals qualified to pursue doctoral studies.
---
Tuition fee:
NO TUTION FEE for top 9 applicants! 9 full scholarships for the best applicants, additional partial scholarships available
3,300€ per year for others
ADMISSION REQUIREMENTS
Application (submitted through Dream Apply)

Deadline for non-EU/EEA –

10 April 2018

Deadline for EU, Turkey, Georgia, Russia, Ukraine, Belarus citizens and countries that do not need visa to enter Estonia –

1 May 2018

 

100€ application fee

Bachelor's degree in Design, Engineering, Information Technologies or any other innovation studies.
Official, notarised transcript of records (translated into Estonian, English or Russian)

Proof of English proficiency: FCE (min C), CAE (min C), IELTS (min 5.5), TOEFL iBT (min 70), TOEFL ITP (min 150). IELTS scores must be sent directly from the test centre.

Results of BSc studies for engineers and online test in field knowledge

Portfolio of BA studies for designers

Motivational letter

Interview
---
---
Specific questions about the Design and Technology Futures programme should be directed to: info@design-engineering.ee. More information about the programme can be found: http://designtechfutures.eu/.