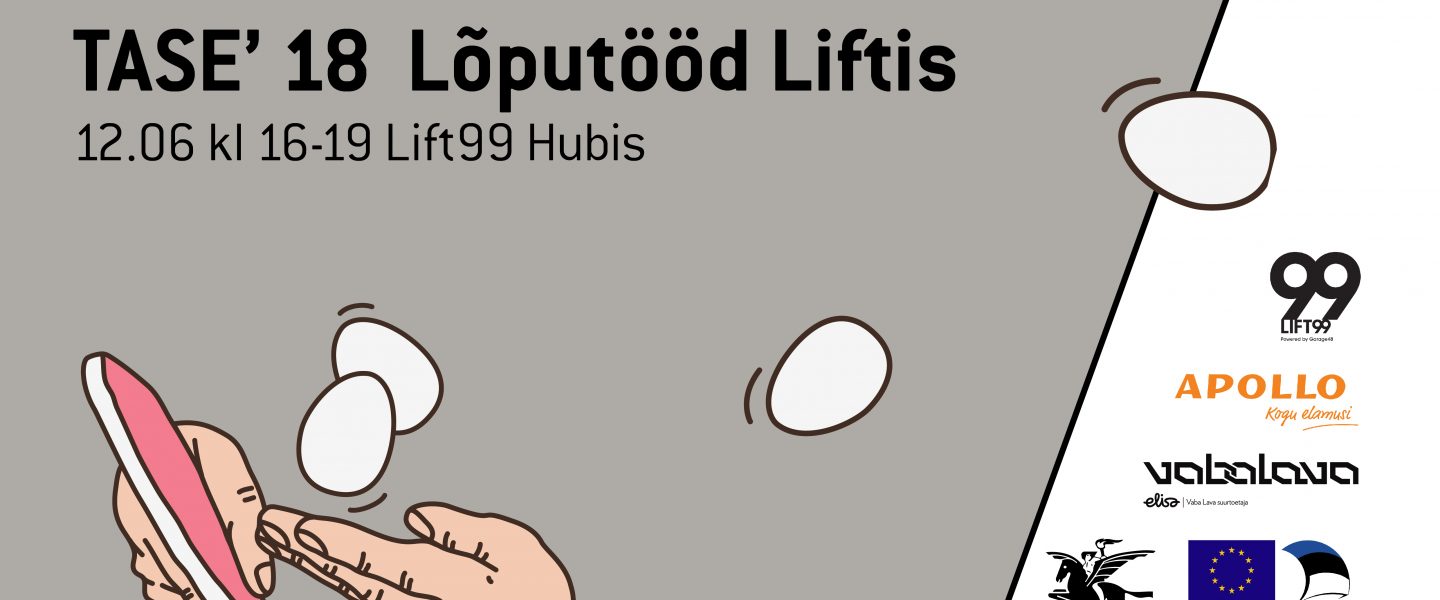 TASE'18 Graduates in Elevator
12 June at 16:00-19:00
LIFT99 Hub, Telliskivi 60A-building B, Tallinn
In the Graduates in Elevator event selected graduates of the EKA will present their final thesis to the expert panel in 7 minutes. The event is a part of Estonian Academy of Arts' final thesis exhibition TASE. The idea of this event is to rise awareness of choosing the right final thesis subject and to help to interact the outcome of the work with real life in social and entrepreneurial fields.
The event will be live on the local newscast portal kultuur.err.ee
Besides having a good feedback for Your work outcome and making new contacts all participants will have a little present provided by Vaba Lava – a pass to the play "GEN Z – otsides ilu" directed by Salvatore Calcagno, and by Apollo – a book of Estonian art collection " Eesti hingemaastikud". Also there will be a special price for the favourite presenter of the audience worth 300 euro for schooling in EKA.
Please register here before 8.06:
https://docs.google.com/forms/d/e/1FAIpQLScoRrg2eEsdTEzeuIIA92toaFZvffHwYJQNTYVDWKPwaYKeyw/viewform
The graduates, who will step inside the elevator:
Gloria Paul "Park and Charge service concept for long-distance electric truck drivers " (interaction design)
Arnav Khan "Using instant feedback technology for effective tennis coaching" (design and engineering)
Kristina Valter "Concept of a Smart Connected Toy FEELY for Kids to Support the Development of Self-awareness" (interaction design)
Basaran Cabuk "Personal navigation assistant and transport planner for blind" (design and engineering)
Hannes Tõnuri "Raudlugulaul" (jewellery and blacksmithing)
Kermo Aruoja ja Oskar Mihhailov "Lauamäng ALU" (graphic disain)
Kristjan Taaksalu "Thermae Linnahall" (architecture and urban design)
Güngör Güneş "Estonian Real Estate Market & Its Effect on Housing Affordability in Tallinn" (urban studies)
Johannes Madis Aasmäe "Jalakäijate linn Tallinna südames" (architecture and urban design)
An expert panel:
Kristjan Mändmaa, the Dean of Design in EKA
Viktor Aspel, Marketing Manager in Vaba Lava
Marten Lauri, KÜSK / Nula incubator
Kadri Barclay, Marketing Manager in LIFT99
Rait Kuuse, Chancellor of Social Affairs / The head of the Accessibility Board
Helen Kokk, The Head of UX and Service disain in Nortal AS
Kaspar Roost, business development in startup ecosystem/ Head of UX in Baltic Swedbank AS
Time table
Introductions 16.00
Pitching session 16.10
Pause 18.50
Closing words. 19.00
The event is funded by European Union Regional Fund. Our good co-operation partner is LIFT99.
More info: kelli.turmann@artun.ee