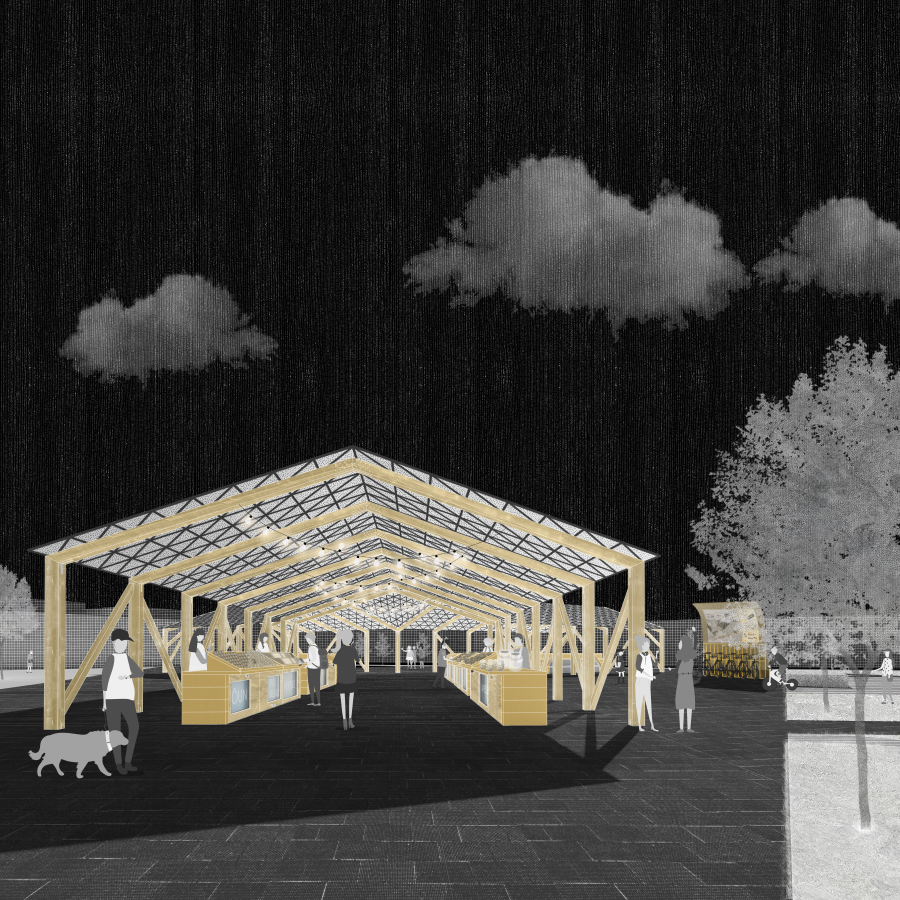 "Market" at Keiti Lige's work "REVALUATION. The impact of recycling demolition waste on space".
The best graduation theses of the Baltic School of Architecture compete for the Baltic Architects Unions Association award every year. The BAUA Awards 2020 evaluation took place for the eighth time, this year led by Lithuania, and online, according to the circumstances. The jury: Gabrielė Ubarevičiūtė (After Party, Lithuania), Brigita Bula (Brigita Bula Architect, Latvia), Mark Grimitliht, and Ward Verbakel (Plusofficearchitects, Belgium).
The students had 10 minutes to present their work to the jury, followed by questions and thoughts. The format of this event also includes a traveling exhibition and a catalog of works by Baltic architecture students.
In the Master's category, the first prize was awarded to Keiti Lige, with her work "Taasväärtustamine. Lammutusjäätmete taaskasutamise mõju Kiviõli linnale" ("REVALUATION. The impact of recycling demolition waste on space "). The work delves into the problems of buildings in need of demolition in declining settlements (supervisors K. Koov and K. Klementi).
Keiti Lige: "This event gives students a good opportunity to open their work to a wider audience and get feedback. At the same time, get an idea of ​​what students from the neighboring country are doing. The problem statements were generally the same as in Estonia (for example, affordable living, universal architecture or space between borders), but the solutions are relatively different. "
Congratulations!