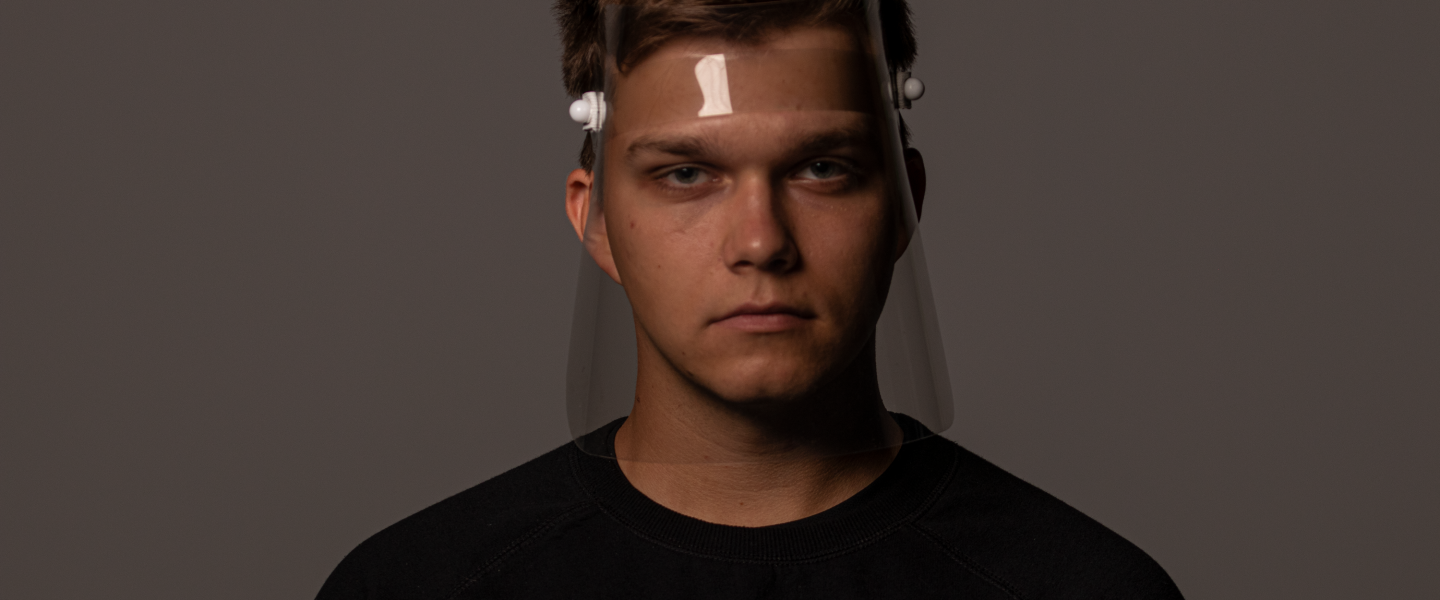 Karl Kukk. Wearing the visor developed with a team in Visor Hackathon.
In November, we will introduce you to Karl Kukk, an industrial design student who is currently studying abroad for a year with the Erasmus+ program at Strate School of Design in France. As a third-year student, Karl has surprised with his extreme thoroughness, diligence, and design thinking in every project he has undertaken. Having also taken part in the Visor Hackathon, which took place at the beginning of the pandemic last year, his efforts have also reached the production and market. As a result of his intrinsic motivation, Karl is a young man who has the potential to be one of the bright stars in the Estonian design landscape.
Name: Karl Kukk
Connection to EKA: BA 3-year student in Industrial Design
1. What projects are you currently working on? What exciting things have you discovered during this project?
I'm currently working on three major projects (editor: while studying abroad for a year at Strate School of Design, Department of Product Design). The most interesting and intense one of these is a sponsorship project with Braun, where the task is to create an innovative product, whether used in the kitchen, bathroom, or laundry room. There's also a project where we're trying to solve important problems outlined by the United Nations. My team is working on a way to reduce water pollution in the food industry. In the third project, we are trying to recycle plastic waste caught from the river and finding ways to turn that into fishing products, while following the principles of neo-design.
2. What is important in design, what is irrelevant?
Understanding the context is important. No design exists in a vacuum, and before you can start looking for solutions, you have to answer the questions "to whom, where, why?". It's easy to get in distress by the scale of the problem you're trying to solve, but you need to keep your focus in moments like this. It cannot be said that anything is insignificant in terms of design, but anything that does not help to move the project forward can be considered insignificant at that moment.
3. What is your favorite step in creating a product and what does it look like?
To be honest, I enjoy the design process as a whole. It would be difficult to choose which part I like more because it depends a lot on the project. A big part of my process is sketching and modeling the product, so it might be said that I enjoy searching and testing solutions regardless of the project.
4. What was your favorite project while studying at EKA? What did you discover during that?
I have many favorite projects, but the one that seriously tested and developed me the most was the Visor Hackathon in the spring of 2020. In the process, our team (editor: the team consisted of Erik Heiki Veelmaa, Hanna-Liisa Haukka, Karl Kukk, and Mõtus Lõmaš Kama) developed a low-cost mass-producible protective visor for front-line employees. This was the first time we put our design into real production, and in the process, we discovered everything that goes on after the "Double Diamond" (editor: design process) and what was needed for one product to reach its intended users.
5. How do you see the role of a designer in society in 10 years?
Hopefully, this role will be more or less the same as it is today. In other words, a person who is primarily an expert in design thinking and who, in cooperation with experts in other fields, helps to solve today's and tomorrow's problems to move society forward. If not that, then at least something more than a creator of beautiful things.
6. As a designer, I respect… 
As a designer, I often work to the limit of my knowledge and skills, and anyone who takes the effort to help me broaden my horizons deserves respect.
In case you are interested in Karl's way of thinking as a designer you may contact him by e-mail:
karl.kukk@artun.ee

Selection of project by Karl Kukk.