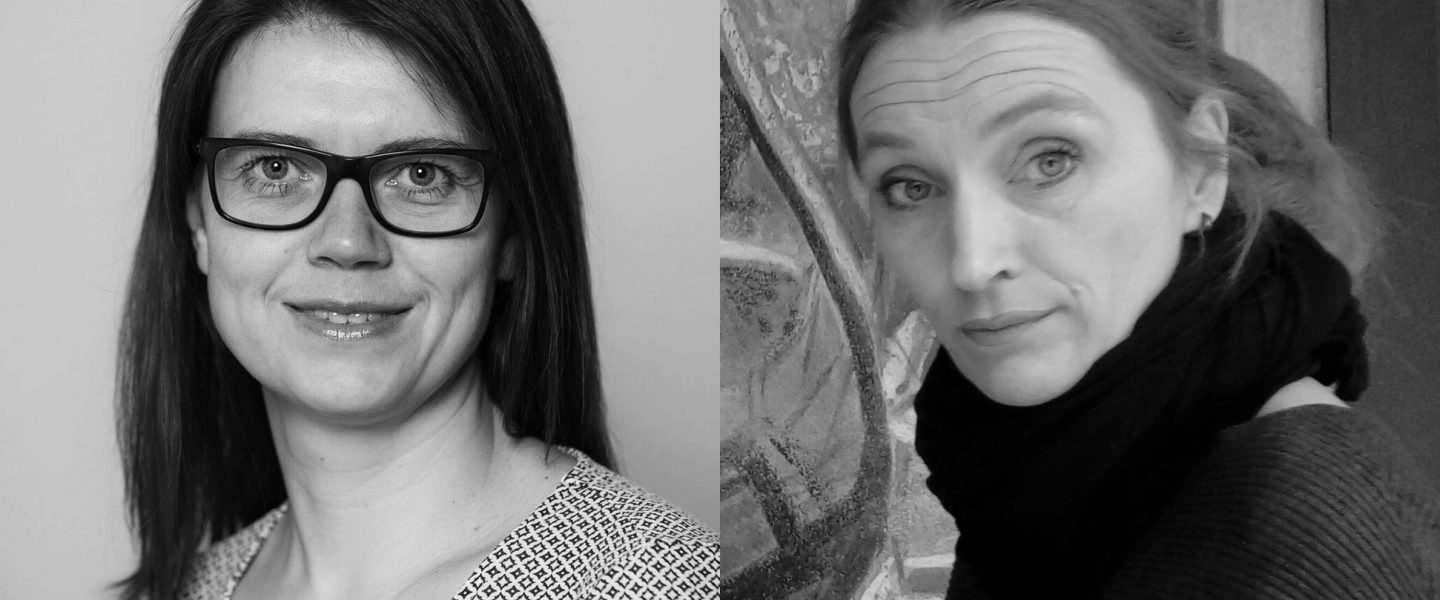 Ruth Melioranski and Hilkka Hiiop. Photo: EKA
As new deans of the Estonian Academy of Arts, Ruth-Helene Melioranski will start as the new head of the Faculty of Design, and Hilkka Hiiop, as the head of the Faculty of Art And Culture. 
Ruth-Helene Melioranski is a design researcher in the Estonian Academy of Arts, Estonia. She has a background in design practices and many of her projects explore how design can tackle societal challenges. Through these practice-based research projects she is conceptualising new and emerging design practises both in professional and higher educational contexts. In her professional practice, she is leading several strategic, service and co-design projects which aim to help partners to vision their future possibilities and build scenarios. In parallel, she has been working at Tallinn University of Technology's (TalTech), developing the Design & Technology Futures – a joint international master's programme of the TalTech and EKA – and now supervises EKA's students' teams with their design-driven innovation projects. 
In addition, Ruth-Helene Melioranski has been researching design policies and design support programmes since 2005 while she led the research of the Estonian design scene as a partner of the Nordic-Baltic innovation platform for Creative Industries. She was the founding director of the Estonian Design Centre (2008-2011) and prior to that the leader of the Estonian Design Year (2006-2007). Her wide experience in the field includes the participation of several international cooperation programmes, like European Design Training Incubator, a collaborative platform to foster exchange, share resources and benchmark Continuous Professional Development to foster the use of design as an economic driver; and Sharing Experience Europe (SEE) Platform, a network of European partners engaging with government to integrate design into innovation policies and programmes.
*
Hilkka Hiiop (PhD) has been a professor in the Cultural Heritage & Conservation Department of the Estonian Academy of Arts (EKA) since 2017. Until 2017, she worked in parallel at EKA and the Estonian Art Museum, as a conservation specialist. In 2012, Hilkka Hiiop defended her first doctoral dissertation on the preservation of contemporary art at the Estonian Research Agency. 
Hiiop has worked in the Gemäldegaleries in Berlin (1999), practiced in conservation studios in Amsterdam (1999-2002) and worked in Rome as a conservator of murals (2003-2009). Major international professional works include the preservation of Domus Aurea paintings (1st century) in the palace of Emperor Nero, the preservation of early medieval paintings in the Roman Forum of Santa Maria Antiqua (6th-9th centuries), and the medieval paintings of the Church of San Pietro (11th-12th centuries). conservation.
In Estonia, she has worked as a conservator and researcher from medieval art to the present – from wall paintings to modern installations. In addition, Hilkka Hiiop has led several conservation and technical research projects and curated thematic exhibitions, such as "Simson and Delilah. The story of Italian painting" (Mikkeli Museum, 2010), "Bosch and Bruegel. Four traces of one painting" (Kadriorg Art Museum, 2011), "Maikrahvi's New Clothes" (Estonian History Museum, 2012), "Rode Altar in Close-up"(Niguliste Museum, 2013-2016), "Christian Ackermann – Tallinn Pheidias, Arrogant and Talented" (since 2016) and has published numerous professional articles and compiled books. Her field of activity also includes curating digitization projects promoting her professional field, such as the database "Estonian Churches", the digital system of graphic documentation in the Estonian Art Museum, and has also developed various professional research web solutions, such as ekm.rode.ee and ackermann.ee. Through her professional work, she has won several important awards, including the Europa Nostra Prize, for the "Rode Altar Close-up" project.