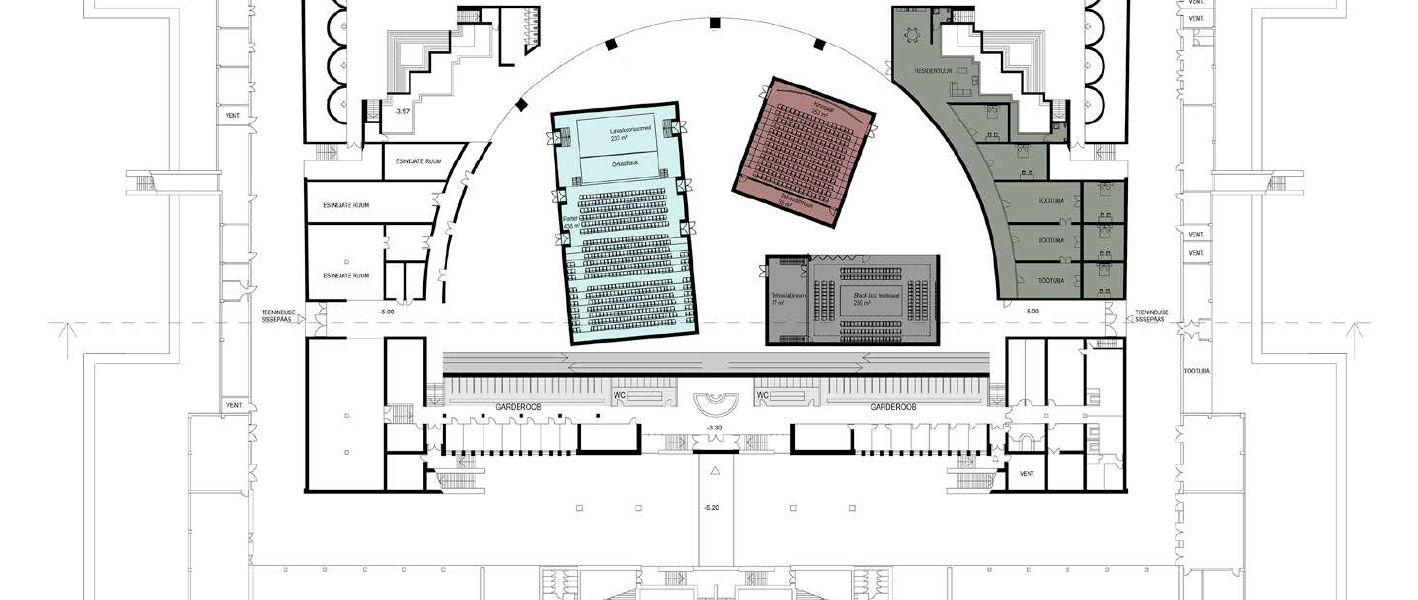 Merly Mändla, Kadi Pihlak, Andrea Miku for the specialty project Public space
The 3rd year of the bachelor's study of interior architecture students at EKA begins with a subject on public space. The aim of the subject is to delve into the different typologies of public space and the peculiarities of interior architecture, to relate to the architecture and urban planning context of a building with a specific public function and to user groups. In the autumn of 2019, the Tallinn City Hall, which had not been used for decades, was examined. During the public rethinking and planning of the new space, students learned the basics of functional and spatial planning of the building / room, finishing materials, lighting technology and space acoustics.
Tutors: Tüüne-Kristin Vaikla, Urmo Vaikla, Kaupo Kõrven
Merly Mändla, Kadi Pihlak, Andrea Miku
Linnahall is a dilapidating mammoth building of its era, the value of which lies in its long history and landmark architecture, and perhaps less in its functionality.
The proposed new solution for Linnahall is to modernise and democratise the concept and use of space in the building. An important fact is that neither Tallinn nor Estonia needs or is able to fill a 4,000-seat concert hall with sufficient frequency to justify its maintenance costs.
In contrast to the historic interior, the amphitheater has been replaced by three different, laconic cubes: a hall with natural acoustics, a cinema hall and a black box theater hall. The area between the cubes is used as an exhibition area. In addition, the ground level has spaces for an art residency and the iconic wardrobes have found a new use on the 1st floor, turning into a coworking area and a food court.