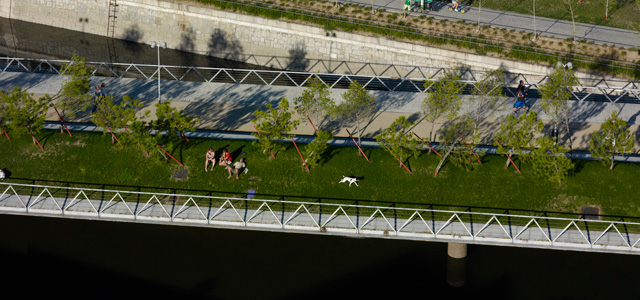 The series of open architectural lectures at EKA makes you think about the reasons for architecture
 A series of open architectural lectures will be held this 2023 spring under the title "Triggers of Architecture". The theme brings architects and theoreticians to Tallinn, who analyze the root causes of architecture and the means of making it.
Andres Ojari, the curator of the spring lectures, throws some questions into the air: "What triggers us when we talk about creating space as architects, planners or urbanists? Are these accompanying phenomena that directly affect space changes? Or do the different methods that help to start speculative processes in the design and planning projects or secondary disciplines that describe the environment that surrounds us with a different sensitivity, thus helping to dream about the spatial combinations that are not yet created?"
 The lectures are intended for all disciplines, not only for students and professionals in the field of architecture. All lectures take place in the large auditorium of EKA, are in English, free of charge.
On March 9 at 6 pm, Marcel Smets will give the first lecture of the lecture series – The modern landscape of infrastructure.
As primary public investments in our societies are devoted to infrastructure, we need to consider roads, canals, railways, trams, cycle paths, etc., not merely as means of transport but rather as prime urban/ public spaces. For this reason, the lecture intends to sketch out how infrastructure design initially transformed from an architectural to an engineering project, and to clarify why this evolution is reversed today. Reviewing significant projects worldwide of recently implemented projects in transport infrastructure, it advances four important paradigms that dominate the landscape of infrastructure design today: 1. hiding its presence; 2. beautifying its form; 3. appreciating it as vehicle for urban improvement; 4. deploying it as the driving force for urbanization.
On Friday, March 10, at 11:30 am, will be Marcel Smets' book "Foundations of Urban Design" (2022) launch and an open seminar with 4th-year architecture and urban planning students on the 4th floor of the atrium (A400) in EKA.
Everyone is welcome!
Marcel Smets is an architect and urbanist and emeritus professor of urban design at the University of Leuven. As academic, he taught urban design at the University of Leuven (B) and Harvard GSD. As urbanist, he was the head designer for certain important conversions: the Leuven Railway Station area, the Isle of Nantes, three complex nodes of the Antwerp Ring coverage project – and he directed fundamental projects for Brussels, Rouen, Genoa, Oporto, Conegliano. As scholar he published many articles (Archis, Casabella, Lotus, Planning Perspectives, Storia Urbana, Topos, Urbanisme and Urbanistica Etc.) and books: most recently The Landscape of Contemporary Infrastructure (2010–2016, with K. Shannon) and Foundations of Urban Design (2022). As public servant, he acted as spatial Advisor for the City of Leuven (1995–2001) and as Flemish State Architect (2005–2010).
Schedule of the spring lectures:
March 9 at 6 pm Marcel Smets
April 13 at 6 pm Pascal Bronner
May 4 at 6 pm Klaske Havik
May 25 at 6 pm Kadambari Baxi
Within the framework of a series of open lectures, the Department of Architecture and Urban Planning of EKA presents a dozen unique practitioners and valued theorists in the field in Tallinn every academic year.
The lecture series is supported by the Estonian Cultural Endowment.
Curated by Andres Ojari
https://www.facebook.com/EKAarhitektuur/
Additional information:
Tiina Tammet
E-post: arhitektuur@artun.ee
Tel. +372 642 0071