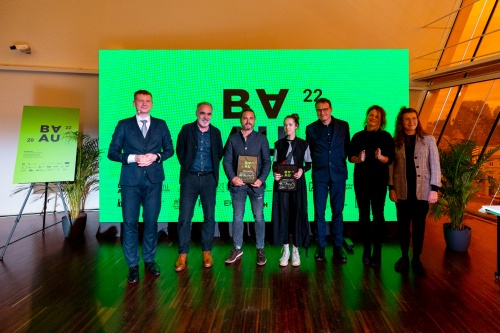 From the left: Matijs Babris, David Cook, Janis Apsitis, Merilin Kaup, Mantas Daukšys, Andra Šmite and Aet Ader. Photo by Andra Marta Babre
On October 21, 2022, the best works of young architects from Baltic states were awarded at the ceremony held in Liepaja, Latvia, concert hall "Great Amber".
BAUA Awards 2022: Best Young Architect Diploma project prize awarded to Merilin Kaup from the Estonia Academy of Arts and Janis Apsitis from Latvia.
The event, organized for the tenth time by the Baltic Architects Unions Association (BAUA) aims to highlight the best young professional's graduation projects of Baltic architecture education system. This year's edition features 15 projects from 7 architecture schools – Estonian Academy of Arts (EST); Tallinn University of Technology (EST); Kaunas University of Technology (LT); Vilnius Academy of Arts (LT); Vilnius Gediminas Technical University (LT); Riga Technical University (LV) and The RISEBA University of Applied Sciences (LV).
This year jury awarded two diploma projects – Merilin Kaup, Practical Utopias and Janis Apsitis Expansion of Winter Sports Facilities in Sigulda – Ski Jumping Hill. Merilin Kaup is a graduate from Estonian Academy of Arts (EST), but Janis Apsitis from Riseba University of Applied Sciences (LV).
Three of the projects received an honorary award:
Kotryna Bajorinaitė's, Aurelija Kniukštaitė's and Jonė Virbickaitė's (LT) joint project "Creating a Quality 
Environment According to the Criteria of the New European Bauhaus. Naujoji Vilnia";
Justīne Kate Hesse's (LV) project "Bolderāja and Daugavgrīva Cultural Regeneration: Waterfront Intervention Scheme and Love Island's Boardwalk"; 
Eneli Kleemann's (EST, EKA) project "Home in the office-community-led housing in Maakri quarter".
Awards were chosen by an international jury, including David Cook, haascookzemmrich STUDIO2050, Andra Šmite, architect from Latvia, Mantas Daukšys, chairman of the Klaipėda County Organization of the Lithuanian Architects Union and Aet Ader, vice-president of the Estonian Association of Architects.
During the event, the participants presented their works to the jury and an audience at a live presentation in Liepaja, "Great Amber" concert hall Civita Nova exhibition room.
Live recording:
https://fb.watch/gkN-L97Mc4/
and
https://fb.watch/gkN-anKInN/
Event was organized by Baltic Architects Unions Association (BAUA), in collaboration with Latvian Association of Architects (LAS), Estonian Association of Architects (EAA) and Architects Association of Lithuania (LAS), Young Architects club "Atelpa" and Innovation platform "Moberg's Studio".
Event was supported by Culture capital foundation of Latvia, Lithuanian Council for Culture, Cultural Endowment of Estonia, building material company "Knauf" and city of Liepaja
The competition entries are introduced via an online catalogue.