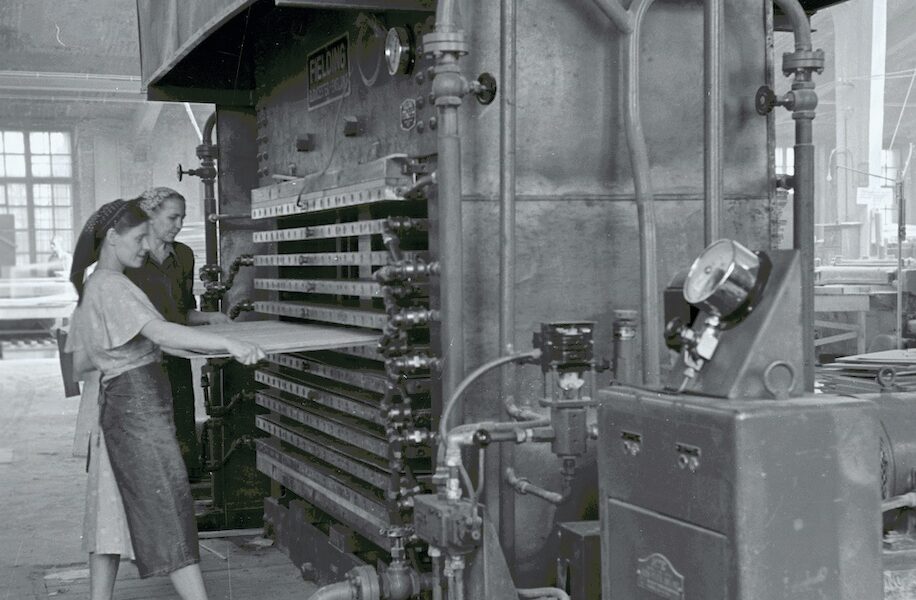 E. Šiškina and V. Prussi operating the plywood press at Luterma. 1956. Photo: G. Lossi. EFA.250.0.24234.
Bend to Break is the latest project from the students of Estonian Academy of Arts, Faculty of Design. While acknowledging the legacy of Luterma as one of, if not the, most important manufacturers of plywood and ply- and laminated-wood furniture in the early-C20th, it also problematizes design´s complicity with the (ply)wood industry and, in particular, forestry´s gendered ideology.
The four investigations into the A. M. Luther Woodworking Company for Mechanical Woodworking, founded in Tallinn, Estonia, in 1897, take a gender-sensitive approach to research traditions, typologies (standardization), and craftsmanship in a local context.
Marissa Mutt´s Lean Back Chair seems to encapsulate similar sobriety and rationalisation of society´s needs that led Luterma to their most successful export articles  – 3-ply veneer seats and panels.
Of pre-cut veneers, glued and pressed together under hot platens – tasks once suitable for women to help the war effort  – Hanna-Liisa Haukka´s Single Seater and Side Table, is to recognize the introduction of wood adhesives as Luterma´s most important contribution to the development of plywood technology. 
Kertu Liisa Lepik´s series of ply(max) Mirrors  – pairing bent plywood with polished sheets of metal – seem to question our assumptions as they relate to design and its values, particularly in terms of women who work in the industry (both past and present). 
Acknowledging Luterma´s commitment to their employees´ well-being, Katariina Kivi´s Reading or Reclining Chair, inspired by the typical long chair, associated with leisure, focuses on plywood´s most attractive and indispensable quality – its suitability for bent forms.
Part of the undergraduate curriculum of the Department of Product Design, the 7-week course was led by designers Nick Ross and Mihkel Mäll with additional research and curatorial assistance from Anna-Liisa Laarits. Recognizing that, in terms of gender biases, design has a lot more to answer for, Bend to Break investigated plywood industry through (historical) examples of gendered ideology and practises; more specifically, of women, who staffed Luterma´s assembly lines, effectively challenging the perception that women are unsuited to forestry.
Bend to Break will be posted on @eka_estonian_academy_of_arts main feed and Instagram account from 10 through 14 February, 2022.
The project is accompanied by a 36-page limited edition booklet, featuring archival material as well as documentation of the students´ projects. Booklet is designed by Aaro Veiderpass, Agnes Isabelle Veevo, and Birgita Siim, recent graduates of the Department of Graphic Design. Photography is by Andra Junalainen, a final year student at the Department of Photography.
Estonian Academy of Arts, Department of Product Design, has been generously supported by the Architecture Endowment of the Cultural Endowment of Estonia and European Regional Development Fund.
For more information or images, please contact anna-liisa.laarits@artun.ee