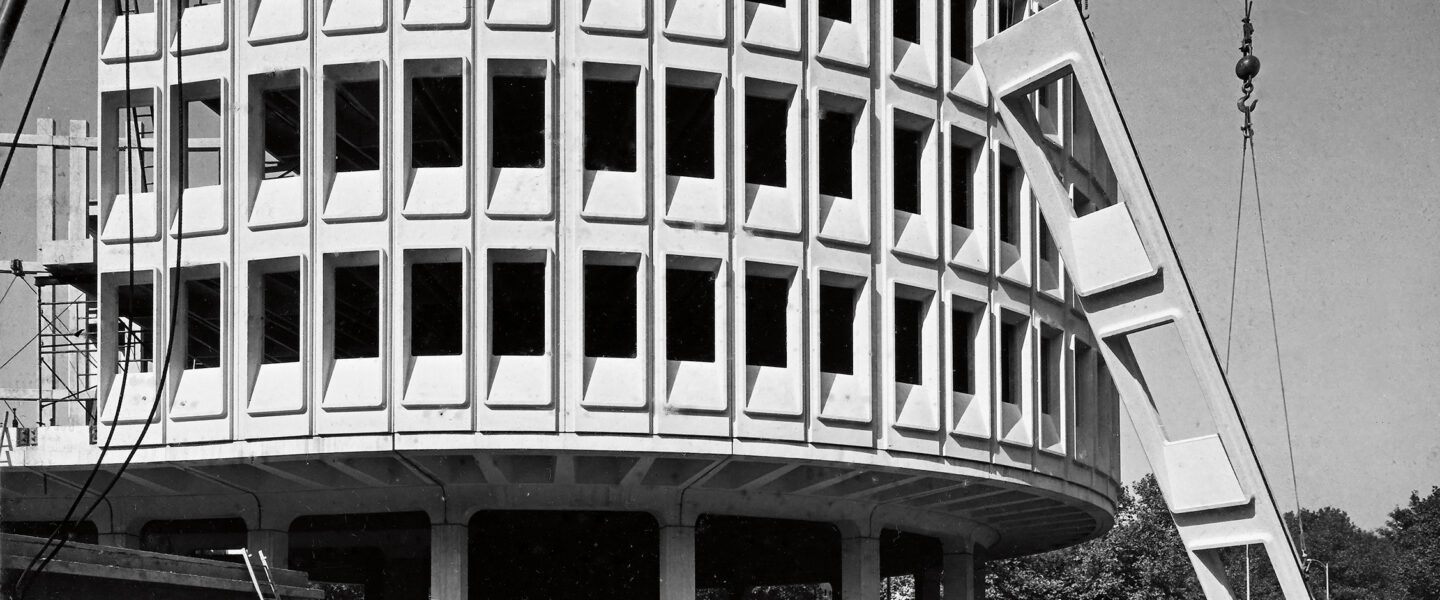 Philadelphia Police Administration Building, Philadelphia, Pennsylvania, USA, architects Geddes Brecher Qualls Cunningham, structural engineer August Komendant, 1959–1963 © Lawrence S. Williams Inc., Estonian Museum of Architecture, gift of Merike Komendant Phillips and George Jüri Komendant
Doctoral student Carl-Dag Lige will give a lecture on "Engineering Modern Architecture: August Komendant's Method of Structural Design" at the Stuart Weitzman School of Design at the University of Pennsylvania in Philadelphia on November 21st at 4:30pm (US local time).
August Komendant (1906–1992) was an Estonian-American civil engineer, whose collaboration with Louis Kahn, Moshe Safdie, Eero Saarinen and other talented architects produced several masterful architectural works of the 20th century. The Komandant's professional career spanned more than half a century, from the 1930s to the 1980s, and coincided with an era characterized by modernization, urbanization and rapid technological advances.
The lecture introduces August Komendant's design philosophy and its reflections in his projects and buildings. As a structural designer, Komendant emphasized the importance of spatial imagination, trust-based teamwork and high-quality construction. The commandant's beliefs were based on knowledge, complemented by a refined sense of aesthetics.
Concrete, a material that many consider boring, cold and dreary, was August Komendand's passion throughout the decades. He used his knowledge and skills to design such diverse buildings as the Kadrioru stadium tribune in Tallinn (architect Elmar Lohk, 1938), the Habitat '67 experimental apartment building in Montreal, Canada (Moshe Safdie, 1967) and the Kimbell Art Museum in Fort Worth, Texas, USA (Louis I. Kahn , 1972) et al.
Carl-Dag Lige is a doctoral student in the architecture department of the Estonian Academy of Arts, who has thoroughly studied the activities and creations of August Komendant and curated an exhibition about him at the Estonian Architecture Museum. Carl-Dag's compiled book "Bewitched by Concrete. Civil engineer August Komendant" has been selected as one of the nominees of this year's Estonian Cultural Capital Architecture Annual Award.
The lecture, which will be held at the University of Pennsylvania, will be available online later.
More info: https://www.design.upenn.edu/historic-preservation/events/engineering-modern-architecture-august-komendants-method-structural