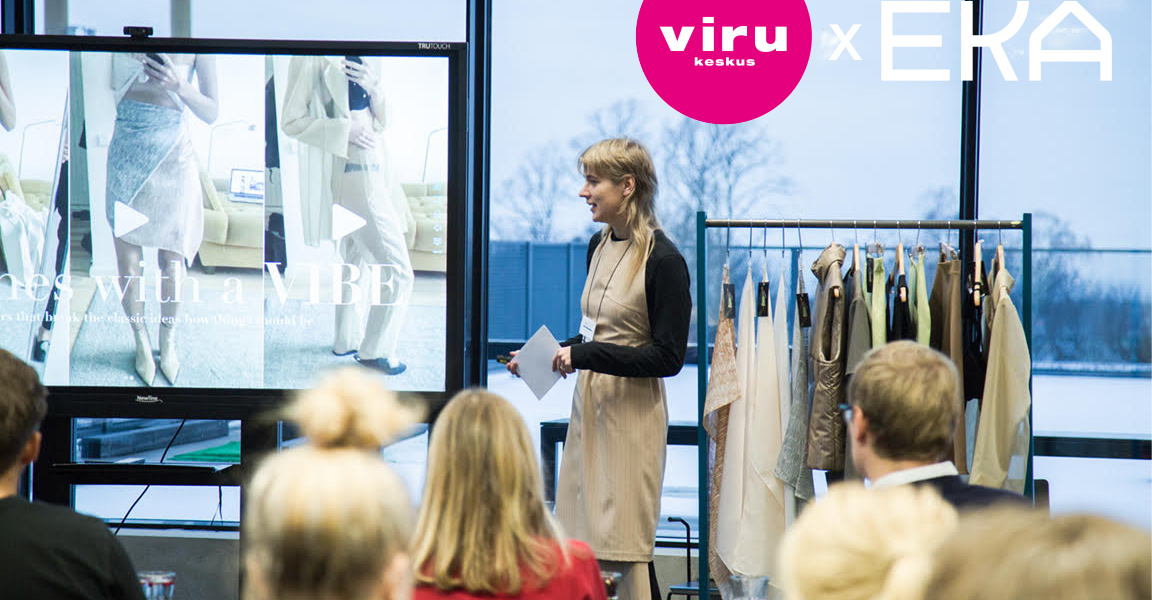 VIRU x EKA Young Design Export Program. Photo by Sandra Luks
On December 11th, the long-awaited new collections and business ideas of young designers of the VIRU x EAA Young Design Export Program will be presented.
The collaboration between Viru Center and the Estonian Academy of Arts, which began at the beginning of this autumn, culminates in student pitches to an international committee that provides feedback on both the creativity of the projects and the export potential of the works. Particular attention is paid to following the principles of sustainability and incorporating an environmentally conscious vision. Kristel Sooaru, Marketing and Communications Manager of Viru Keskus, Ira Stening, member and investor of the Finnish Business Angels Association FIBAN, Fredrika Erlandsson, Purchasing Manager of MQ, Sweden's largest fashion retail chain, and Gabriella Constantinou, an expert in circular economy at the Danish Lifestyle and Design Cluster, will participate in the committee.
Viru Keskus will also award a scholarship and support measures for the best idea to finance the first international steps.
Viru Keskus, which has extensive experience, wanted to become a co-thinker on the topic taken at the heart of EKA, ie the cross-border success of Estonian design, because it saw an important opportunity in the same vain. The earlier designers acquire the relevant knowledge, the more vigorously they can contribute to the development of the local design scene.
Kristel Sooaru comments: "It was a natural course of work to cooperate with the Faculty of Design of EKA to support a curriculum that brings international experience and knowledge to students. And now it is a pleasure to see the result of the process in the form of brands and products created by students ".
This year's curiosities are expected to be recyclable headgear , new form of fusible knitwear, irony-spiced valuables and the victory of clay over plastic.
The export program for MA students of the Faculty of Design is curated by Sissi Silván, a guest lecturer at EKA, a business mentor with long-term export experience, who has previously contributed to the internationalization of several Scandinavian brands. Numerous guests of Silván's lectures this autumn included Pia Erlund, founder and owner of the byPias brand and Finnish Entrepreneur of the Year 2020, Marta Valtovirta, founder of the Hálo From North brand, Anne Ruokamo, chairwoman of the Finnish Textile and Fashion Association. In addition, knowledge and contacts were gathered from Copenhagen, where the students met with the founders of the legendary accessory brand Decadent Copenhagen and got acquainted with the activities of the knitwear brand Gudrun & Gudrun operating from the Faroe Islands.
Last year's pilot project involved several award-winning young designers Katrin Aasmaa, Sigrid Kuusk, Cärol Ott, Mariliis Niine, Annika Kiidron-Roomets and others, who received both business mentoring and purchase orders.