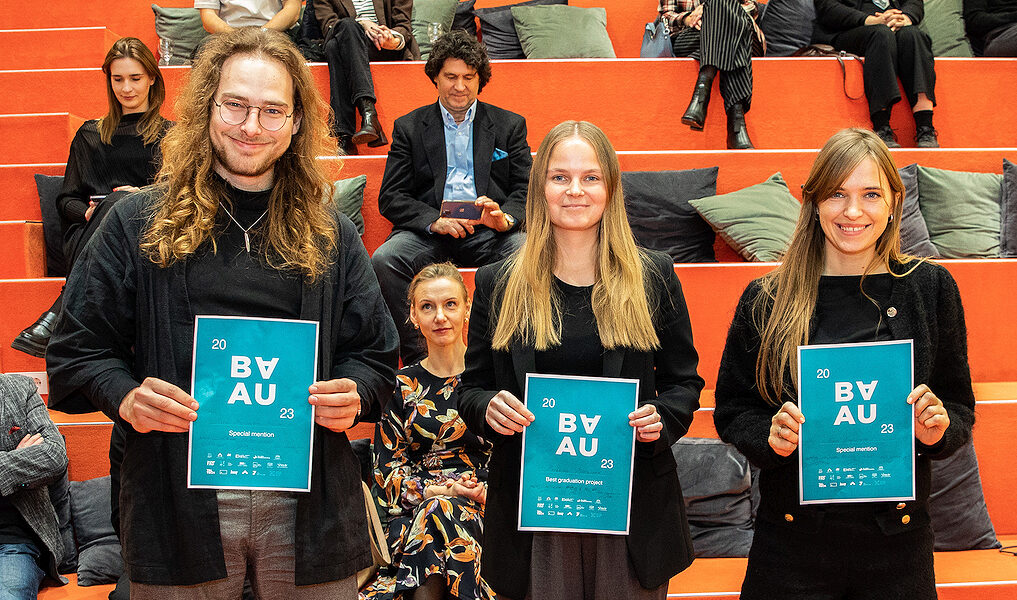 BAUA Awards 23 winners: Mark A. Fischer (left) , Katariina Mustasaar (middle)
In this year's BAUA Awards 2023 competition for the best master's theses of architecture schools in the Baltic countries, EKA graduates were the best.
The jury consisting of Kristel Niisuke (Estonia), Dina Suhanova (Latvia) and Matas Šiupšinskas (Lithuania) selected three best works.
Katariina Mustasaare's master's thesis "Post-Industrial Seascape: Phytoremediation of Paljassaare Harbour" was chosen as the best. The work investigates how cleaning up polluted soil using plant healing technology could direct the development of a former industrial port into a modern urban space. Tutors: Laura Linsi, Roland Reemaa and Eik Hermann.
Mark Aleksander Fischer's master's thesis Planning Affordable Housing in Northern Tallinn Kopli Freight Station – the Last Piece of the Puzzle in the Socio-Economic Landscape of Northern Tallinn" was marked as one of the two highlighted works. Tutors: Andres Alver, Douglas Gordon and Eik Hermann.
A total of 12 graduates from 7 schools of architecture in three Baltic countries took part in this year's competition in Kaunas. Estonia was represented by two EKA and two Taltech master's theses.
Congratulations!