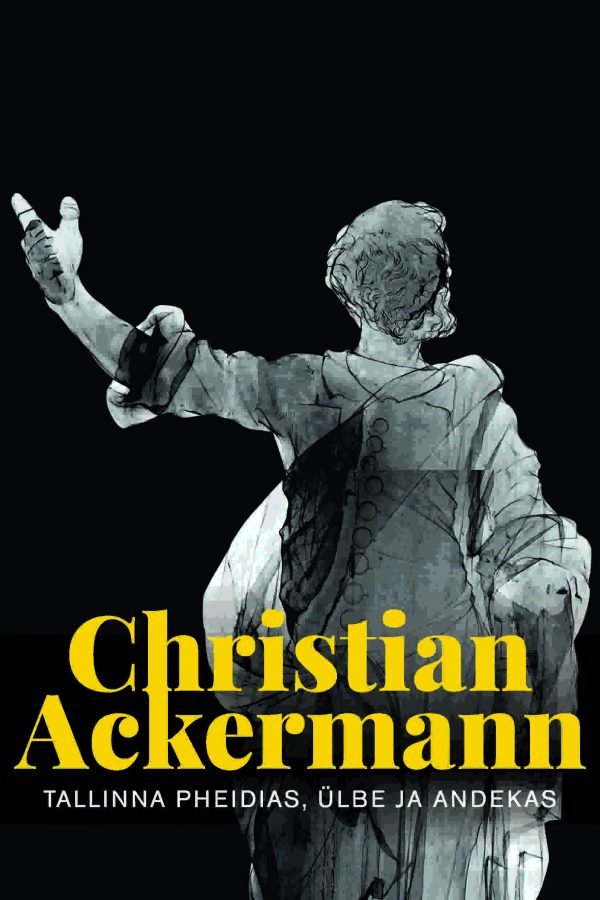 This exhibition introduces the life and work of Christian Ackermann (active in Tallinn ca 1674‒1707/1710), the most scandalous and gifted sculptor of the Estonian baroque era, and the first Estonian freelance artist.
Location: Niguliste Museum, Niguliste 3 10130 Tallinn
Dates: 06.11.2020 – 02.05.2021
The young and talented Ackermann arrived in Tallinn in the early 1670s. He married Anna Martens, the widow of Elert Thiele, who had been the city's best wood carver. Ackermann had a child with her very quickly after their marriage, thus flouting the moral norms of society of that time. Additionally, Ackermann took on the guild masters in order to establish himself as an independent master. Ackermann's radicalness generated resentment among the old masters and they complained to Tallinn's town council that Ackermann was behaving as if he were the famous sculptor from antiquity Phidias of Athens.
In actuality, Ackermann really was Tallinn's Phidias, the destroyer of old handicraft traditions and the champion of a new kind of artistic creation. Although life placed all manner of obstacles in Ackermann's way, he created admirable works of art. Thanks to Ackermann's modern understanding of nature and his remarkable skill in wood carving, all of the most important art commissions came to him, including the retable of Tallinn's cathedral, which bore the initials of Sweden's King Charles XI and was a priceless pearl of Estonian baroque-era ecclesiastical art and sculpture.
The exhibition that is being held at the Niguliste Museum provides the opportunity to get to know Ackermann's art and that of his co-workers. The exhibition brings together over sixty sculptures that were created for Estonian churches. Thanks to modern technology, the surprising internal structures of Ackermann's sculptures and their polychromy, which are often buried beneath coats of paint that were added later, can be viewed and studied at the exhibition.
This exhibition and the comprehensive book that accompanies it draws on interdisciplinary research that has been conducted for four years, and in many respects changes the perception of Ackermann, as well as of Estonian art from before and after the Great Northern War (1700–1721). Ackermann's works form an important part of the cultural space of baroque-era Europe.
For more information, see the research project's website: www.ackermann.ee
Exhibition curators: Hilkka Hiiop (Estonian Academy of Arts) and Tiina-Mall Kreem (Art Museum of Estonia)
Exhibition team: Isabel Aaso-Zahradnikova and Anneli Randla (Estonian Academy of Arts), Triin Kröönström, Merike Kurisoo, Kerttu Palginõmm, Liis Reier, Mia-Maria Rohumaa, Tarmo Saaret, Tiina Treibold
Exhibition design: Villu Plink
Graphic identity of the exhibition and design of exhibition hall graphics: Marti Laurimaa
Media graphics and exhibition booklet graphic design: Tuuli Aule
Photos: Andres Uueni (Estonian Academy of Arts), Peeter Säre, Estonian Tax and Customs Board
The Christian Ackermann research project (2016–2020)
Members of the research team: Isabel Aaso-Zahradnikova, Hilkka Hiiop, Anneli Randla and Andres Uueni (Estonian Academy of Arts), Tiina-Mall Kreem, Triin Kröönström, Priit Laatre, Marti Laurimaa, Alar Läänelaid, Aleksander Miksjuk, Hembo Pagi, Riin Rebane, Signe Vahur
Partners in cooperation: Estonian Academy of Arts, Art Museum of Estonia, Estonian Evangelical Lutheran Church, Tallinn City Archives, University of Tartu, Estonian Tax and Customs Board, Estonian Environmental Research Centre, Vatson OÜ, Archaeovision OÜ, Rändmeister OÜ, National Heritage Board of Estonia, Heritage Conservation Division of Tallinn's Urban Planning Department