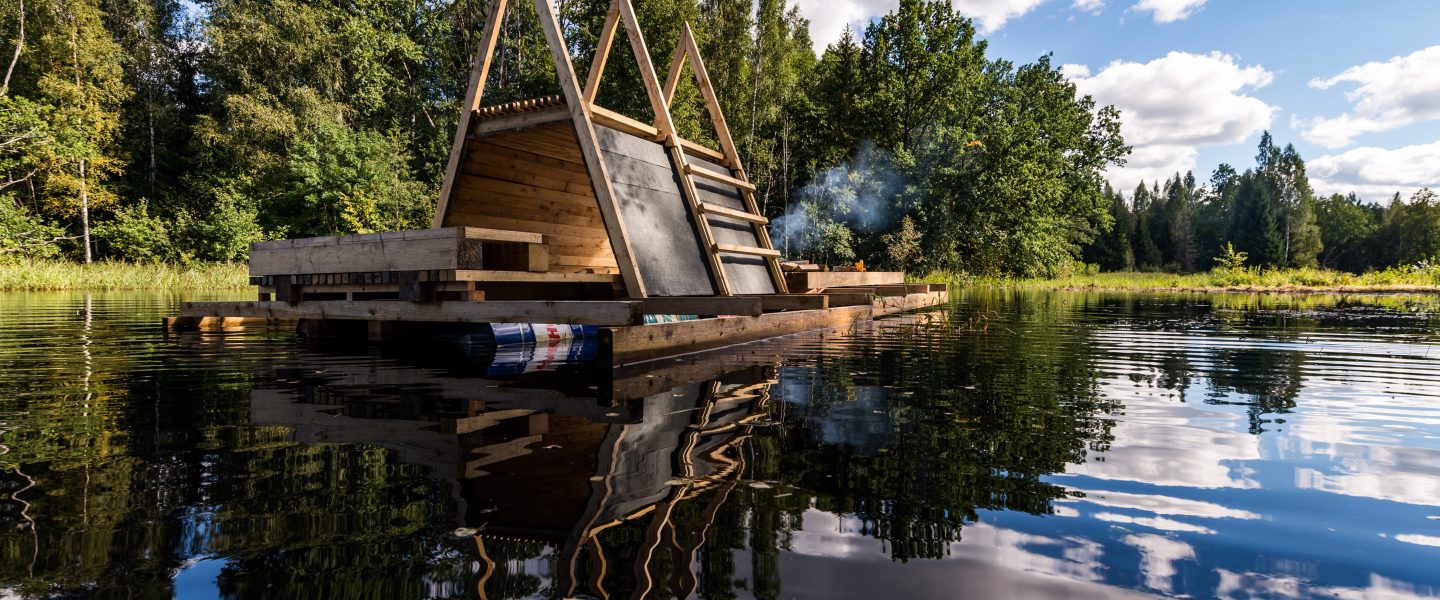 2016 Summer School floating project VEETEE. Photo: Tõnu Tunnel
Our FLOODED Design and Making Summer School for Floating Architecture will once again take place in Soomaa, Estonia in August 2018. We welcome applications from students of architecture, spatial design, interior architecture, landscape architecture, design – to form a small group of 15 students. The summer school is tutored by Sami Rintala, b210 Architects and Hannes Praks. Read more about the summer school here: https://flooded.ee/
Why you shouldn't miss it
The summer school is tutored by an international team of architects, representing both practice and academia. The tutors will work alongside the participants guiding them through a complete architectural project — concept development, design, prototyping and construction of life–size installation in wilderness. The hands-on workshop will be unique opportunity to practice off-grid woodwork. The installation will stay open for the public. In 2016, our Summer School group ended up building floating object VEETEE; in 2017, the Summer School team built a floating sauna VALA – both projects have inspired minds far beyond Soomaa and Estonia.
How to apply
To apply to become part of the 2018 Summer School team, students need to submit their portfolio, motivation letter and a short bio by 5 June, 2018. The class of 2018 will be selected within the next couple of days after the deadline and all applicants will be notified of the decision. Application link and more info can be found here: https://flooded.ee/
Brief
The FLOODED Design and Making Summer School for Floating Architecture 2018 will use the natural flooding in Soomaa as a laboratory for global problems. We can use it as a testing ground to find solutions for wet conditions and floating architecture all over the world. The Summer School will be a deep and intensive examination into the minimum (spatial) necessities for humans in extreme conditions. As the result of the Summer School, the bottomless bogs and overflowing rivers of Soomaa will be offered a new steady pause, a solid ground for the wanderer, a connection or bridge to another unreachable island. The artistic object needs to create new values in very delicate surroundings. The object should continue to function during the highest water levels of the 5th Season, but can be tested out during the workshop on a river. The piece itself will be constructed during the workshop out of timber. In the future the wooden installation will be a part of larger network of forest infrastructure organised by the State Forest Management Centre of Estonia.
Course fee
450€, which in addition to all of the programme covers also  accommodation and meals during the 12-day summer school, meals, materials and tools for workshops, field trips. Our international participants will need to cover their return flight to Tallinn. NB! Should the Summer School receive funding that we have applied for, the fee might be smaller.
More info
Hannes Praks
EKA Interior Architecture Department
hannes.praks@artun.ee