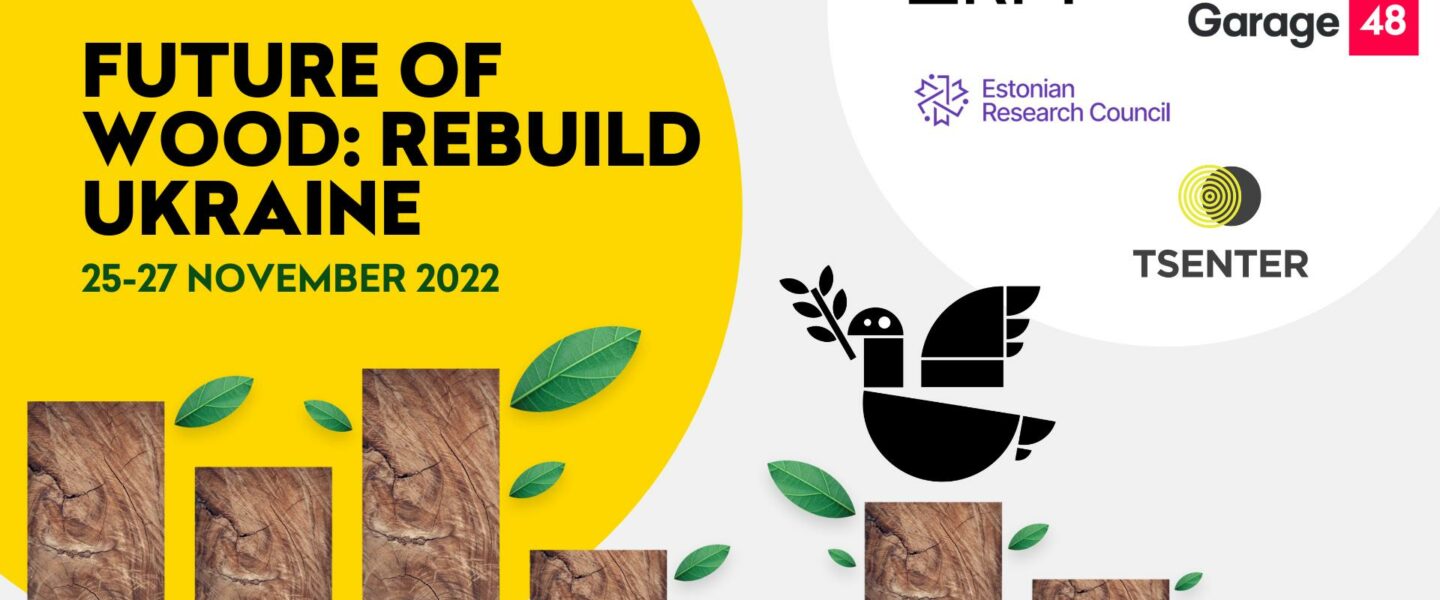 Estonian Academy of Arts and Garage48 in cooperation with Estonian Research Council and Centre of Competence for Wood Processing and Furniture Manufacturing are organizing an international Future of Wood makeathon from 25-27 November, with the purpose of rebuilding Ukraine.
We invite all architects, product designers, wood technologists and chemists, engineers and industry practitioners, forestry experts, climate and environmental experts, software engineers, designers, data scientists, marketers and business visionaries to come up with innovative solutions to reduce the environmental footprint by using wood as a building material and contribute to the post-war reconstruction of Ukraine.
According to Anna Tommingas, head of the PAKK, which organizes the event on behalf of EKA, there are ideas, technological capability and companies looking for investment opprtunities already in Estonia that could be put to work to develop solutions today that would help restore the environment damaged in the war in Ukraine – even now, when the war has not yet ended. "By developing modular building typologies and products for Ukraine that follow the principles of the circular economy and with a low carbon footprint, we are potentially helping to create a new production hub in Ukraine – one that, in addition to aiming to fulfil local needs, would help us all get closer to meeting the goals of the green revolution in Europe and beyond. The use of wood creates the assumption that the solutions developed are environmentally friendly, but in addition, timber and biogenic materials in general make for an excellent platform for innovative thinking, because these extremely flexible materials have still been little used – and we are going to look for this environmentally friendly timber innovation at the hackathon."
The event will be held fully onsite in Tallinn and all participants are expected to join us on the spot. Participants from Ukraine either with full teams or individually, can join the makeathon online and join teams via an online matchmaking event happening before the main event.
The focus topics of the makeathon are:
Modular, circular and climate-neutral construction.

Technologies for rapid design, engineering and production.

Smart valorization of biomass in construction and long-lasting products.

Roll-up, Fold-up, Flip-up, Pack-up – products that fit perfectly into, onto or next to modular buildings.
The participants have access to on-site workshop mentors and to various materials they may need to turn your idea into a tangible prototype. Estonian Academy of Arts woodworking area, prototyping lab and 3D lab are open for the Garage48 Future of Wood participants.
More info: https://garage48.org/events/garage48-future-of-wood-rebuild-ukraine-2022 
Timber Architecture Research Center PAKK is a separate research center of the Faculty of Architecture of EKA, combining research and teaching with new design methods, living environment and product development, bringing together students, specialists, researchers and clients from both the public and private sector. The research directions of PAKK are divided into three sub-topics: the green revolution in construction, the digital revolution in industry and new methods for designing wooden factory buildings.