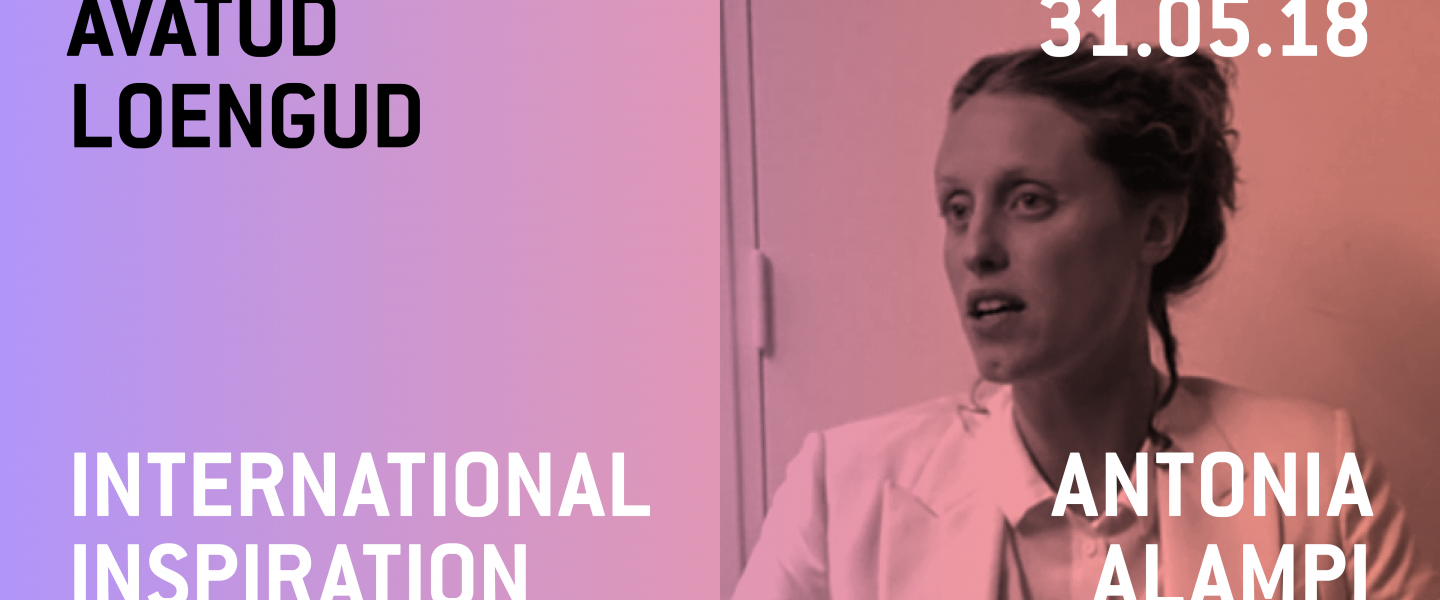 Center for Contemporary Arts, Estonia and Institute of Art History and Visual Culture of Estonian Academy of Arts present:
Lecture series "International Inspiration" 2017/2018
Antonia Alampi (Berlin)
31.05 at 18 lecture (Kohtu 6)
01.06 at 10.15 seminar (Suur-Kloostri 11)
"Notes towards Geographies of Imagination" is a talk by Antonia Alampi revolving around the research in progress for an exhibition taking place at SAVVY Contemporary in Berlin (September, 2018) and Bozar in Brussels (2019) and which I am developing together with Bonaventure S. B. Ndikung and the research assistance of Lynhan Balatbat and Olani Ewunnet.
Around the second half of the eighteenth century, Phillis Wheatley, a former slave and the first published African-American female poet, wrote a poem titled "On Imagination". Here, imagination stands as the only space for the slave´s emancipation, one possible through the mind, while the body keeps being trapped in the materiality of existence. Imagination, about the other, about the unknown, can be understood as a space of resistance, one that makes the other either more or less threatening, one that is necessary in order to protect a community from it.
Imagination, however, can, did and keeps playing a completely different role. The title of the exhibition is a direct reference to academic and anthropologist Michel-Rolph Trouillot´s writings on the issue of false representations, of imaginary geographies essential to the West for the creation of its narrative empires and for its reorganization of meaning used to legitimize its supremacy, dialectically running through much of the literature of the last two hundred years, and standing as the foundation of academic and museological disciplines such as anthropology or ethnology.
Geographies of Imagination will feature texts, artworks and research materials that engage with the very different uses of fictionalized and stereotyped ideas of the other and particularly with the contact zone between them, to highlight and reflect upon the importance of looking at each other and looking back, and the political potential inscribed in those practices. Practices that we may consider of Dis-Othering.
Antonia Alampi is curator of Extra-City in Antwerp and artistic co-director of SAVVY Contemporary in Berlin. In 2016 she initiated Future Climates with ILiana Fokianaki, a commissioning and research platform which interrogates precarity and the financial lives of small scale institutions. From 2012 to 2015 she lived in Cairo, where she was curator of Beirut and director of The Imaginary School Program (2014/2015).
The lecture is accompanied by seminar, on June 01 at 10.15AM at Department of Visual Culture and Art History (Suur-Kloostri 11). Please write to Karin Vicente for additional information: karin.vicente@artun.ee.
All lectures and seminars are free of charge and in English. The lectures are recorded and shared on Estonian Academy of Arts' Vimeo page.
The lecture series hosts internationally recognized curators and critics who are introducing their practice, work methods and are consulting students in seminars. The series is part of opening programme of new curatorial field of study at the Master's programme of Visual Culture Department.
The list of lecturers in 2017 and 2018 includes curator Vincent Honoré (09.11.2017), curator Vasif Kortun (23.11), curator Martha Kirszenbaum (07.12), documenta14 curator Dieter Roelstraete (26.01), poet and art critic Quinn Latimer (21.02), curator Lumi Tan (22.03), art critic Andrew Berardini (12.04), curator and critic Antonia Alampi (31.05).
Supported by Estonian Cultural Endowment, Estonian Academy of Science, EU Regional Development Fund (Project: EKA Loovkärg. Eesti visuaal- ja ruumikultuuri õppe- ja teaduskeskus (Sisutegevuste projekt) 2014-2020).