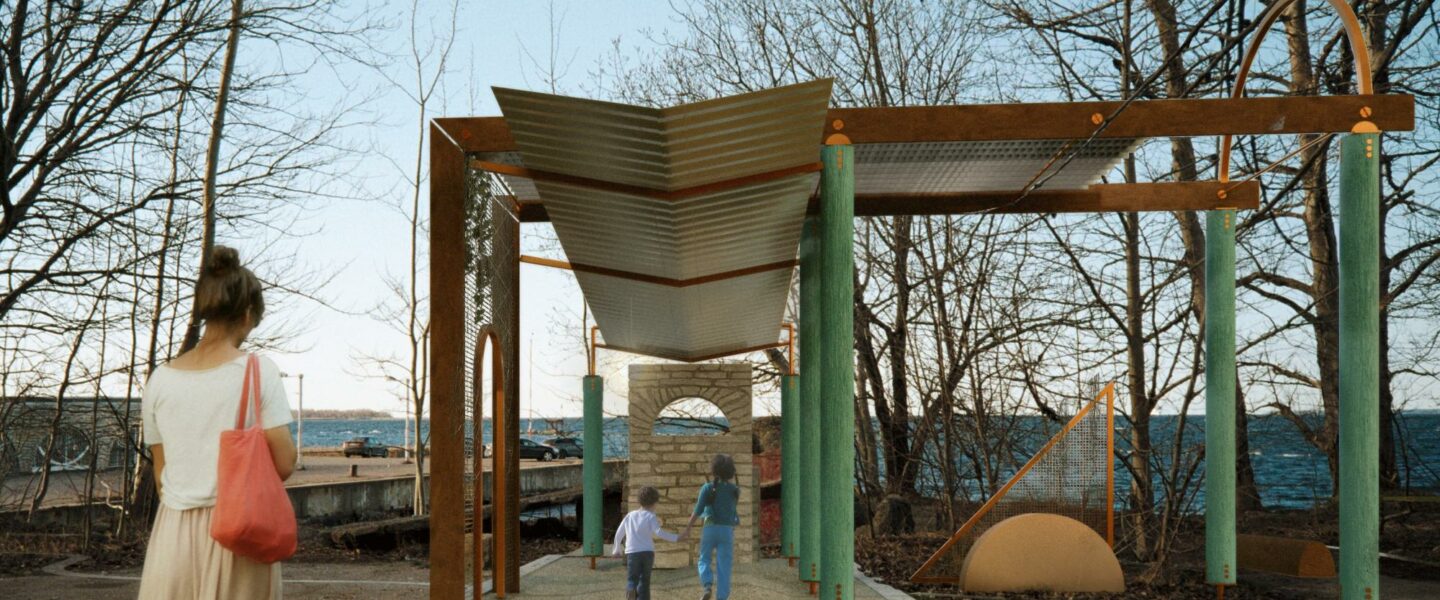 City-Machine. Authors Mariann Drell, Villem Sarapuu, Ruuben-Jaan Rekkor
Tallinn Strategic Management Office organized an installation competition as part of the "Green Footprint" spatial interventions project, the aim of which was to enliven the seaside with urban spatial art within the framework of Tallinn – European Green Capital 2023.  The winning proposal City-Machine co-auther by our lecturer Mariann Drell was selected from 13 participating designs.
Conceptual designs of site-specific, environmentally friendly art or architectural objects were expected for the installation competition. "The main idea of the seaside spatial interventions created within the framework of the "Green Footprint" project is to connect the interrupted seaside promenade in Kalarand with the cruise terminal and to tie the area into a single whole with other seaside objects. It is important to open the city to the sea and create various opportunities for spending time and places of rest for both local residents and visitors to Tallinn," explained Deputy Mayor of Tallinn Vladimir Svet. "Last year, excellent installations were completed at Putukaväil, and this year we decided to follow the example of this successful pilot at the Linnahall. Spatial interventions are one of the ways to highlight the values of Tallinn as the European Green Capital in an exciting way in order to make Tallinn's urban environment greener and more human-scale", described Svet.
The winning proposal City Machine by Mariann Drell, Villem Sarapuu and Ruuben-Jaan Rekkor is a contemporary installation that values the postmodern architectural heritage and reuses discarded materials on site in a fresh way. According to the authors, the purpose of the work is to continue and emphasize the formal and material reality of the Linnahall. The jury highlighted the design's formal strength, conceptual clarity and inventive use of materials. Although the design used old architectural techniques, the submitted work felt fresh and modern.
Read further: https://www.tallinn.ee/et/ruumiloome/rohejalje-installatsioonivoistlus