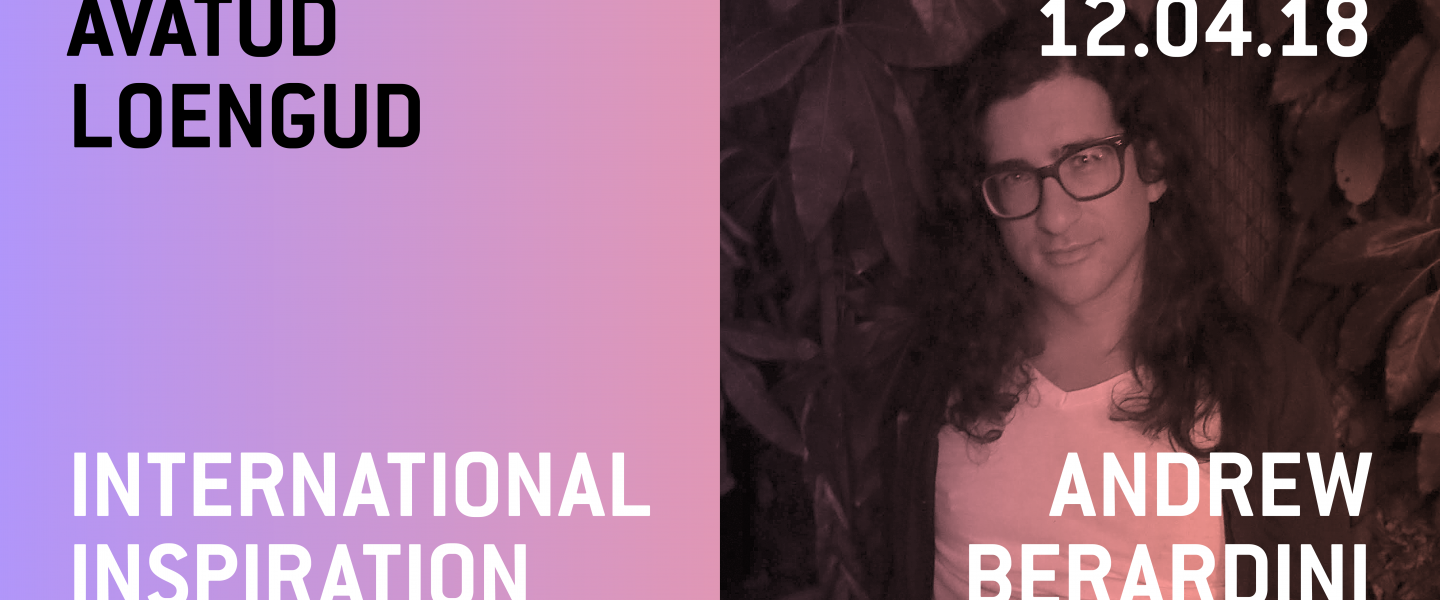 Center for Contemporary Arts, Estonia and Institute of Art History and Visual Culture of Estonian Academy of Arts present:
Lecture series "International Inspiration" 2017/2018
ANDREW BERARDINI (Los Angeles)
12.04 at 18 lecture (Kohtu 6)
13.04 at 10.15 seminar (Suur-Kloostri 11)
See event in Facebook.
Andrew Berardini is a writer based in Los Angeles and a contributing editor at Momus. A finalist for the Premio Bonaldi and winner of an Andy Warhol/Creative Capital Grant for Art Writers in 2013, he has a book forthcoming from Mousse on artist Danh Vo, and is currently at work on a another about color. Berardini is the co-founder of the Art Book Review, and edits for numerous other publications, including Artslant and Mousse. He has been a regular contributor to Art Review, LA Weekly, and Artforum.
The lecture is accompanied by seminar, on April 13 at 10.15AM at Department of Visual Culture and Art History (Suur-Kloostri 11). Please write to Karin Vicente for additional information: karin.vicente@artun.ee.
All lectures and seminars are free of charge and in English. The lectures are recorded and shared on Estonian Academy of Arts' Vimeo page.
The lecture series hosts internationally recognized curators and critics who are introducing their practice, work methods and are consulting students in seminars. The series is part of opening programme of new curatorial field of study at the Master's programme of Visual Culture Department.
The list of lecturers in 2017 and 2018 includes curator Vincent Honoré (09.11.2017), curator Vasif Kortun (23.11), curator Martha Kirszenbaum (07.12), documenta14 curator Dieter Roelstraete (26.01), poet and art critic Quinn Latimer (21.02), curator Lumi Tan (22.03), art critic Andrew Berardini (12.04), feminist curator Maura Reilly (03.05), curator and critic Antonia Alampi (31.05).
Supported by Estonian Cultural Endowment, Estonian Academy of Science, Baltic-American Freedom Foundation and EU European Regional Development Fund.