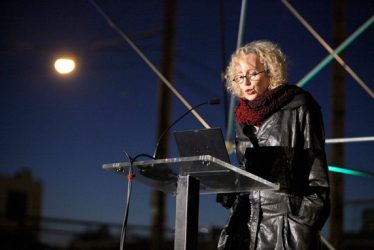 The first lecturer of the Open Lecture Series this spring semester will be Yael Reisner, stepping on the stage of Kanuti Gild SAAL (Pikk 20, Tallinn) on 8th of February at 6 pm. Her lecture is titled "Beauty Does Matter – The Cultural Bias, The Enigma and The Timely Pursuit of New Beauties in Architecture".
In 2010, Reisner – with curator and writer Fleur Watson – published a book of interviews with more than a dozen architects, titled "Architecture and Beauty, Conversation With Architects About A Troubled Relationship". In the book, Reisner talked with the architects about their relationship to beauty, the relationship of architecture and beauty being one that whole generations of architects have tried to avoid. The questions of architecture and aesthetics, or more widely culture and aesthetics were also explored in Reisner's PhD (RMIT, 2009) and will be the focus of her lecture in Tallinn. Why don't architects like to talk about beauty?
Born in Tel Aviv, Reisner has lived in London since 1990. She has a PhD in architecture (by design) from RMIT Melbourne, Australia, a Diploma from the Architectural Association in London, and a BSc in Biology from the Hebrew University in Jerusalem. In 2004, she founded the Yael Reisner Studio, an architectural research-lead practice.
More about Yael Reisner: http://www.yaelreisner.com/
Event on Facebook
The Open Lecture Series brings to Tallinn a number of exciting architects, urban planners, academics from across the world. All Open Lectures are free of charge, in English, take place every fortnight, and are open to everyone – for both students and professionals of the field, general audience and students considering architecture for their further studies. The architecture and urban planning department of the Estonian Academy of Arts has been curating the Open Lectures on Architecture series since 2012. The series is funded by the Estonian Cultural Endowment.
Curators: Sille Pihlak, Siim Tuksam
www.avatudloengud.ee