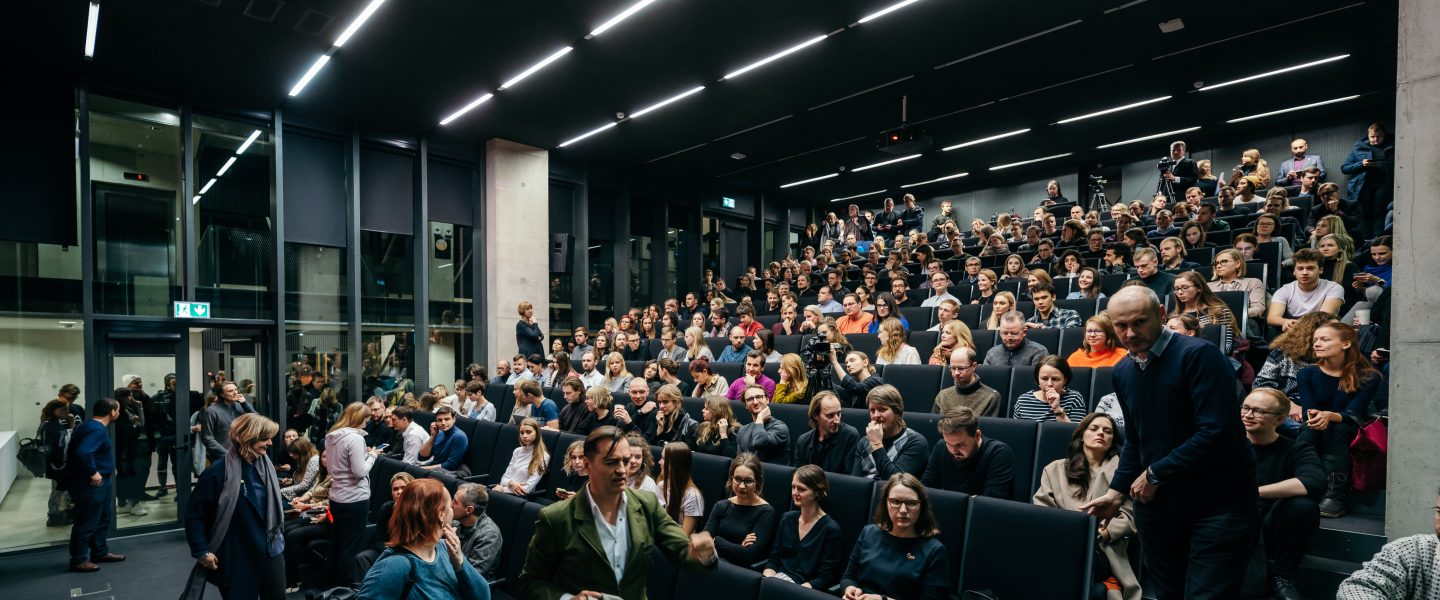 Open lecture 2018. Photo: Tõnu Tunnel
The Faculty of Architecture of the Estonian Academy of Arts is happy to present the Open Lecture Series lineup for the spring semester. From Beatriz Colomina, Wolf D. Prix and Pippo Ciorra to the young stars of Stockholm practice Secretary and Lithuanian tandem Isora x Lozuraityte, on five evenings from February to May, students, professors, professionals and lovers of spatial topics are invited to the main auditorium of EKA to catch up on the hot topics of debate from the field of architecture across the world right now.
Opening the spring semester series on 13 February at 6 pm will be Stockholm-based architecture practice Secretary with architects Karin Matz, Rutger Sjögrim and urban planner and architecture theorist Dr Helen Runting at helm. Secretary operates both in the field of practice and theory, paying especially close attention to the quality and quantity of architecture born under the conditions of welfare state and democracy in the example of Sweden.
On 5 March at 6 pm we continue with renowned thinker, architect and critic, the senior curator for architecture at the MAXXI museum in Rome and longtime editor in chief of "Casabella", Pippo Ciorra.
Arriving to Tallinn on 12 March will be the founding partner and CEO of Coop Himmelb(l)au Wolf D. Prix, according to whom Coop Himmelb(l)au does not so much as fight gravity with their buildings which often seem to float or sway, but rather tries to ignore gravity in the first place.
On 16 April, we'll take a look at what's happening in Lithuania, with Lithuanian new generation of architects Petras Išora and Ona Lozuraitytė on stage. Working as a tandem, they observe space with methods borrowed from archeologists and anthropologists. Having kicked off their career with spatial installations, exhibition design and small scale, the duo has in recent years won a number of international competitions, such as the Lithuanian Road Museum and the Yangjaegogae Eco-Bridge in Seoul, to name a few.
The spring lecture series will wrap on Friday, May 8 instead of our traditional Thursday, with architecture historian, theoretician and curator Beatriz Colomina. Colomina has built a multifaceted career by working extensively in academia, publishing as well as exhibitions, having explored the relationship between architecture and advertising, film, photography etc media in her writing as well as via curating. What is the role of architecture in guiding and framing its user, and the role of media in shaping how architecture is displayed and perceived?
Schedule
13 February at 6 pm architecture practice Secretary
5 March at 6 pm Pippo Ciorra, MAXXI Rome
12 March at 6 pm Wolf D. Prix, Coop Himmelb(l)au
16 April at 6 pm Petras Išora ja Ona Lozuraitytė
8 May at 5 pm Beatriz Colomina
The architecture and urban planning department of the Estonian Academy of Arts has been curating the Open Lectures on Architecture series since 2012 – each year, a dozen architects, urbanists, both practicing as well as academics, introduce their work and field of research to the audience in Tallinn. The lectures are free of charge, in English and open to everyone.
The series is funded by the Estonian Cultural Endowment.
Curators: Sille Pihlak, Johan Tali
www.avatudloengud.ee
https://www.facebook.com/EKAarhitektuur/
Additional information:
E-post: arhitektuur@artun.ee
Tel. +372 642 0071