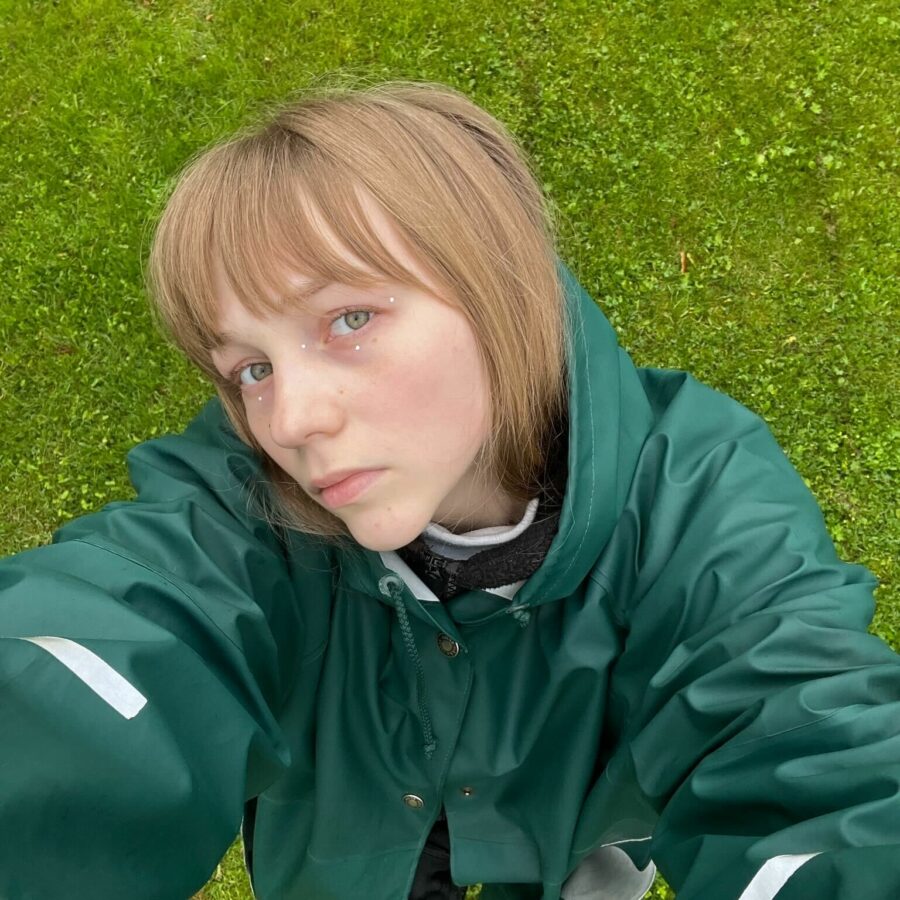 In the November Product Designer Form, we introduce Beata Batejev, who likes to experiment, enjoys creating models and has discovered the charms of a 3D printer with which to test different materials. Beata is also fascinated by photography, and her interest in various technical and craft skills can lead to very interesting design solutions in the future.
Name: Beata Batejev
Position: Junior product designer
Connection with EKA: 2nd year industrial design student 
What projects are you currently working on?
At the moment, I am putting a lot of emphasis on my specialty project, which is related to the well-known brand Estoplast. Our goal is to breathe new life into the brand and find new modern products for the brand. My topic is a night light lamp, which is intended as a decorative element for either the living room or the bedroom, since the project is being prepared in cooperation with ceramicists, so I chose clay as the material. To realise the product, I chose a rather innovative and modern 3D printing technology. At the end of the project, we will take our work to the Stockholm Furniture Fair, I am very excited about it, because it is my first experience participating in an exhibition.
What is your favourite stage of creating a product and what does it look like?
This semester I allowed myself to experiment and make mistakes, so I reached several results that I was happy with. I applied this method especially in my project and it immediately bore fruit – I made many mock-ups from paper and thanks to free thinking I came up with an idea that I am now gradually implementing. So far, I can say that this has been my main lesson this semester and it has definitely become my favourite phase of creating a product — the mock-up phase.
Paper and pen vs. digital media – which do you prefer?
Both clearly have their advantages and disadvantages and I try not to compare the two. I don't always want to carry books and notebooks with me, because the computer has all those same things, but sometimes I want to take a break from the screen and write my thoughts on paper. It all depends on my mood and situation, for example, if there is a lecture where it is worth writing something down, in a room without desks, it is easier for me to use the computer. However, I personally have found that I remember things better when I write them down on paper by hand.
What has been your favourite project while studying at EKA? What did you discover during that?
I feel that so far my favourite project at EKA has been the cooperation with Estoplast, because in the second year I am already much more experienced and knowledgeable in applying my knowledge. Of course, this project grabbed me because it is related to ceramics, clay is my favourite material and I do my work with a 3D printer and it is of great interest to me at the moment.
The biggest discovery for me has been learning from mistakes. For the first time, I learned from personal experience how good it is to make mistakes. Thanks to testing, my product has taken the shape it has now and I am happy with it.
Guilty pleasure – "poor design or tools for designing" that you secretly like?
It's not directly related to design, but I can't think of a better answer than a fun fact about me, that while studying to be a designer and being a very active user of various programs (Adobe programs, Figma, Solidworks, Blender) I'm really bad at using shortcuts, which makes me sometimes to be ashamed of myself. I can't explain it, but when I do everything with a computer mouse, I feel like I have more control over my work, as if I'm in physical contact with the work. But even though I'm not terribly bothered by my ignorance of shortcuts, I'm still aware of their importance and I'm memorising them more and more, at least in terms of saving time.
Something you wish you had invented/designed?
I have been familiar with Olafur Eliasson's work for a long time, and when I entered EKA, I wrote about his famous "Little Sun" light as one of my assignments.
I really admire this product, it helps children from disadvantaged families who don't have electricity at home to keep light after sunset, and the solar lamp allows you to continue reading or studying even when it's already dark.
I chose this product because my project also includes lamps, and of course I looked for inspiration in this lamp, which solves a very important problem of lighting after sunset. I would really like to help those in need in a similar way in the future.
One good reading that has inspired you professionally?
Mark Wigley & Beatriz Colomina "Are We Human?" is a good book to start reading about design, I wish I had discovered this book in my first year as a student. The book is still a work in progress for me at the moment, but I can say that it is an easy enough read and raises interesting topics, asking controversial questions and dealing with the history of design.
Besides design, what else attracts you?
In addition to design, I do a lot of photography – this is my main hobby, which I am passionate about. In addition to photography, I really like ceramics, so I always take at least one course related to ceramics; their workshop has become very home to me
What experience so far has shaped you the most as a designer and how?
I can't answer that for sure, but I think that the opportunity offered by EKA, namely visiting many workshops, has shaped me the most as a designer. I took many free subjects that gave me a lot of knowledge and a great interest in materials and technologies. Thanks to the free subjects I took, I also made a decision about what and how I will do my professional project.
I recommend everyone to take as many free substances as possible
Where can we learn more about your work and activities?
You can see my school work on Instagram: @bdezzign
Photography and Life: @nuenur