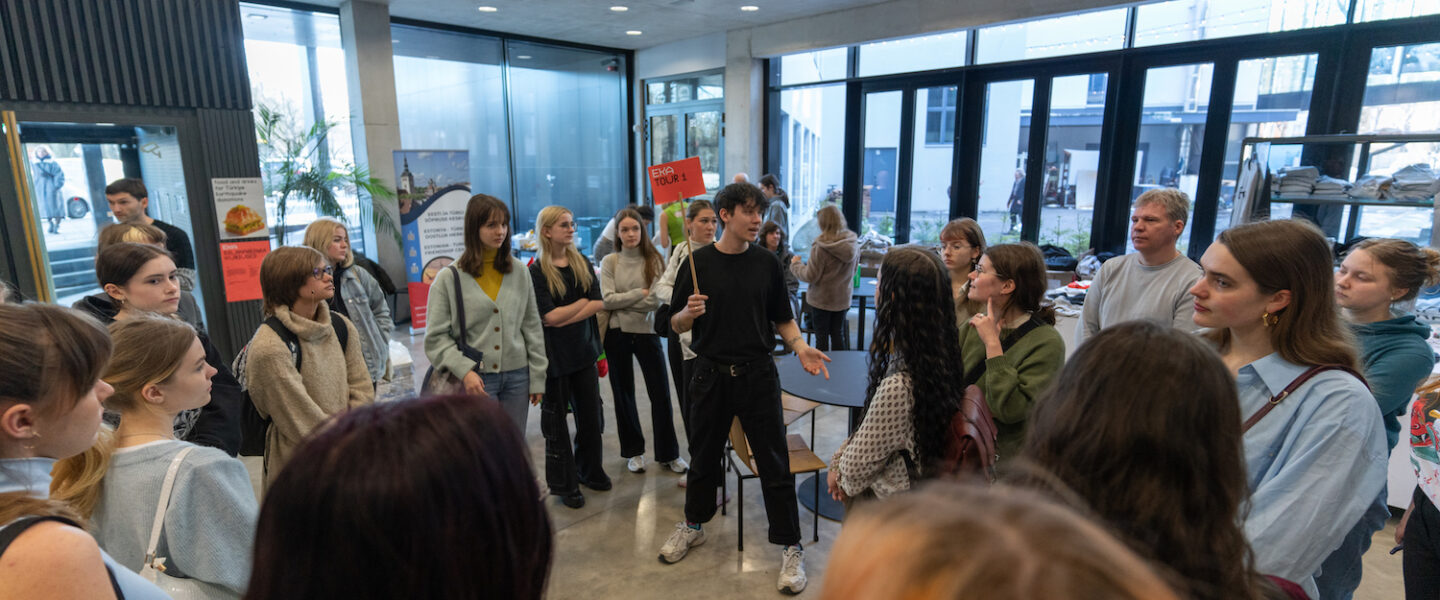 JOINT EVENTS FOR ALL NEW STUDENTS 14.08-30.08.2023 compulsory Estonian language course for international students. Information sessions, building tours and social activities are also going to take place on the first day. Starting from 15.08.23 the language course will be taking place on weekdays from 10:00 to 14:00 and from 10:00 to 16:00 on 30.08.23. Thursday, 31.08.
At 19:00 – 20:30

 Learning the Student Anthem – Introduction to Choral Singing, room A101
Friday, 01.09.
At 12:00 – 13:30 OPENING CEREMONY room A101
Saturday, 02.09.
At 10:00 – 21:00 Field trip to Seli bog and Laukataguse Campsite. An onboarding event and field trip for all the new international, Erasmus+ and buddy students.
FACULTY OF ARCHITECTURE
Thursday, 31.08.
From 10:00 to 10:10 Dean's greeting
From 10:10 to 12:00 Faculty welcome for Urban Studies MA and Erasmus students of the faculty (specialties of architecture, interior architecture and urban studies). Introduction to the curriculum, 4th floor open area next to the staircase.
At 12.00 Walk and picnic – Klooga trip, introduction to the curriculum for Urban Studies MA students
Friday, 1.09.
At 20:00 Meet and greet at ÕU (Olevimägi 16)
FACULTY OF DESIGN
Tuesday, 29.08. (Craft Studies MA)
At 12:00-14:00 Info session for Craft Studies MA students, room D306
Thursday, 31.08. (Design and Crafts MA)
At 12:00 Info session for Erasmus exchange students of Design and Crafts curriculum, room A503
Friday, 1.09. (Graphic Design MA)
At 14:00 Meeting with Graphic Design MA students, room C304
Saturday, 2.09. (Interaction Design MA)
From 10:00 to 17:00 Kick-off workshop @ Estonian Design Centre, Telliskivi 60a-7
At 19:00 Welcome party!
FACULTY OF FINE ARTS
Thursday, 31.08.
At 14:45 – 15:15 Dean's welcome, room A101
At 13:30 Animation MA freshmen meeting in the department in room B311
Friday, 01.09.
At 10:30 Meeting with new students of MA in Contemporary Art and introduction of the curriculum, room D306
DOCTORAL SCHOOL
Wednesday, 30.08.
Thursday, 31.08.
At 14:00 to 16:00 Doctoral studies info session (A302)
Friday, 1.09.